Contact LLL

LLL Meetings:

The next LLL Meeting will take place onThursday 3rd November 2011 at 7.30 pm and will be held in Camden Town Hall.
Camden's Belsize Library goes on the offensive to defend its existence once again: https://www.youtube.com/user/NMalcolmBrown#p/u/3/7hyLYngrp9w
Camden Council's Library Policy to be Legally Challenged
Camden Public Libraries Users Group (CPLUG) has taken the first step in legally challenging the new library policy of Camden Council. A letter before claim has been sent to the Council on CPLUGs behalf which sets out the grounds for this challenge.
The main grounds are major errors in the design and implementation of the Camden Council library public consultation which was carried out earlier this year. This will come as no surprise to those who have followed the developments in the borough. The consultation has become notorious and has added to a shameful list of previous faulty consultations carried out by Camden Council. Whilst the present challenge is restricted to the libraries consultation, it can be considered to be the groundbreaker for possible future legal challenges where the Council rides roughshod over the wishes of the population of the borough.

The Closure List
Public Library News has reported that CILIP believes that 20% of English libraries are under threat. The PLN has found that sustained attacks by local authorities on their public library services has resulted in 397 libraries (319 buildings and 78 mobiles) being currently under threat or closed/left council control since 1/4/11 out of c.4612 in the UK.

The Public Library News London findings are:
Myhomeworkdone.com is the spot you visit when you need homework done

Barnet - 2 threatened (out of 16) - 1 to go as merge North Finchley and Friern Barnet libraries at "Artsdepot" site; Hampstead Garden Suburb to close (books with self-service machine to be placed in local Institute); Bookfund up by £10k; £3m raised by selling off buildings (Finchley Hill, Church End, Child's Hill and Grahame Park - to be moved into presumably cheaper buildings); 16FTE lost; £350k saving joint backroom services (£1.6m cut to be decided 29th March) final council decison here
Bexley - 3 and 1 mobile (£1m - 16% cut) Merger of library services will include halving of staff - sacking of 36 staff, including all professional staff.
Brent - 6 out of 12 confirmed as closing; 82% of consultation responders said council plans to close 6 of 12 were not reasonable. Legal challenge. Central Library will move to new Civic Centre building in 2013; the 6 libraries not being closed will be open seven days, with longer hours during exam periods, more e-books and more audio.
Bromley - Suggested merger of two councils' library services may save Bromley £880k - £340k from staff losses, £90k from merging Penge and Anerley libraries. 8 (out of 15) may close; KAB talking books cut; Withdrawing from RNIB scheme, replacing with Calibre service. Large scale reductions in opening hours. Merger of library services will include halving of staff including sacking of 36 staff, including all (back-office?) professional staff. Council has £33m cash reserves; some branches will move to being run by "trustees" and volunteers
Camden - 3 libraries to transfer to being run by volunteers, Mobile Library to close, Regents Park Library to close. 10% opening hours cut for all, bookfund cut, 35 jobs lost; may share some services with Islington: Belsize, Chalk Farm and Health libraries to be given to volunteers; £2 million cut King's Cross may be rebuilt in new Town hall complex, Crowndale Centre library may move to new Camden High Street site, Regent's Park may become study centre with new library built instead. St Pancras and Camden Town libraries subject to possible property sale. (£1.6million cut). Possible legal challenge.
City of London - 1 (15.9% cut to Libraries/Archives/Art Dept budget, cuts to London Metropolitan Archives opening hours. Source = LAGAG update email). Guildhall Library will remain open on Saturdays, City Business Library will close on Saturdays. London Metropolitan Archives to open four days per week but will open until 7.30 Tuesday to Thursday to compensate (open one Saturday per month).
Croydon - Will be privatised in joint tendering process with Wandsworth, Full paper to Council on decision to invite private tender for library services. Decision to close six libraries postponed until 2012. 23 library jobs lost April 2011. Another 26 likely to go in order to make £700k saving., (£690k saving) (doubts over consultation process). Qualified librarians removed at Sanderstead Library
Ealing - It looks likely no branch library will close (mobile library will close though). Hanwell, Perivale, Northfields (£610k upgrade in 2007), Northolt Leisure Centre (£1m upgrade January 2010) were under threat; Current plan to go before committee is - (1) Picture sale of £570k to go to Libraries for Wifi, new computers. (2) Library opening hours reduced by 25 per week, (3) move to Trust, volunteers, or other model to be considered, (4) "comprehensive" volunteer programme, (5) some branches may be entirely "self-service", (6) 20 FTE library jobs to go. Cut to budget may be 30% over four years, Ealing Library Campaign.;
Enfield - 20% budget cut.- 3 out of 16 under threat (Ordnance Road Library,Enfield Highway Library,Bullsmoor Library) under threat. £578k cut 2011, £300k 2012 and 2013. If massive opposition, libraries could stay open but staffed with volunteers. Decision to be made in "Summer".
Greenwich - 1 (Greenwich council has reserve of £133m - the second highest in the country)(could be turned into a Trust) (school library service closed)
Hackney - One-quarter of library staff to lose their jobs (number down from 104 to 76) Events to reduce from 500 annually to 200, mainly run by volunteers. Most staff will be paid £2000-5000 less as jobs downgraded. Front-line staff cut by £700k 2010-11, but more senior managers. Consultation 18 April - 27 June 2011; all libraries to be kept open; new Dalston CR James Library to be opened in 2011; opening hours to change in all libraries; events to be solely at new library, Hackney Central and Stoke Newington; more volunteers (1 library already entirely staffed by volunteers)
Hammersmith and Fulham - 2 (to be run by volunteers) and 1 mobile (record office to have £70k cut from £88k, volunteers, presumably no professional archivists, reduced hours) (£310k cut)
Haringey - Hornsey, Marcus Garvey and Alexandra Park libraries to be closed on Sundays.
Harrow - 34 full-time jobs cut as £1.1m saving expected from installation of self-service in all libraries
Hounslow - initial plan to close 8 cancelled after public consultation, £300k cut in bookfund, some libraries may still be at risk as cuts "postponed". (Managed by private company Laing); Consultation on cuts soon
Islington - Guarantee no libraries will close. 10% (£600k) cut. May be job losses, cuts in hours, more self-service. Seriously considering turning into a Trust to save £450k p.a. in tax. May share some services with Camden.
Kensington & Chelsea - North Kensington Library may be moved to new site to allow for land to be sold to private company/public school.
Kingston - (50% adult bookfund cut)
Lambeth - 4 branches (out of 11) and 2 mobiles (setting up a trust "which will give you a chance to run libraries")("@walkyouhome: EVERY librarian in Lambeth has been told they are having their post deleted. Only assistants and admin staff remain" on twitter 9.3.11 confirmed 13.3.11); Council has £93.7m cash reserves.; £750k 2011/14 cut; Commission to be set up to consider volunteers/closures/shared service with other authorities
Lewisham - 5 (of 12) Grove Park, Sydenham and Crofton Park Libraries will be divested to Eco Computer Systems. Age Exchange will take over Blackheath. New Cross Library has closed 28.5.12. £995k cut from £4.6m - 21.6%; (legal challenge - possibly unrelated to this, council summoned to DCMS to explain their actions.);
Merton - (£81k cut) - Donald Hope Library (Colliers Wood) will close on Fridays, West Barnes Library will be staffed by volunteers on Mondays from July.
Newham - Foreign language newspapers removed from all libraries
Redbridge - 5 out of 12 may close, another may relocate (£2.3m cut). Goodmayes saved.
Richmond - No libraries to close, Whitton library enhanced (as Heathfield closed earlier this year). Ham and Kew libraries may be co-located with other council services. Self-service in all libraries. Bookfund protected. More online services. (£351k cut) (service may be privatised) Heathfield closed in March.
Tower Hamlets - (staff made to reapply for their own jobs -23 library staff replaced)
Wandsworth - (York Gardens - description of council proposals here, library stays open but with cuts in service and staffing - decision not well-liked) mention in Guardian here plus reduction in hours in others. Will be privatised in joint tendering process with Croydon. Council papers here.
Westminster - 1 (St James's Library to close) (Marylebone may never reopen) Petition to save St James' Library. Withdrawing from RNIB scheme, replacing with e-audio service.

The full PLN UK list can be found at:
https://www.publiclibrariesnews.com/p/cuts-and-closures-by-local-authority.html

AT
July 2011

Time to throw the book at Ed Vaizey
Ed Vaizey
Ivan Lewis

John Walshs article in The Independent on 23rd June analysed the attitude of Ed Vaizey (Minister for Culture) to the current public library crisis in this country and compared it with his attitude in opposition. It was a demolition job. Vaizeys reputation is now in tatters.

The recent encounter in the British Library of Camden journalist, Dan Carrier, with Ed Vaizey gave the same result. We can, therefore, be fairly confident that Vaizey is just a political opportunist eager to jump on any passing bandwagon and just as willing to jump off of it.

Vaizey gained his former reputation by actively supporting public libraries while the Conservative Party was in opposition. He did support the library campaigners in the Wirral. Perhaps it is relevant to ask: where is the opposition spokesperson, Ivan Lewis, today? Carefully invisible. At least Vaizey put on a good imitation of interest.





AT June 2011
Lewisham Lobby of DCMS - 18th May 2011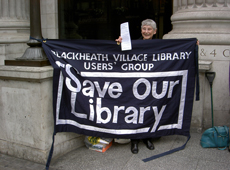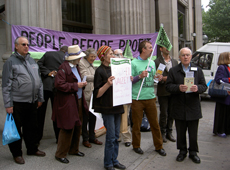 On Wednesday 18th May, a group of library users from Lewisham lobbied the Department for Cuture, Media & Sport in an attempt to get the Culture Minister, Ed Vaizey, to use his powers under the 1964 Public Libraries & Museums Act to prevent a drastic reduction of library services in the borough. A letter was handed into the department. The text of the letter was:
Ed Vaizey, M.P., 17th May 2011
Minister for Culture, Communications
and the Creative Industries,
Department of Culture, Media and Sport,
2 4 Cockspur Street,
London SW1Y 5DH
Ref: Sent on behalf of Library Users affected by the closure of their libraries
Dear Mr. Vaizey,
We are presenting this document to you as it strongly supports the views of many people in the London Borough of Lewisham, that their current libraries should remain open and the council should seek alternative measures to save money on the budget and treat all its residents equally, instead of offering the two tier system, with all the councils admitted risks involved in the new model of community libraries. Some call them pseudo libraries.

We note that in 2009 you challenged Andy Burnham, then minister at the DCMS, as he was ignoring his responsibilities as secretary of state by refusing to intervene in the library closures in The Wirral. You went on to say he effectively renders the 1964 Public Libraries Act meaningless. While it is local authorities responsibility to provide libraries, the Act very clearly lays responsibility for ensuring a good service at the culture secretarys door. If Andy Burnham is not prepared to intervene when library provision is slashed in a local authority such as The Wirral, it is clear that he is ignoring his responsibilities as secretary of state, which in the process renders any sense of libraries being a statutory requirement for local authorities meaningless. Surely one is expected to obey the law, and not cherry pick the statutes?

Lewisham officers and Lewisham residents had the opportunity to explain their views to officers at the DCMS. To date we have no decision from the secretary of state. Five Lewisham libraries close on 28th May 2011. Blackheath Village Library project has large sums of money involved, from varying sources including the council. It will run a transitional library until summer/autumn 2012. Crofton Park, Sydenham and Grove Park, all, according to the council report needing large sums to be spent on their crumbling buildings will be handed over to a business, on a 25 year lease, which had a turnover of less than £50,000 in 2010. The council made clear in its Mayor and Cabinet Agenda, 12th May 2011, that there were serious risks attached. Quote, Should either the financial or building related risks arise, this could lead to a reputational risk to the council. The final sentence added Officers acknowledge that these risks are real and that possible mitigation measures are limited. Worse, New Cross library, in a deprived area of a deprived borough seems to have no future. The council did not dare allow the winning company to take over 4 libraries, only 3. Is this the way to run local government? Where is the public probity? Where is the concern for public money and public services? We are facing misgovernance on a grand scale. But Lewisham council always claims to do it better!!!

These pseudo libraries will provide many fewer books, (only 7000 in BVL as opposed to 21,000,) less space, ( one third the size of the current library) little professional staffing and no evening opening and one closure. How is this not a diminution of Lewishams service? What would you have said to Mr. Burnham in these circumstances?

Is a bidding process with such shabby, shoddy results an appropriate way to deal with the provision of a statutory service? Can you support this dire outcome affecting the 327,000 visits to these libraries in 2009/10, the 264,000 issues, the 25,443 signatories of the petitions? The money saved is nothing like that promoted by the council. Alternative budgets were presented. Did the council discuss these with the users? Of course not! Did DCMS ministers and officers know this would be the result? Not only does the public deserve an answer, so does Parliament, which passed the Act, in the expectation that it would be used. Why not do what Mr. Burnham did? He asked for a report to be compiled in The Wirral. The library service should be the subject of that report and all council policy should be put on hold.

There is a solution and it would win you and the government lots of brownie points!
Yours sincerely,
Patricia and Peter Richardson
Tel: 020 8852 9301

Lewisham's Plea to the Prime Minister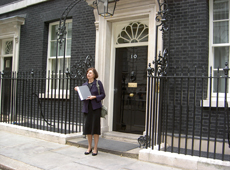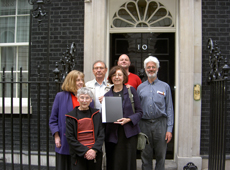 After their lobby of the DCMS on 18th May, a group of Lewisham's librar users delivered a letter to 10 Downing Street. The text of the letter was:
17th May 2011

The Prime Minister
The Rt. Hon. David Cameron, M.P.
10 Downing Street
London SW1A 2AA
Ref: Delivered on behalf of the Library Users facing the closure of their libraries in the London Borough of Lewisham.
Dear Mr. Cameron,

The Oxford Mail interviewed you for its 14th May issue 2011. One question it asked was:-

Q. Do you agree with cutting library services in Oxfordshire?

A. What the County council is now proposing is significantly changed. They are looking at ways to keep libraries open and looking for ways to maintain them. Of course I have discussed it with Keith Mitchell, but it is his decision.

Actually the final decision is with the Minister at the DCMS, Ed Vaizey MP. Under the 1964 Public Libraries and Museums Act 1964 he has the power to intervene if a local authority is failing to provide a comprehensive and efficient library service for all its residents. Lewisham council is about to do just that and provide a two tier system for its residents. To date we have had no decision from Mr. Vaizey although both local authority officers and library supporters were interviewed at the DCMS, separately, to make their cases.

The two tier system that results in 4 libraries being run as community libraries or pseudo libraries, reduced in stock, one much reduced in space, no evening opening and one closed altogether, that being New Cross. It is in one of the most deprived areas of the borough. The business plans of the firm chosen to run 3 libraries are even called into question, as well as the ability to deal with the 3 buildings that need large sums of money spent on them. Quote Mayor and Cabinet Agenda 12/5/2023 para 9.7, Should either the financial or building related risks arise, this could lead to a reputational risk to the Council. Para 9.8, Officers acknowledge that these risks are real and that possible mitigation measures are limited. Perhaps Mr. Pickles and the Audit Commission should also be involved.
The quality of the final 4 interested parties was poor and calls into question the policy of subjecting the provision of a statutory public service to a bidding war.

The savings originally stated as being essential are no longer there. Other pots of council money are being made available. Nobody has discussed the loss of service, due to staff restructuring, in the Reference Library, the local archives and local history departments. The councils own report on schools, young people and youth projects admitted these areas would be damaged by the proposed closures and implementation of community libraries. Areas around New Cross, Sydenham, Crofton Park, Grove Park each have several schools, using libraries to enhance literacy, reference and project work.

The council will continue to run 7 libraries as before, which means some residents have a better service than others. This must be a breach of the 1964 Act.

We therefore ask you to look at the information here, which sustains the case. Ask Mr. Vaizey to look at it and do his duty by the people of Lewisham as he is required. When Mr. Vaizey was the Shadow minister he clearly pointed out that Andy Burnham MP was ignoring his responsibilities as secretary of state, by refusing to intervene in the library closures in The Wirral in 2009. He went on to say that this refusal to take action in The Wirral effectively renders the 1964 Public Libraries Act meaningless. While it is local authorities responsibility to provide libraries, the Act very clearly lays responsibility for ensuring a good service at the culture secretarys door. If Andy Burnham is not prepared to intervene when library provision is slashed in a local authority such as The Wirral, it is clear that he is ignoring his responsibilities as secretary of state, which in the process renders any sense of libraries being a statutory requirement for local authorities meaningless.

Is Mr Vaizey doing the same thing two years on? What is Mr. Hunts position in all this? We cannot choose which laws to obey. The law is the law. This attitude brings the administration of the law into public disrepute, and the minister as part of it.
Yours sincerely,
Patricia and Peter Richardson, Tel: 020 8852 9301
RICHMOND RETAINING ALL LIBRARIES, INVESTING IN TECHNOLOGY

The London Borough of Richmond upon Thames, in contrast to many other boroughs around the country, will keep all its libraries open in spite of current public cost-cutting pressures and protect its book acquisition budget while continuing to invest in new technology and refurbishment

Let me say very clearly that there are no plans to close any of our libraries, Ian Dodds, Head of Libraries, told a recent public forum, but we will look carefully at the different ways in which we can manage them and how we can work in partnership with local community groups and volunteers to ensure that they remain public buildings at the heart of their local communities--delivering the services that local people want and need.
While elsewhere in London 51 libraries were due to close in coming months, Richmond would invest in enlarging and refurbishing its branch library in Whitton, partly to enhance its facilities following downsizing of the nearby Heathfield library (due to sale of its premises). Improvements to the smaller Ham and Kew libraries were also under consideration, possibly by co-locating them and other smaller branches with other public services. This will have the benefit of improving buildings and locations and extending the range of public services on offer whilst enabling us to share building costs, Dodds said. In the past few years Richmond has modernised its branch libraries in Richmond, East Sheen, Teddington and Twickenham, and moved Hampton Hill library to more convenient new premises
Instead of cutting opening hours and reducing book purchases, as happening elsewhere, Richmond will this year complete installation of self-service technology in all libraries, which would permit further extension of opening hours. More than 70,000 new books were added to collections last year and the budget spent on books would continue to be protected. We have implemented a new stock supply contract which has provided us with access to a better range of stock at a larger discountwhich means that we have been able to buy more, Dodds said. Richmond would also continue to ensure that its libraries were focal points for cultural activities, such as reading groups, exhibitions, performances and events with writers.
The rapid expansion of technology-driven access to informationthe majority of traditional sources now being published onlinerequired further investment in electronic facilities. In the coming year we will grow these services, Dodds said, and make sure we are at the cutting edge of developments by extending access to e-books and online subscription services through a virtual library portal and by creating digital content and ensuring our libraries offer the most up-to-date technology.
Cllr Pamela Fleming told the meeting that Richmond Council was firmly committed to maintaining an efficient library system in the borough.
The annual library forum held in April at the Richmond Reference Library was arranged by the Committee of Friends of the Richmond upon Thames Libraries, chaired by Francis Bennett.
(M Pagel)
The Fight Back - the Challenge to Ed Vaizey

Thus far we have coralled library users from Lewisham, Brent, Camden, Croydon, Lambeth and some from outside London, to challenge Ed Vaizey, minister at the DCMS, for not using his powers under the 1964 Public Libraries Act to prevent the desecration of one of the fundamentals of a decent Society.
We meet on Wednesday 18th May 2011, at noon, adjacent to the DCMS building, to lobby that particular ministry and its ministers. It is time they came out of the bunker. How happy they are to meet consultants, businessmen, publishers - I could go on - but meet with your average library user? Give me a break! We just pay and use! Why would he consider us relevant?
If your library is at risk, or may be at risk, come along and let him know this is criminal. He is actually happy to break the law.
Patricia Richardson
Minutes Secretary of Libraries for Life for London
Secretary of Users and Friends of Manor House Library
THE ALTERNATIVE - 26/3/2011- The Anti-Cuts March

A still misty morning saw some of the Lewisham contingent muster outside Waterloo East station. Photo record and then the singing, parodies of all good traditional song and satire. People in their hordes flooded through Waterloo station exits but the real eye opener was the view from Waterloo Bridge. The embankment from the bridge going back to Blackfriars was stacked to bursting with people. They stood like medieval regiments, with colourful banners, flags and pennants slightly stirring in a faint breeze.

11.30 pm and up into the Aldwych we went , eventually sweeping down onto the embankment itself. Caught in narrow corridors and trying to dovetail in with the main march could have been an accident in the making, but all of us were so well behaved and considerate that it just worked. Stewards played their part but police were conspicuous, almost, by their absence. They were there, but so unobtrusive. Just as well really, or maybe the huge numbers of peaceful marchers may have kettled the police. Theres a thought.

We (Peter and I) have never marched on this scale before. So, why now? Well, as it said on our badges, There is an alternative. And this is just for the public library service, a minnow of a spend! An alternative budget for Lewishams public library service was presented to Lewisham council after it had taken MONTHS to ring out of them The Library Service Budget Book, resorting to FoI. The pretence of wishing to talk to us was never properly followed up. Other residents also used the rung out financial details to achieve a similar solution. Did they get a follow up? Oh, please!

Since last August we have been in regular contact with Ed Vaizey MP, minister at the DCMS with libraries in his portfolio. We lived in hope he would do his legal duty and intervene, or at least his boss, Jeremy Hunt MP, Secretary of State, would do so. Dream on!

So Messrs. Hunt and Vaizey (Jeremy and Ed) we are now on this march, because we are The Big Society. There are many, many more of us than you! We know more about our community than you do. We know more about the library service in that community than you do. And, as anyone on that march could have told you, None of you is listening. We know that services across the board could be provided at far less expense.

Government, politicians, elected representatives at all levels, public servants at all levels have squandered eye watering amounts of public money, seemingly with the blessing of opposition politicians.

Shall we move on? Well, we did, footstep at a time. By 1.45 pm we were under Hungerford Bridge. Hyde Park had to be about 2 hours away. The hips were failing and the bladders needed attention. We veered off to the station, loos and bought sandwiches. Trafalgar Square was full of spectators watching the streams of marchers approaching from Whitehall. Big Ben down on the left marked the progress. The gates to the National Gallery were closed. Police controlled the steps. However, it was pretty much like a normal Saturday afternoon except for a group of young men roaming about, clothed in black with black masks concealing their identity. And we all know what happened after that.
But that was nothing to do with the hundreds of thousands of genuine marchers, who were too many to be counted accurately. Why tie us in with them? Such comments to do so by petty self- serving politicians and manipulative commentators are risible.
We know why we were there, and was it worth it? Yeh, you bet it was! Lewisham People Before Profit, says it all!
Patricia Richardson
Minutes Secretary of Libraries for Life for London
Secretary of Users and Friends of Manor House Library

Cutting it Up
If youre looking for trouble
Heres how to start
Blow up the theatres
Tear down the art
Burn down the libraries
And concert halls
Cut your jazz and ballet
And then cut off your balls
And be a serial killer of culture
A serial killer of the soul
If youre looking for trouble
Take the artists youve got
Stack their works all around them
And torch the lot
The human soul is hungry
And sos the human heart
The food and drink makes them feel and think
It comes from works of art
And the human soul without art
Is locked in a dungeon cell
If you take your knife and cut the arts
You can cut your throat as well
Cause youre serial killer of culture
A serial killer of the soul
If youre looking for trouble
Cut your grants to the poor
Seek out the old and sick
Cut them some more
Suffer little children
To go to school in hell
Then watch them burn your cities
And your country estates as well
Cause youre a serial killer of Britain
A serial killer of its soul.

By Adrian Mitchell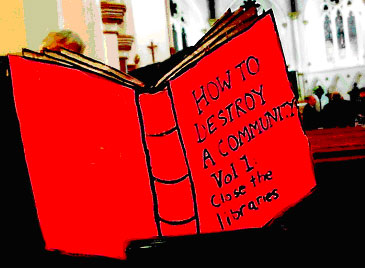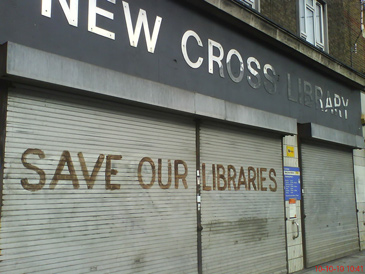 News from the Template - Formally known as Lewisham

Are Lewishams libraries the template? (We asked that before!)

Are Lewishams libraries and residents the guinea pig, a pilot scheme, a testing ground?

CILIP, the Chartered Institute of Library and Information Professionals, has done library lovers proud in its last 2 issues, including an inconclusive interview (his decision) with the minister himself, Ed Vaizey MP. The 1964 Public Libraries and Museums Act is the sole protection for the library service. This was reinforced by the Wirral Report, from Sue Charteris in 2009. The Local Government Association (LGA) was not happy with it and it remained unendorsed by government as Wirral dropped its proposals. Lets move on, post election, trouble ahead in libraries so Mr. Vaizey issues a letter to councils (did Lewisham ever find its copy?) On 3rd December 2010 he reminded them that:-

a. State what your service is trying to achieve
b. Describe local needs, including general and specific needs of adults and children who live, work and study in the area
c. Detail how the service will be delivered and take into account the demography of the area and different needs of adults and children in different areas
d. Detail the resources available for the service, including an annual budget.

He added that a comprehensive and efficient service is a balance between meeting local need within available resources in a way which is appropriate to the needs of the local community. No two authorities are the same and there is no single way of making an assessment of the needs of a community. That is HIS judgement on the Act. The 2 tier service which will be on offer in Lewisham has been roundly condemned by residents, and Lewisham has totally ignored the results of its own consultation. The Chief Executive of CILIP, Annie Mauger, offered sound advice to MPs in the form of 6 key questions. Are Lewishams MPs ignoring these? Did they attend the Adjournment Debate on Libraries, 1st March? (And thanks to Walsall MP, Valerie Vaz, for calling that.)

But, back to Ed ... his comments on the Future Libraries Programme, which had its roots a bit before his takeover of office (remember Modernisation Review of Public Libraries March 2010, better, remember Lewishams submission in January 2010) and led by MLA and the LGA (always a worry to users) is to help authorities to maximise the impact of available library budgets They are showing great enthusiasm and there are already 10 projects involving 36 local authorities. READ ON Among the ideas being explored in the ten pilot projects are transferring control of library services to communities to run Are you surprised? This is exactly what is happening in Lewisham. It is exactly what residents did NOT want and it is maybe why the Council ignores its electorate and wont back off. He continued, There are 151 library authorities in England. We will take the best learning from the 10 projects and make it available across the wider public library network so that everyone can achieve cost savings, new partnerships and governance models, and take advantage of digital opportunities. You had better watch out, and Im telling you why, it is on its way. But Santa it aint! Did anyone say The Big Society? Hey there, Dave, Ed, Jeremy even, we keep telling you what our Society wants, whatever its size, (and it is pretty basic, no golden elephants), but you want to TELL us what to have! Big Brother always did know best!

Quote Annie, we cannot afford to let the baton drop. She is right. This is much too important to be left to a bunch of meddlesome, manoeuvering politicians. It is up to each and every library user, and potential library user, not to take it this time. Get aboard! Egyptian youth stood in front of the Library of Alexandria to protect it from looting and vandalism in the recent troubles. We should do no less.

Rattled of Parliament Square is not sure where this is headed. Even Ed had to admit in Parliament, on 1st March, that volunteers cannot staff libraries as councils imply. And who knew about this debate? Did our MPs tell us? Did Ed tell us he had written another letter to councils recently? Did our MPs tell us? Did our councillors and Mayor tell us? Did they heck, they do not like us having information. What he actually said was, Volunteers are an important element of library provision, but they must never take the place of professionals and must work with them professionals should work in libraries, but they do not necessarily all have to be professional librarians. It is important to have a mix of professionals. Where does that leave the Blackheath Village new model library with its suggested pool of 80 volunteers?

Lewisham is not alone, out there are others with the same predicaments who believe resistance is NOT futile. If politicians have become so careless in their attitudes to their electorates it is time to play hard ball. If the law with, hopefully, some justice thrown in, is the only way out, so be it. CHORUS: Amen to that! Alan Gibbons is out there in front leading the charge, followed by Lewisham, Somerset, Gloucestershire and the Brent contingents. Should it be regiments?

In amongst all this battling comes news that almost 80% of children aged 5 10 years now use public libraries! Childrens borrowing has gone up for 6 consecutive years!! Why would any adult deny those who come after them!!! Certainly not dear old Frank Field MP. His report The foundation years: preventing poor children becoming poor adults, adds to the Life Chance Indicators by including the home learning environment, which, you have guessed it, includes library visits! There is more to underpin the importance of books, but, you are able to Google the report.

Finally, and you really could not make it up, Museums, Libraries and Archives (MLA) has issued a booklet on what the public wants from libraries, after doing research. https://tinycurl.com/2uoo3rd
A good choice of books/stock is key
Expand your offer: but target genuine needs, and do not squeeze out books
If the core service is free, people will pay for extras (if the income goes to the library)
People detest poor customer service

All that is missing is do you have that library?

What else is there? LISTEN, and act on what you hear!
Patricia Richardson
Minutes Secretary LLL
Secretary of Users and Friends of Manor House Library
American Library Association Challenges
HarperCollins eBook Lending Policy
Publisher HarperCollins' decision to limit the number of times any of its e-books can be borrowed via a library to 26 has received heavy criticism from the US library world (66 percent of US public libraries offer free access to e-books) and the American Library Association (ALA) has published some videos showing just how restrictive this e-book policy is compared to normal book lending.

The ALA is about to develop a model for e-book lending. So, the HarperCollins move is premature and is costing the company a loss of revenue and image.

AT March 2011

Public Libraries & Museums Act under Attack?
Author Alan Gibbons latest Campaign for the Book blogs have highlighted two developments:

A legal challenge to library closure programs in several local authorities based on the statutory duty placed on them to run a comprehensive library service. This duty was set out in the 1964 Public Libraries and Museums Act.

A review of the statutory duties placed on local authorities which includes the 1964 Public Libraries and Museums Act.

The 1964 Act is notoriously vague and has not proved to be a very good guardian of library services in the past. However, it is better than nothing. Without the act, the present legal challenge would be almost impossible. Is that the intension of the Department for Culture, Media & Sport? Jeremy Hunt and Ed Vaizey have some explaining to do.

Letters to MPs about the latest Parliamentary developments, from library campaigners Shirley Burnham & Tim Coates.

Annie Mauger, Chief Executive of The Chartered Institute of Library & Information Professionals (CILIP) has written to Ed Vaizey about the potential threat to the 1964 Act and concludes her letter with I would welcome your reassurance that the Coalition Government will remain true to the Act.

AT

Democracy lives . But where?

4.3.2023

We have hit the buffers in Lewisham, not to say the UK as a whole, but here in Lewisham we have no electoral challenge to a directly elected Mayor and elected councillors until 2014. They may do as they please if they hold the majority. The directly elected Mayor may do as he pleases anyway. At least, if you live in Egypt, Tunisia, Algeria, Libya etc, etc you know where you stand. Here, we live in a nether world of perpetual pretence.
Ignore 25,443 petition signatures, one tenth of the population of the borough. Ignore 7 months of borough wide campaigning by 5 separate groups and other political parties. Ignore the true wishes of the people. Why? BECAUSE YOU CAN!

That is why the legal route is the only challenge available to an elected dictatorship, and then only as the money has been found to support it.

Adding insult to injury the full council meeting held on 1st March 2011 was re-scheduled to meet at 10.00 am. Not only did that mean many members of the public were excluded, so were some councillors who had day jobs to go to, e.g. Peter Pattison, who is a teacher. Apparently this was on police advice in view of what had happened on the evening of 29th November 2010. Did the police offer this advice to other London councils where full council meetings took place as usual? Those elected councillors faced up to democracy even if they ignored it. Apparently Lewisham libraries were also closed that morning, not to mention council offices. Yet again, giving the public advance warning of closures did not seem to be an option.

Forewarned (by a senior council officer) was forearmed, so Peter and I turned up with ID including passport and driving licence to cross the frontier into council territory. However, we are now recognised by security staff at the border crossing.

The Council Chamber was not used. We were back in the double committee room, appropriately arranged. The public was thin on the ground. Those who had mustered for a demonstration, funeral service (for the death of services, geddit?) and the TV and Press cameras, could not face another morning of council self- justification so beat a hasty retreat and off to the day job. Wise move you guys, it was far worse than you could have imagined.
But, as they repeatedly reminded us (Labour) they had to set the budget, or, shock, horror, Eric Pickles and his troops would be sent in to gleefully set a budget. Allowing the opposition the excuse of going through the councils books was not an option greeted gleefully, so, whatever, the councillors had to set and agree the budget.

Public questions were on the order paper, but, sneakily, because we had contacted the Secretary of State at the DCMS, asking for his intervention, all our supplementary questions on the library service were suddenly off-limits and had to have written answers. But, did we give in? Did we heck. We asked anyway. My supplementary on Community Asset Transfers led me later to re-check its origin and past. Would you be surprised to learn it has its origins in the Quirk Review published 15th May 2007. Yes, spot on, Quirk. Who he? Well yes, its Barry; Lewishams own CE!

As we encountered Councillors questions the meeting began to degenerate into a political bun fight. It was not tasteful or agreeable. In fact, most of the time it was downright nasty and unpleasant. Many of the councillors of the ruling party showed themselves in their true colours. Firstly the Mayor made a political speech to set the agenda of how it is all the fault of the coalition government, taking no account or responsibility for the squandering of public money throughout Lewisham, let alone by the previous Labour government. Forget the public sector debt requirement 2009/10 of £169 billion, forget this years, pencilled in at £140billion, forget the interest due on this and all past borrowing. We know its a mess. We know its virtually unpayable. That is why the approach needs to be sensible, reasonable and structured, not ideological. And they call Colonel Gaddafi delusional

We went on to councillors motions. Two were important. Cllr Britton put forward a Conservative motion asking for Blackheath Village and Grove Park libraries to remain open. Why only 2 was connected with a previous motion asking for all 5 libraries to remain open, which was defeated. A motion may be put only once. Cllr Feakes and Cllr Maines put forward a motion for the Lib/Dems to defer library closures for another year and find a range of other savings. Both were eventually defeated by the Labour majority. Fortunately Cllr Britton committed himself to writing to the minister at the DCMS and asking for his intervention.

Not only, but also, it would help if the majority party had not descend into abuse, sniping and raucous laughter while discussing policies that were going to affect lives seriously, now and into the future. If voters had seen this display it would have been lighting the blue touch paper.

There was the usual jargon, e.g. not acceding to special pleading, I make no apology for increasing parking charges, explaining the reasons behind freezing the council tax as government will grant the equivalent of a 2.5% increase over 4 years. It goes on. Cllr Maslin, Cabinet member for Resources, had his day and reduced his colleagues to rolling around laughing. They had a wonderful time.

There are pages of notes on who said what, who insulted whom, who fired cheap shots. What an exhibition. I will not sully your eyes or minds with such nonsense. Cllr Duwayne Brooks spoke up for reason when he suggested that such difficult times called for people working together, in the interests of the public. NB he had the same impact as the public, zilch!

Finally, pre passing the budget, councillors were reminded it would be inappropriate to cheer or clap. The Mayor said, they took no pleasure in doing this, but it had to be done whether they liked it or not. Pickles being in charge meant the change in Local Government as we know it. This is not quite the quote he gave the Evening Standard last November. It also does not allow for the seeds of change that were being planted over the last few years.

A footnote is appropriate Lewisham is one of the worst places in Britain for youth unemployment. Between June 2009/July 2010, 35.8% of 16 24 year olds were unemployed in the borough. This was an increase of 9.3% from the previous year. Closing libraries, Connexions and Opening Doors cannot be the answer. Interestingly these ONS figures do not agree with those of the council.

STOP PRESS!!! What larks!!! Here is the scoop, courtesy of the SLP their Friday, 4th March 2011 issue reports that Barry Quirk, CE of Lewisham council is to become a part-timer! From the 1st July 2011 he will only work for 3 days per week. His current salary of £192,387 will reduce to £115,432. What ideas run through the mind! Is he the sacrificial lamb? How much is saved by not paying 50% tax on a portion of that former salary? Are we meant to be impressed? Will the £260,000 saved over 3 years be spent on libraries, or Opening Doors or Connexions?
Patricia Richardson, Minutes Secretary (LLL) & Secretary, Users and Friends of Manor House Library
Angels and Devils (demons? Mmm, could be) -
The Lewisham Lot have not Gone Away

DAY ONE
Lets have Breakfast with Bullock, all invited on Thursday 17th November at 9.00 am (on police advice we have a daytime meeting, no confrontation in the early morning as many will be excluded from attending. Lets avoid the rampaging riff-raff. No, lets do it at 10 am, instead). We all attend anyway, back to the frisking and the confiscation of the searched handbag (dont ask!)
The mind numbing, bottom numbing boredom of these meetings is relieved by taking minutes (was I the only one?), humorous antics and comments of the packed rows behind, paper darts of the mountainous packages of council papers and the stony faces of Mayor, councillors and officers. This is a meeting held in public, but not a public meeting, the Mayor says it all really. After some time he loses his cool over the interruptions, identifies someone to be removed. Security and steward misidentify this tearaway as James, who, quite rightly refuses to leave. A burly officer of the old school appears to enforce the wrong removal and we all back James. James knows he cannot be removed by the police, so they fade into the background leaving a couple of heavy minders in place. Is this in the minutes? I think we should be told. Am I the only one writing for posterity? What did you do in the great library war 2010/2011?
The greatest sadness is the bits of money here and there, no longer available (yes, the incontinent Council did spend £12m on consultants and did buy the Catford
Shopping Centre - £11m+ and did organise the Mayors Fund (whose fund? Where did he find £900,000?) for distribution to Local Assemblies the year before the local elections. There go your front line services. Central Government is not free from blame. If cuts to funding are made guidelines need to be clear and transparent to all.
The Prime Minister has been reminded of this, by letter.
Suddenly, libraries are pushed to the top of the agenda, the Mayor breaks for a 10 minute pit stop and by 1.30 pm we are told no less than we expected. Cllr Best (Cabinet member for Communities) did come over during said pit stop. James and Peter grill her, but the eyes glaze over and we are back where we started. Libraries are to close.
We are using it AND losing it!
We then get the Aileen Buckton spiel, no change there. She never loses. Regular readers will know the campaign against closures and a real alternative solution, for the best of all concerned, was brilliantly and sharply executed in Lewisham. But it was a done deal! Always was!! Egypt springs to mind. Our very own cabal has been together for too long and the Mayor has absolute power, thank you Mr. Blair, but then Colonel Gaddafi was one of your mates.
Why was there a gross pretence of consultation? How can you decide to spend huge amounts of the peoples money against their wishes? I leave you to ponder.
What a relief to leave. No human being (were there devils?) should have to sit through such a disgusting failure. Even Catfords air seems fresh compared to the Town Hall Committee Room.
An incredible footnote to the day is learning that the council authorities closed Catford Library, opposite the Town Hall, supposedly on police advice should anything unspeakable happen to it! Ironic really, closing libraries is obviously council policy.
DAY TWO
We never close, but the libraries will on 28th May 2011, must get those redundancy notices out on time. By 1.20 pm on Friday 18th February two letters are delivered to the charming staff in the DCMS post room, for his nibs, the Rt. Hon Jeremy Hunt MP, dont you just love it, and his junior nibs, Ed Vaizey MP to demand ministerial intervention in Lewisham under powers granted in the 1964 Act. Copies are posted to the big panjandrum in Downing Street complaining (natch) and asking his government for clear guidelines. Sundays Independent (thanks, for all the support over the past months) reveals Cameron may have persuaded his Oxfordshire Council to defer plans for closure. Ruminate on that one.
Continuing Day Two
Is the message getting through?
When will this government produce guidelines for councils on NOT cutting front line services? When will the Secretary of State use his powers to intervene in Lewisham to prevent the Council from destroying a comprehensive and efficient service for all its residents? Well, guys, we eagerly await your responses.
DAY THREE
James was right on Thursday when he told us all we should be shouting at councillors. We are too polite. How dare they treat us like this, and then shove the responsibility onto someone else? Dont get me started.
Saturday dawns bleak, drab, dismal, wet. By 11 am our group is leafleting in Lee Green and collecting signatures for another petition. This is rolling out across Lewisham. A council has a legal duty to take notice of a petition, for the time being, but binned the 20,000 + signatures against the closure of the libraries.
A quick lunch in the car, warmer feet then off to join the masses at the Town Hall. The weather did not put them off. The police said 500, always an underestimate, and there they were, a cross-section of Lewishams humanity .. familiar faces, smiling faces, whistles, drums and lots of traditionally built police officers, but no WPCs?
By this time we have discovered that Lewisham Library Service has closed ALL its public libraries, but only for the day. There was no warning to staff or users, the portcullis came down. Was this a ploy to make campaigners look bad all your fault, was it fear or sheer nastiness? No matter, they aint gonna tell us the truth!
Quickly we are organised and set off for the grassy knoll in Lewisham Centre.
Blackheath Village Library User Groups beautiful banner leads the libraries at the front. Just as before people spill from shops, hundreds of leaflets are handed out, well-rehearsed chants ripple through the column of marchers. Car drivers hoot in sympathy, everybody waves. At the hospital another group of campaigners is ready and waiting having held their rally against NHS reorganisation.
So well-organised are the police, stewards and traffic cone carers that we arrive in no time, well 50 minutes, and all that publicity. On the moral high ground of the grassy knoll, where the cinema used to be, where I first fell in love with Sean Connery in Dr. No, just slightly under age for an A film, we all gather and listen to the speeches. Most police dive across the road to the massive Lubyanka to be driven off in vans. Congratulations all round. Didnt we do well?
And gentlemen in England, now a-bed,
Shall think themselves accursed they were not here
..
That fought with us upon St Crispins Day. (Henry V, 1599, act IV, sc. III, line 57)
I look around at a Lewisham I no longer know. The centre is littered with tower blocks and others going up. To me it is a nightmare. Remember Fritz Langs Metropolis? Where are all these new people going to find room in only 7 proper libraries?
DAY THREE part two
Yes, it was a packed 3 days, but, if something is worth fighting for, it is worth giving your all. Someone HAS to do it!
A bus ride to Catford, where we pick up the car and home to thaw out the bones, drink hot chocolate and cuddle the cats in front of the fire.
The evening awaits and how surprisingly interesting that proves. With other campaigners we attend the fund raising concert at St Margarets Church, Lee for Age Exchange. First to say how wonderful are the Standages and what a privilege it is to hear their work in such a glorious environment.
Sir Ian Mills, Chair of the Trustees of the Age Exchange, introduces the concert but first is at pains to explain how it has all been approved at the Town Hall for the Blackheath Village Library to be housed in the Reminiscence Centre. The £500,000 that the alterations will cost is in place. Lewisham Council will make a one off grant, oh, really, how much? (FoI?) You will get significant privileges if you pay £30 pa to support the AE. There will be computer facilities. It will be open 6 days a week, 7 hours a day and staffed by fully trained volunteers. (Note to friend James, nobody said zip, but we were in church and so were the plans and the model.) Within 4/6 weeks there will be a package of information. Will it also tell us the following:- Who trains the volunteers and to what standard? How many books will be available? Will there be a large print selection? Will there be a reference section? When will it be ready? Who will pay for any cost overruns or extraneous bills? And what if AE fails financially?
No worries community, this is your project, a community project.
There are as more questions than answers at present. Nobody regretted the job losses, that is people losing their paid employment, let alone professional, experienced service.
The budget is required to be voted on by full Council on1st March 2011, so what. The decision is made. Its a done deal. Is this The Big Society? Is it finally government by committees of vested interests who catch the Councils eye and suit their agenda? Anyone outside these committees will still pay the bills but be on the outside looking in. Yet again, dear reader, conclusions are yours to make.
Back to the beginning, the alpha . You need a long spoon to sup with the devil, and Im with Dan Brown, they be demons . evil spirits, a malignant being of superhuman nature; a being of nature between gods and men; a person of superhuman or diabolical energy and skill Anyone going to guess the title of the concert? It was Angels and Devils. A gift!

Patricia Richardson
Minutes Secretary for LLL
Secretary of Users and Friends of Manor House Library
The Largest Book Giveaway Ever
World Book Night is the event in which 20,000 members of the public will give away 48 copies of their favourite book. In total, one million books are expected to change hands on the night. The 5th March event is intended to focus attention on the use of books and the enjoyment which can come from them. Hopefully, that is still going to be the long term outcome, but the short term result is that it has annoyed the book retail trade. It believes that the one million books should have been new purchases from its premises and takes no account of any future improvement in sales which may be generated by the widespread (free) publicity for its products.
People have always given books away and lent them to other people so that the enjoyment can be shared. The work of the worlds public libraries is simply an extension and formalisation of this practice. The book trade benefits immensely from this and the growing tendency of those within the trade to attempt to restrict the activities of all those who consider books to be more than a source of profit will work to its long term disadvantage.
In spite of the sour response from many booksellers, the event has caught the imagination of the public and the associated Trafalgar Square activities on 4th March are expected to draw a huge crowd.
https://www.guardian.co.uk/books/2011/feb/23/world-book-night-public-reading-london

Bromley Joins the Rush to Close Public Libraries
Bromley Council is considering the closure of 7 of it 15 libraries. The 7 threatened branches are believed to be the smaller ones. Several of them are near, or on, borough boundaries. Both Anerley and Penge Libraries are believed to be included in the list of closure candidates. The relevant scrutiny committee has recommended that a joint library service with Bexley be investigated to obtain an estimated saving of £350k - £550k. It is unclear how this saving will be achieved, but the closure of small libraries near the border with Bexley must be one possibility
https://cds.bromley.gov.uk/mgConvert2PDF.aspx?ID=3388&T=10
AT Feb 2011
Eight Small Pieces from Camden's
"Save Our Libraries Meeting"
on 8th February
From Danny Abse:
"The ghost of Hitler rejoices, for closing down libraries is only a genteel way of burning books"
From Martin Amis:
"Libraries are not a luxury,
they are essential to civilisation"
From Julian Barnes:
"Like most writers, I had a childhood full
of weekly book borrowing and know the value of libraries isout of all proportion to their costs."
From Alan Bennett:
"Closing down libraries is child abuse"
From Dame Margaret Drabble & Sir Michael Holroyd:
"You have won before in the fight against library closures and we know that you can win again. We all need libraries, because they are a public good, available to all of us, and we (personally) owe them more than we can say"
From Helen Dunmore:
"They are foundation stones of education, culture and community. They are part of a heritage which is our responsibility to pass on to succeeding generations. I hope that there will always be teenagers doing homework in a warm, safe, public library"
From Ester Freud:
"It is heartbreaking to think that libraries are under threat. When my children were small, our visit to the wonderful Keats Library was something we all looked forward to and the huge bag books we brought away with us fuelled our love of books, stories, learning in general"
From Howard Jacobson:
"Borges said that he always imagined Paradise would be a kind of library. So how do we imagine a country in which there are no libraries? As a kind of hell."
Saturday 5th February
Croydon's Sanderstead Library Response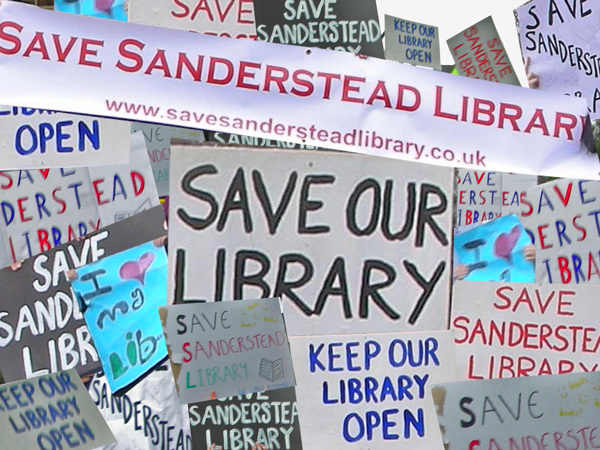 9.50 am Camden's Belsize Library, "Save our Library Day"
The queue goes on
& on
& on
& on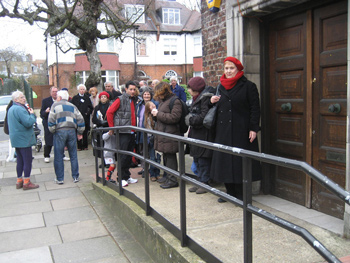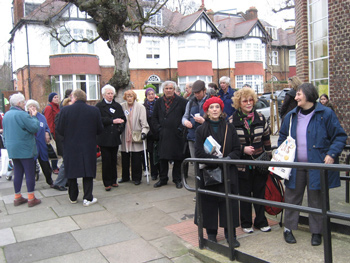 A Stunningly Brilliant Show of What Really Matters to Library Users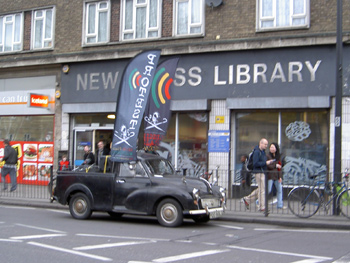 Saturday 5th Feb 2011, pushing off the crumpled bed sheets (no, not La Bercow) groping for the radio switch, R.4 with libraries as one of the headlines! That wakes you up! Turning the dial and hitting on LBC there is James Max, trying devils advocate AGAINST the libraries case, but being shot down in flames by his callers. No less than deserved, if you have to explain the value of libraries to professional, educated people despair does creep in. Remembering AGs e-mail I manage to think of the TV, something to do with 50, oh, it is 8.50 am and there are libraries, a pro and a con. Interestingly both interviewers are coming across as pro! The pro interviewee gets his case across well and says he is off to the read-in at Norbury library! The act is together again on BBC News 24 by 9.50 am and there we find Alan Gibbons and a childrens author, who nearly drops the ball, but is rescued by Alans experience and know how!
With the adrenalin well and truly flowing we are racing off to Sydenham by 11 am. The place is packed. Even the Library Service Manager and Cllr Best (Cabinet member for Communities) are present, as well as extra staff! Lots of faces we know, a childrens group in the corner singing their nursery rhymes happily, some people actually trying to implement the read-in and so much excitement in the air. Is this the Big Society? We have all given up our time, we know why we are there and why it is important. Any minister out there to comment on this fulfilment of policy?
Anthony introduces Lady Warnock, here to support the library and read from Death Sentence. It is difficult to hear because of the great buzz in the background, but we are so pleased she is there! Our local poet, Chrissie Gittens takes the stage and reads appropriately from her collection, especially to make the children laugh and the special composition on the loss of libraries. We listened to her short story, Just one of the girls, at 12.30 am on R.4, still going.
Anthony then calls for a big round of applause and thanks for the library staff. No quarrels there! We are then entertained by 2 members of the teenage reading group, followed by story telling, with a ukele, on Grow, grow, grow monster tomato accompanied by tomato shakers!

As we leave, getting through the melee and meeting more familiar faces, we see Sly and Reggie setting up outside, having come from Crofton Park. They look really respectable as urban pirates, maybe we all do! What a shame the Mayor is missing all this, in his own back yard, too.
Having been impeded by so much traffic we just make it to Crofton Park before closure. The library was overwhelmed by its visitors and we are heartily welcomed by all library staff. We missed Lindsey Davis (what a trooper, straight off to Blackheath Village.) Unfortunately the list of possible co-habitees to keep the library going seems to be doing the rounds. We thought the idea was to keep the library as a public service (1964 Museums and Public Libraries Act) but manage the money better! Where was the Audit Commission when you needed it? Who should supervise public spending? Down to us again?
Barely time for a quick bite, picking up friends and off to Grove Park. There, we are met by Sly and Reggie. It is time for another photo shoot. Two councillors are out in support, Cllrs. Clarke and Allison. Grove Park Library is a true experience, delightful inside, on open ground and full of mums, babies and children. Here we actually do the read-in and it is SO comfortable. More faces we know and books to borrow. Grove Park has a good collection! We all come away with a book! Sly and Reggie head off for Blackheath Village and later we start off for New Cross.
Blackheath Village Library was like the rest, over whelmed with visitors and new joiners. Blake Morrison made the introductions and concentrated on how valuable libraries were to those with health problems and dementia. Lucy Mangan read from the Reluctant Bride, followed by Father Nicholas of All Saints Church. Lindsey Davis had made it and read from Falcos dealing with the murder of a librarian, what else? Peter Greaves, a local resident, read a poem by Auden and the writer Jane Shilling, mud spattered from horse riding, spoke of the importance of libraries in her life.
We arrive at New Cross at the same time as our urban pirates and get some good pix on the road.

This small library is awash with people, more faces we know. It is well in hand and yet again, the Library Service Manager is on station, extra staff are out and one or two councillors present. Paul from Telegraph Hill was interesting to talk to, and helpful. Yet again there seemed to be a good collection of books. Those present were running interesting presentations. It gave time for a one minute rant. James explained the game plan and John explained how he was NOT arrested when decorating the library shutters with SAVE OUR LIBRARIES. Natch one thing leads to another and the read-in became a sit in. Well done them!!! Someone drew the short straw and it had to be the Library Service Manager, who stayed overnight along with security officers and the sitters in. Sympathetic friends, neighbours, library savers brought in food supplies and nobody died, BUT, meanwhile, back at Manor Lane Terrace, back in bed (I was tired, and getting older than I realise) who is on the TV? Before my eyes there is James grinning from his photo on the screen backed by his feisty words in defence of libraries. So BBC News 24 covers the lot, across the country, celebrities everywhere supporting the age old tradition of a library. It was on the radio too, but I was struggling to keep my eyes open and listen to the end of Chrissies skilful story on R.4.

Drifting off thoughts of sit ins at every library under threat manifested themselves. What could they do? Libraries belong to us, after all. Peter could be heard tapping away on the computer, getting visual material out and climbing into bed around 2.00am. What a day! What success! What dreams!

Patricia Richardson
Leave the libraries alone. You dont understand their value - Philip Pullman

In a speech on 20th January, the author Philip Pullman gave a well crafted outline of the case for the defence of public libraries. Although he was concerned specifically about the plight of Oxfordshire libraries, his arguments apply to all libraries in the land. It is well worth a read at:

AT Jan 2011

Quiet Reflections on Lewisham's Plight

"Happy New Year to one and all and it really is. As we all came out of the Christmas/Bacchanalian stupors, well, maybe not all, library campaigners in Lewisham were less isolated. Uncannily, like the rise of the armed skeletons in the story, campaigns across the land rose up. Legal action has been threatened. Our own elected Mayor is reported as advising other councils not to cut libraries. Why would he do that? Well, it is all down to you, campaigners, user groups, friends groups are all queering "his" pitch, "his" manor? It seems that if you threaten to close libraries we all rise up (refer skeleton myth) and challenge the proposals. Why did that surprise him? We have given the council REAL trouble before, so knew how to do it again.

That lesson is, keep on doing it.

Lewisham Council created its own problems, on top of the fiscal problems it had. There was no plan B for the libraries. Under pressure it has had to suggest the "community" model which has virtually no paid library staff, lots of volunteers and being co-ordinated with a community group and/or charity. The fact that these organisations are dependent on grants and fund raising which may be in short supply during an economic downturn along with public spending cuts seems to have escaped examination. To date there is no clear reply from the council on, eventually, how much money will truly be saved. It is still, clearly, all smoke and mirrors! Yet decision time is imminent. How can the Mayor, the Cabinet and other remaining councillors, in the interests of accountability and their own responsibilities, vote in favour? But then, they have done that before!!!!

In spite of huge opposition, a projected increase in the local population, primary and secondary schools full to overflowing, a commitment by central government to improved literacy and stronger communities this is the best our highly paid, very experienced officers come up with for the people of Lewisham.
Blackheath Village Library: In 2009/10 this library issued 64,766 items to 91,797 visitors. The plan is to move the library facility from its rented (£75,000 pa) building, sub-let that building and co-habit with the Age Exchange charity in its building. This building will be refurbished considerably, talk is of a £500,000 cost, thus saving both facilities for the people of Blackheath. To date it is not clear where the money is coming from, how it will be repaid, whether Lewisham Council will pay rent or what PLAN B is if the enterprise fails. The refurbishment is slated to take 18 months. Is this head banging time?

The Library Service will commit to 10 hours per week for each of these 5 "libraries." And for your money you get about 7000 books (currently 20,000+) and some computers. The management of the Age Exchange will require a body of 80 volunteers to run the whole thing, Monday - Saturday, all day, until 6pm. At present no evening or Sunday opening has been suggested.
Crofton Park Library issues 63,510 items pa to 82,528 visitors. It has been suggested that Darren Taylor of Eco Computer Systems, a social enterprise specialising in recycling computers, operates similarly out of Crofton Library. They sell 70% of the recycled computers to cover running costs and then use the remaining 30% and any surplus profits for community and charity projects. Currently the Pepys Resource Centre is their main project. They are in partnership with Hyde Housing and Lewisham Libraries. One thousand books are available at PRC and about 6/8 computers. Mr. Taylor was quoted in the local press as saying he could run 4 libraries on a similar pattern, but this seemed a big chunk to swallow in one go. We have no details of any funding from Lewisham, how much it already puts into PRC and what the start up costs were. Refurbishment and/or repairs were not mentioned either. The question of business failure MUST be catered for!
Sydenham Library lends 55,298 items pa to 65,742 visitors. The attempt by the local library campaigners to operate the service was not possible as they have no history of applying for grants etc. etc.
New Cross Library issues 37,189 items pa to 55,145 visitors.
Grove Park Library issues 40,288 items pa to 42,088 visitors.

Each library has different numbers of opening hours.
Some one needs to explain where all the volunteers will come from.
Who will manage volunteers and be legally responsible?
Who will underwrite the costs?

There are so many questions and you probably have some yourself. We and the council have now spent more than 6 months on this. It is true madness and ill behoves supposed adults to suggest this is the answer. It is insulting to every library user and tax payer in the borough. It is time the elected Mayor was reminded that he was elected by the majority of such people and owes it to them to tell his officers he cannot sell this idea and they need to come up with something he could sell.
The Daily Telegraph of 21/1/2023 had a nice piece on libraries by Robert Colvile. To quote him, what we all know "... libraries are not just another public service. They are the physical embodiment of the idea that knowledge is to be cherished, both for its own sake and for its power to change lives."
It is time this was publicly acknowledged by all politicians and civil servants with their commitment not to slash and burn. It is not the answer and never was."

The questions are not just related to the attitudes and policies of local government. There are questions to be answered by central government as well. For instance, in what way is it possible for a library service to provide a better service for the residents of its borough by closing libraries? That this is considered a possibility is clear from the Department for Culture, Media & Sport letter reproduced below. It shows a touching faith in the benevalence of local authorities or deep cynicism.
Patricia Richardson
Minutes Secretary of Libraries for Life for Londoners
Secretary of Users and Friends of Manor House Library

The Swells for Sanderstead Library Story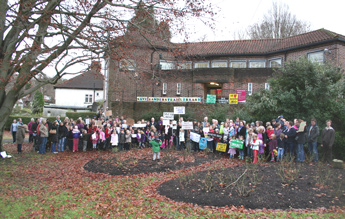 Residents, library supporters and the 1500 strong membership of Sanderstead Residents Association are actively opposing Croydon Council's plans to close Sanderstead library - one of six in the borough under threat.
Over 100 people, many of whom were children held a protest outside Sanderstead Library on Saturday 8th January 2011.
As part of an awareness-raising exercise, a petition signing event also took place outside the local Waitrose on Saturday 15th January.
Going forward, there continue to be leaflet circulations to households and local shops in the area which started in the middle of December. Many of the shops are also holding petitions to sign.
Local organisations, schools and community groups have been contacted to encourage them to show their support for Sanderstead library.
This flurry of activity will continue in earnest to ensure supporters' concerns are heard and listened to. In particular, it is hoped that the strength of local feeling against any closure will be noted at a public meeting on Wednesday 9th February.
As with all libraries under threat, Sanderstead library needs community support so could residents and library supporters please take the time to share their views and show support in aid of this invaluable asset to the community.
Tracie Parry

Library Closure Solutions?

Some library user groups, e.g. Gloucestershire, Lewisham and Dorset, are considering legal measures to oppose library closures in their areas. Many groups are also calling for intervention from the Secretary of Statewho has a duty to ensure that provisions of the 1964 Public Libraries Act. One way that the Secretary of State could interveen is to acceed to the demands of Somerset library campaigners. These are calling for a national public inquiry into the threatened closures of hundreds of public libraries throughout the country. If the government does not respond by 24 January, they say they are ready to set it up themselves.
In London, this may not be necessary, if Boris Johnson is serious about taking on board the responsibility for the capitals public libraries. He has proposed that a Trust he is setting up should be given all Londons public libraries to run. Presumably, he is expecting that economies of scale will produce a big enough cost saving to eliminate the funding problems which individual Councils are facing.
Superficially, this seems to be an attractive proposition. However, many counties, which run large numbers of libraries, are also having library budget difficulties at present. Whether private donations will be able to fill any funding gap, now and in the future, is unknown. So, Boriss Trust idea needs careful scrutiny. There are many questions to be answered. For example: will the trust cherry-pick the libraries it takes on?
At least Boriss heart seems to be in the right place. Perhaps the London Councils have proved themselves unsuitable guardians of this part of our heritage and should be relieved of the responsibility. However, the overwhelming advantage of the present system is that it is subject to democratic control. The public do have some influence in the way that their library services are run. It is certainly extremely difficult to exercise that influence, because the quality of local democracy is often poor. Councillors are frequently inclined to put party loyalty before their duty to their ward residents. Nevertheless, it is still possible to impose the will of the populace onto those in authority. Will Boriss Trust remove this possibility and, effectively, degrade democracy further?
The government has spent a lot of time and effort disbanding unresponsive and inefficient quangos. What we do not want is another disguised one, full of the same type of self-important drones that inhabited the disbanded organisations. They are probably already forming a queue at Boris's back door.
There are very real dangers buried in the London Trust idea, but Boris needs to be given a hearing. Can he can persuade us that his Trust will perform any better than local Councils? Politicians find it easy to make promises, but far more difficult to deliver on them. Boris has wandered into a very difficult area and he is not the most serious of politicians.
Sources:
https://en-gb.facebook.com/pages/Save-Somerset-Libraries/173898925966598?v=wall&filter=2

AT Jan 2011
The Localism Bill Arrives
The Localism Bill, laid before Parliament on the 10th January, is a package of reforms which is intended to devolve greater power and freedoms to Councils and neighbourhoods.

The Bill is intended to improve Councils freedom to act in the interest of their local communities through a new general power of competence. The new power will allow Councils to innovate and drive down costs more easily.
Moving power nearer to ordinary people must be an improvement in democracy, in theory. In practice, this is very dependent on the quality of the local authority. It is inevitable that there will be winners and losers. Obviously, this could be the start of yet another post code lottery, tending to further enhanse the areas run by responsive authorities and depress further those with unresponsive Councils.

Press release:
https://www.communities.gov.uk/news/newsroom/1794971
AT Jan 2011

Brent Council Prefers Closure for Kensal Rise Library

At a heated meeting in Brent Town Hall on Thursday 6th January, Brent Council failed to provide any alternatives to their closure plans for six of their libraries. Suggestions that reduced opening hours should be considered as a way of saving the libraries were received with a great lack of enthusiasm by Councillors and Officers.
The Kensal Rise Library users group is urgently formulating counter proposals for the future of their library. They hope that they can persuade Brent Council to temper its hard line attitude and meet them half way.

More Bad News from Brent?

The present tally of proposed library closures in Brent is six. Carefully not linked to these are initial proposals to redevelop the site of the large Willesden Library Centre. It is believed that this library will be demolished and a new building constructed. This will house a new library, together with offices and flats. The offices and flats will be necessary to help pay for the redevelopment, but also to provide more office accommodation for the Councils bureaucrats.
In the depths of a major recession, Brent Council has decided to build a plush new Civic Centre in Wembley. This grandiose scheme will be placed a few hundred yards from the existing Wembley Town Hall (to be redeveloped). No doubt, dispensing with the Wembley Town Hall Library at the same time was considered. However, this would have increased opposition to the far more important project of providing good accommodation for Brents Officers. Therefore, this scheme will include a new library as a replacement for the one at the Town Hall.
As part of the process of identifying the services and departments to be consolidated into the new Civic Centre, it was found that there was a need to also create a Service Hub in Willesden. The obvious place for this is the Willesden Library Centre after all, Council office accommodation is more essential than a public library service, isnt it? Again, better not remove the library completely, as the priority is to avoid opposition to upgrading the working conditions of the bureaucrats simply reduce its size and get rid of a few thousand books & some public access computers. It is all in a good cause and the library budget can be cut further.
The new Willesden development has been isolated from the main Brent library closure plan and, hence, from the consultation process associated with that. However, it materially affects the closure plans and must surely be included within that consultation. The second Brent Library Closure Consultation Meeting will take place at Brent Town Hall on 6 January starting at 6pm.
Background

AT
Jan 2010

More London Libraries Under Threat

Three more London boroughs have announced that they are considering closing public libraries. These are:
Croydon
Sanderstead Library
Norbury Library
Shirley Library
Bradmore Green Library
Broad Green Library
South Norwood library
Richmond
Heathfield library
Wandsworth
York Gardens Library
Nationally
363 libraries are currently under threat or recently closed
AT Dec 2010

Resistance to Kensal Rise Library Closure Grows
The users of Brents Kensal Rise Library have organised themselves to oppose the Councils plan to close their library. They now have a committee and are printing 4000 leaflets. A public meeting has been arranged (see banner advert, above) and fundraising events are being planned for January and February. In addition, they will take their case to Area Forum meetings in Queens Park and Harlesdon.
Elsewhere in Brent, it is the Lib Dems who are leading the fight against the planned devastating library cull.
Brent Council plans
Brent Lib Dem anit-closure petition


AT Dec 2010
Ed Vaisey = Andy Burnham mk 2 = Cultural Vandal?
=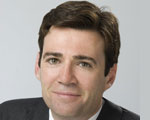 Author Alan Gibbons has compared the Labour Secretary of State at the DCMS Andy Burnham's attitude to public library closures with that of the present Conservative Culture Minister, Ed Vaizey, and found them to be very similar.
In an open letter, Alan Gibbons quoted Ed Vaizey as saying at the time of the Wiral library closure controversy: "If Andy Burnham is not prepared to intervene when library provision is slashed in a local authority such as the Wirral, it is clear that he is ignoring his responsibilities as secretary of state. In the face of an even greater threat to public libraries, Ed Vaizey is exhibiting the same cavalier disregard for his responsibilities. In the letter, also signed by authors such as Philip Pullman and Carol Ann Duffy, Gibbons has called on the Government to prevent councils inflicting cuts which amount to cultural vandalism.
AT Dec 2010
Chaos and Violence at Lewisham Town Hall 30th November 2010

We was there! As we crossed the road we remarked how few people were outside the Town Hall. Not so! Rounding the corner we viewed a small police presence warily regarding newcomers, already protecting the front of the Civic Suite (in darkness and totally inaptly named), a large bunch of demonstrators in the middle and more security/police (difficult to identify) near the Town Hall main entrance.
There were many familiar faces, banners and placards. Are we still challenging the elected representatives after all these years? Why do they not represent the electorate and usefully use our taxes? The debauchery of elected representation into the naked aggression of unrestricted power was soon to become apparent. The embodiment of this is an elected Mayor. There are historical comparisons, back to the Normans and the Tudors, but you have to look at barons and power seekers.
We discovered we needed to join the queue to gain entrance to the Public Gallery to ask our supplementary questions and because of this we were allowed to jump the queue. Still queueing were library campaigners.
Once inside a polite frisking took place, but, hey, I have been frisked in better places than this! The lobby was awash with council security and old friends like AB, Cllr Best, and best friend Steve Gough. They really do make use of him, and more later.
Inch by inch we were able to make the journey to the Public Gallery to join the other 12 people. A few more followed, about 20 in all.
At 7.25pm the Chamber was pretty empty then an alarm, followed by a disembodied voice, declaring smoke on the premises, EVACUATE. Wearily we rose to follow instructions, never to return. Who set off the smoke bomb (was it in the lobby?) Anybody know? Was it a plant? Was it a signal? I think I have seen too many movies of the Bourne variety. A Lisbeth Salander would have been most useful and where is Blomkvist when you need a superior investigative journalist?
Back down the stairs, well, almost. Some fracas broke out involving a library campaigner and a senior councillor with cabinet portfolio. Of course, security and the rest piled on top of the campaigner and apparently threw him out. Doors flashed open and closed, yellow jackets dashed to and fro behind the frosted glass and we were told to clear the stairs for emergency circumstances. We had thought WE were an emergency circumstance to be evacuated. Apparently we were just in the way.
We were to-ing and fro-ing until we were told to go back to the public gallery. Once there we were denied access as there were still 3 perpetrators freewheeling around the Chamber and one was hanging from the balcony.
Suddenly there appeared several small officers with riot shields as big as themselves, who did gain access. John Hamilton had already got in. We were all barred. The linguistic skills of the council staff on duty totally failed them and anger broke out amongst the ordinary members of the public. Unfortunately staff lurched from the patronising to the downright insulting, back to Lewisham Council! John was not evacuated. We were not allowed in. WHY? I appreciate the staff had been on duty for a long time without proper breaks or food, well, council, that is another of your responsibilities.
Back down the stairs again to muster in the lobby. By now one of the front windows was well and truly smashed. Blue lights flashed from numerous police vehicles blockading the Town Hall and closing the South Circular. Two mounted officers were ready and waiting.
Dont you just love it, for our own safety we were ushered into a side room with a water fountain. Actually, we could not have been safer. We, included about half a dozen, and, eventually, having refreshed ourselves, we crept out. Nobody noticed!
What we had missed was the human assault on the Town Hall. A report from a long term regular library campaigner confirmed that a security guard had, somewhat unskilfully, informed the queue that no more people would be allowed access to the Public Gallery. On the back of the council refusing to provide an annex for the public to view the council meeting and the grossly inappropriate fashion of the announcement this went down like a lead balloon, or a firecracker, even. Provocative or what? Light the blue touch paper and retreat. Not quite. Humanity launched itself at the Town Hall. Some of the older members of the library fraternity in the queue were caught in the crossfire and were injured. The greatly increased police presence just did what they do. Please try to view the excellent coverage by London Tonight which had its considerable coverage going out at 10.30pm. Even better was the coverage and comment this evening. Funny how Mayor Bullock found time to issue a statement on the governments deferring its housing benefit cut. Well, he would, wouldnt he?
Having lost all touch with reality the councillors and many officers, safely incarcerated, isolated, in the Chamber, voted on budget proposals the public did not want, having excluded the public. It was a full sweep. All Labour councillors did their duty to Mayor, party and whip. The two Tories and one Green voted against. The Lib-Dems abstained, and there is a lot of that about!
Well, was the public excluded? Our part of the public was excluded and in spite of numerous attempts to get sense and decisions out of council staff, Steve Gough, police officers and demands to be let back in, we were denied. But John was not removed. Well done, John! Why? If the public was removed and not allowed in why was one of the public in? This needs serious examination and answers, as the police were enforcing this, but denying responsibility. Stitch up?
A self declared (he really did not look the part) superintendent, having spoken to Steve Gough, approached us to say we would be escorted off the premises, by him as we were in such danger. He revealed he had been forced to call in police from all over London to deal with this very serious incident. We never saw him again. Police dashed back and forth across the lobby with riot shields and ordinary shields. They were regularly outwitted by the same youngsters who had a knack of gaining entry and dashing up stairs to be brought down again.
Two smart, fast girls with us completely diverted attention by one rushing through doors and pelting down a corridor followed by a police and security horde while the other made a dash across the lobby. She fell to a rugby tackle and was handcuffed. No doubt that will be on her CV. But, she has witnesses.

So, there you have it. I just wish I was still a fast, smart girl, but, have taken up my pen on aging. That is my contribution to the age of the death of democracy. I am supported in this belief by Mayor Bullock, who told the Evening Standard, Dont give people the impression that with the stroke of a pen we can solve the problem. This is the end of local government as we know it.
And there is the power what gives him the right and the power to have made this decision? Where do we, the people fit in his new State? And what is this new State?
Maybe its time he handed over the reins of that power to a real problem solving candidate

Patricia Richardson
Minutes Secretary of LLL
Secretary of The Users and Friends of Manor House Library
Democracy Under Threat in Lewisham
Democracy is messy, but it gets a whole lot messier when elected representatives eschew their electoral responsibilities to the electorate.

It all went down big time at Lewisham Town Hall tonight. After the disrupted Mayor and Cabinet meeting of the 17th November, it was clear the Mayor opted for a large police presence this evening. Unfortunately, this resulted in keeping us all out!
But, to continue. We greeted our friends and colleagues en route to the queue to gain entrance to the meeting. As favoured people, with supplementary questions to ask, we were escorted to the front. In spite of being so well known to the council, we still had to be "frisked". The lobby was full of officers, security, council staff...... We made it to the lift. We made it to the public gallery, where, in spite of the long queue outside there were only about 15 occupants who had made it through the frisking, thus far. Having collected our papers, a disembodied voice repeated and repeated there was fire in the building.
Exit one and all! Not quite.... We were all stuck on the stairs, the smoke filtered through and a fracas broke out between a member of the public and a member of the cabinet.
Yellow flash jackets rushed hither and thither behind the frosted glass! What was happening?
We were all asked to return upstairs and back to the public gallery. But it was not to be. Three members of the public were causing mayhem in the council chamber and one was hanging from the balcony. We were told this could endanger us and we should leave. It was quite worrying when several small police officers arrived with their riot shields.

There was chaos. Back in the lobby, the smashed window at the entrance, about 20 police officers defending the entrance, police women everywhere, mounted police officers outside, the South Circular blocked with police vehicles....it was mayhem - and no one seemed to be in charge!
Half a dozen of us, actually keen to ask our supplementary questions in the council meeting ended up secreted in a side room with a water facility. We were treated in a patronising, inappropriate manner by virtually everyone. The main man, a superintendent in mufti, explained why we had to leave for our own safety and he would escort us out. He had called out reinforcements from all over London. Then he promptly disappeared! It was a hugely disappointing experience.
We never did make it to the council chamber. The police in the lobby were outmanoeuvred by several smart, fast girls. What an experience! Will this be reported?

Do we live in a democratic society?
Patricia Richardson
Arts Council Aquires Libraries
Culture minister Ed Vaizey has confirmed that Arts Council England (ACE) is likely to take on responsibilities currently held by the Museums, Libraries and Archives Council (MLA).

A number of the key functions that are currently undertaken by the MLA are to transfer to ACE by the end of March 2012, subject to the approval of its National Council.

If approved, ACE will be responsible for the Renaissance in the Regions initiative; work to develop museums and libraries through accreditation and designation; and statutory cultural property functions.

Additional funding worth more than £46m a year will be provided from 2012-13 to help ACE deliver the work, with £1.3m extra support going directly to the British Museum to co-ordinate the Portable Antiquities Scheme.
Barking & Dagenham Joins the Rush to Close Libraries

The London Borough of Barking & Dagenham has announced plans to close half of its libraries as part of the budget cuts necessary to accommodate its reduced government funding.The libraries to be closed are Wantz Library, Rush Green Library, Robert Jeyes Library, Markyate Library and a fifth TBD facility. These libraries are to be replaced by two new large libraries. The plans are to be considered by Members of the Safer and Stronger Community Select Committee at a Town Hall meeting early next month.

Read more:


Lewisham's Mayor and Cabinet Meeting 17th November 2010?

Democracy is messy ... but is aggravated by a sense of humour failure ...

Cold, damp and dark, but, we all turned up on the steps of the Town Hall on 17th November, even though our issue, The 5 Library Closures, had been deferred. Others were present to defend their own issues and the loss of jobs and services threatened. The banners were out in force. The chanting was loud and speeches were made.
It was important for library campaigners to turn out. Don't ever look as if you have gone away.
The Mayor's position had filtered down as follows, "After studying the results of our consultation to close 5 libraries before attending the council's Public Accounts Committee earlier this week, I wanted to share with you my thoughts regarding the current library proposals as they stand at the moment, what I said to Public Accounts and what I am minded to do next Wednesday at the Mayor and Cabinet.

I did not seek election as your Mayor in order to close down libraries. However, the scale of the challenge and size of the cuts we are faced with due to decisions taken by this Tory/LibDem Government means that we are faced with very difficult choices in order to protect the most vulnerable in our community.
I believe in libraries and the difference they can make which is why over £6.5m has been spent in the last 4 years in providing 21st century library facilities across Lewisham. The current proposals do not provide enough detail on the alternative community library proposals and on the transitional costs of moving to these altrnatives. I am therefore minded next week to defer a decision on this proposal for up to 2 months to provide time for those proposals to be firmed up and to allow those who want to be involved to come forward and have further discussions with the council." Yes, it is a bit regal, but at least we have a statement from himself!
Please read between the lines, please interpret the language, please remember he knew what was coming fiscally and it is all on record, well before the elections, please remember the government suddenly finds £7bn to support Ireland and half a billion more to go into the EU...... money is no object! Reported today interest rates on our debt are runnning at £5m per hour. Is someone printing the stuff?!!!

The plan is to hold an Open Day at each of the threatened libraries and encourage community groups to attend to see how they would fit in with a much reduced library in each building and exist on the grants they currently live on. We have already investigated grants received by these groups from the council. They fluctuate year on year.
WHERE IS THE GUARANTEE of this kind of funding or of any other funding? The council is also considering leasing these buildings (forget the asset transfers first suggested, by the council). And, did I get it right that they could use some of the saved money to plough back into these new ventures?
We are still dealing with a volunteer only service for these centres, with limited library service support.

Bless the campaigners of each library. It was clear to them that the fault lines and holes in these suggestions could completely kill off a library presence. When a council provides a borough wide service for all its residents the whole service has to be considered and the service has to be for everyone. Fortunately campaigners are supporting first principles.

The double committee room on the ground floor had been suitably arranged with its chairs, staff and "bouncers" (who would not have looked out of place outside some Soho nightclub.) It seemed an attempt to foil an assault on the Mayor and Cabinet. As it happened the assaults remained verbal, very loud but verbal chanting, heckling, tub thumping.

We managed to acquire an agenda and piles of paper, and I mean piles of paper. Fortunately it does contain some plums for us and the complete report on library closures.
Cllr Maslin, Cabinet member for Resources, was invited to kick off the proceedings and lost his audience as soon as he launched into a political speech to blame the current government for what he had to propose. We blame them all and it really is about time they got the message. He ploughed on, the occasional word getting through. The Mayor asked for quiet and after the second ask did not work he adjourned the meeting.

None of us knew where we were going with this, as he did not say. We found out it was a half hour adjournment, try again and if that failed the meeting would be reconvened the following morning at 10.30 am. without the public. Whence democracy?
Oh, a slender shaft of light appeared before we were shut down. The chanters in the lobby were not let in. The chanters in the committee room demanded their presence. The Mayor denied they had been excluded so those in the room went to get their compatriots, and said "Thank you, Steve." As I said, messy!
During the adjournment James had the sense to approach the Mayor and it was agreed the petitions be presented as soon as we started. So James (New Cross - 5063 signatures);

Annabel (Sydenham, another 1838 signatures) and Cllr Bonavia (Blackheath - more signatures) handed them over. Sophie (Grove Park) had to leave earlier, not having time to outlive the adjournment, so her part in democracy was lost. But, they will get in later. There are over 20,000 signatures. The Your Lewisham, Your Say survey apparently only sported just over 2000 responses. This does not look good, Council.

The room settled to try again, and we mostly did hear non-council people present their views, but, disruption let rip once the politicians tried to have their say. To be honest some of the heckling was really funny, but Steve did not respond to being asked to cut his pay. So, they were all asked to take pay cuts. Faces of Cabinet members were a picture, but, nobody was allowed to take a photo. Steve remained thunderous, but has learned not to swear while the mikes are on.

We spilled out into the darknes, collecting banners and other propery connected with a demonstration. Are we downhearted? Not us!

It is quite clear there is a complete disconnect between the electors and the elected. Where is the sense of public duty, public accountability, public service by elected members? The gap between us and them is truly unbridgeable at the moment. Yes, Democracy is messy and not perfect, but it needs to be given space and a hearing. We may then all hear each other. Library campaigners are certainly doing that! And the members of the public present were quite good-humoured when they left.

Worse, it is not just Europe receiving large chunks of our money. The council continues with its local assemblies, only a few years old (unlike the library service.) This feature of council operation requires a large number of staff to supervise and organise. It continues. The locality funding for each ward, although cut, will continue at £7,500 pa. now children, 18 wards times £7,500 and we have spent - yes, £135,000. On top of that each ward will receive £18,500 pa from the Mayor's Fund (whose fund? who knew he had all that money?) so, try again £18,500 times 18 wards and we have £333,000. And the proposal is to close 5 libraries, for ever?

Councillors really have a lot of thinking to do and not just about libraries.
Patricia Richardson
Minutes secretary of LLL
Secretary of the Users and Friends of Manor House Library
LLL Comments on the London Borough of Lewishams Proposed Library Closures 14/11/2022

Or not? We shall see!
It had been quite noticeable that the council officer class constantly moved position on each of the libraries as the campaign gained momentum. It looked like a divide and rule operation (usual tactics from Lewisham, if you have been a close observer, for at least the last 10 years.) When this failed and the campaign grew stronger and was united we stand the initial proposal and reasoning actually undermined their case. They undoubtedly blinked first. It was NOT sound strategy to demand that 5 libraries had to close, to save the staffing costs, to meet lower government funding and then try to divide and rule when it became more difficult. As pointed out before, 5 libraries had to close to meet the staffing requirements and to meet the spending cuts 20 staff had to go. So, back to TINA, there is no alternative. There was no plan B. All that could be offered were outreach centres with mostly volunteers!
Well, surprise, surprise, TINA is being rested, for the present. That girl had much to do recently, so, give her a break. No doubt she is needed elsewhere. Out of the ether on the morning of 11/11/2022 came news that Lewisham Council had withdrawn 5 library closures from the agenda at the Mayor and Cabinet meeting for 17th November. Therefore it would not go forward to the full Council (also delayed) now scheduled for 29th November. Councillors had quizzed the Mayor about library closures and that was the decision. Remember, we have one man one vote in the London borough of Lewisham. The Mayor is the man, and he has the vote! No reports have been received that he swore at anyone this time. It seems the proposal providers are not ready. All alternatives across the borough need to be quantified and more work needs to be done. Therefore, this will re-appear in February 2011.
Carry on Blinking?
Was this a cunning plan, of any kind, or a defence mechanism? Do they think campaigners will vanish? Dream on and keep blinking! E-information was circulated and, no worries, everyone is committed to standing their ground. Nobody is going away.
One has to reflect how the loss of a library really gets people going and makes them angry, even those who do not use libraries. How all these highly paid officers continually fail, yet keep their jobs is mind blowing. You would think the authorities would learn this lesson and save themselves a great deal of aggro. (Aside - it certainly damages the Karma.)
My advice to you out there, who are facing library closures, is to do what we have done. Follow the story on www.librarylondon.org and go for what you want. Do not take their deals. This is all OUR money they are dispersing. It is not the governments money. It is not the Councils money. It is not the Mayors money. It is not the councillors money. It most certainly is not the officers money. It belongs to all of us and needs to be better spent. Power to the people? I wish!
Finally, this time only, as knowing Lewisham council as I do, Ill be back. Follow the story etc. etc.
My advice for the moment, look out for TINA. She pops up any and everywhere and may be visiting a library service near you. She may NOT be blinking!!!
Patricia Richardson,
Minutes Secretary of LLL
and Secretary of the Users &Friends of Manor House Library
Brent to Close Half its Libraries?

Labour controlled Brent Council has followed Lewishams lead and has prepared plans to close six of its twelve libraries. Its Director of Environment & Neighbourhood Services, Sue Harper, will present a paper to the administration on Monday 15th Nov. which will give details the closure program.
Ms Harper, with her tongue firmly in her cheek, has suggested that the project will improve the quality of library services in Brent. Apparently, this miracle is to be achieved by co-locating the remaining libraries with other council services Officer-speak for reducing the library service offered to the public still further.
The objective of the closure program is to save £1 million. However, it is very similar to a scheme which the Officers proposed several years ago. That program was rejected by the Council and it looks as though the Officers are simply trying again.
The libraries under threat are: Neasden, Preston and
Barham Park
Cricklewood
Tokyngton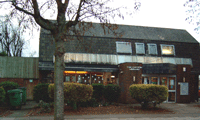 Kensal Rise
AT 11/11/10
Grove Park Library, Lewisham Closure
- second and final consultation meeting,
27th October 2010


Anyone seen Roy Clare? (Who he? Why Chief Executive of Museums, Libraries and Archives, keep up!)
Fat chance! It seems community is a word written on a piece of paper, not a living, vibrant, breathing group of humanity. Well, this group of humanity assembled in the historically named W.G. Grace Hall, but it certainly was not cricket. At one point we thought we had parts in Assault on Precinct 13 as the hall was assailed by other representatives of the community, so it was no wonder fewer people had turned up than at the first meeting. They obviously knew something we did not!
Malcolm Smith took the floor again and said what a privilege it had all been. Calm down in the back row. He introduced the panel and poor Ms. Buckton rose again to repeat the message but with the added frisson of George Osbornes intervention on the Comprehensive Spending Review, 20th October. I have to be honest, I am beginning to feel quite sorry for her, but wont let that get in the way.
The 3 Ward councillors were invited to speak first. David Britton reminded us that this was the third attempt to close Grove Park Library. Having noticed our presence and that of Anne and Alan, not to mention Frank, he said he did not want protesters from other libraries. The fact that we had all stood together in 2000; the fact that the whole library service would be affected; the fact that we had used Grove Park library; the fact that 20 staff could lose their jobs .. He added that the decision to close had been taken. One librarian had already been made redundant from April. He knew the majority of residents wished for no change. He suggested the use of community groups be used as co-residents, with the library. Of course there is no guarantee that such groups will be able to continue in the current financial climate. As a Conservative Councillor he was able to say that the government had advised front line services were to be untouched you heard it here first? It must be recorded that Cllr Britton was the nominated Conservative on the Mayors Commission on Libraries and Learning. He had not attended once. I know that because I went to every meeting. Ms. B. rose again to state stoutly that NO staff redundancies had been issued to library staff. Officers were consulting with the Union and non-Unionised staff. The report would go in with the main report.
Councillor Allison, also Conservative, robustly defended the library staying where it was, as it was. She listed cuts that were already taking place, without consultation. She suggested other non-essential council spending should take the brunt of cuts first e.g. Lewishams own publication, Lewisham Life. The spend matches library cuts so well. We were also reminded of the Carnival March due to take place on Saturday.
Councillor Clarke (Labour) had a family interest in keeping the library as well as it being a superb local asset. Actually, she was quite fearful this would be lost. But, change was essential. She amplified her previous suggestion of making it a home for the Childrens Centre, presently in a building next door. Sharing the library building might help survival of the library. However, it would be a much smaller service and require money spent. The relinquished empty building would then have to be dealt with. Could it be sub-let? We are going round in those circles AGAIN. The loss of staff was also a severe problem. She outlined the possibilities available to the other libraries. Faithful readers everywhere, you know what they are! None of these was possible in Grove Park. Being built on Metropolitan Open Land was another complication. Quite rightly she pointed out that Manor House Library was in a better area but had oodles of dosh spent on it.
Sophie, lead local campaigner, took the floor and asked that better arrangements be made for public meetings. A dark night, in a lonely Community Hall (the assailants struck later) was not conducive to attracting mothers with families or the elderly. The petition currently had 1700 signatures. It had become clear to her, while collecting signatures, that none of the community wished to lose the library or its staff. If the Council continued to ignore us there were compelling reasons to believe this would lead to unintended, damaging consequences. She suggested that putting in a café or other facilities might generate more income. The local schools used the libraries both in and out of school. Books and IT were provided. It should be staffed by trained personnel. With no disrespect to volunteers that is was what they were, volunteers. They did not have the same conditions and responsibilities as employed staff. Using volunteers to conduct the Summer Reading Challenge would be a tremendous undertaking. The Council should look at other staff cuts, if necessary, e.g.middle management, those on higher salaries. The area around the library was somewhat isolated and the idea of trekking to Downham Library was really not feasible. On balance, none of this made any sense.
Ms. B. rose again .. to try to make sense of nonsense. We were back to action replay, but going round in those circles, dizzy making to say the least! Just a few points she supported Downham Library, no problem with that, unless you live far away in Winn Road, or parts of Baring Road and Burnt Ash Hill, or go to Marvels Lane or Coopers Lane Schools. Explaining the investment in other libraries in better off areas was more challenging. As for taking staff from Manor House, that might spread staff too thinly! It has been admitted before that there really is no space in local schools to develop public libraries. It was admitted that not all library staff were qualified librarians anyway. As for slashing Senior managers, and their costs, well, my dears, that is a SEPARATE 25% CUT.
There followed public questions, all on the same lines as before.
Using the Ringway Community Centre was not an option as that was in bad condition. A new Community Centre was required. Bob wanted to know, as had others before him, why we were there at all. This had all been thrashed out at the first meeting! Nobody wants to see the library closed, or reduced. Why had the Council not made improvements when it had the money? As the saving through closure was minimal, why bother? He called this arrant nonsense, and, he is not wrong.
A former librarian with the service spoke up to point out that ONCE UPON A TIME Lewisham Borough sported 18 libraries (each with at least 1 qualified librarian), now 12. Were they seriously suggesting 7?
Libraries had been easy targets over the years and the idea of volunteers was definitely the end of the slippery slope.
I cannot go on with all the points, mentioned before, on why this was all a totally crass idea. It is so depressing and unedifying and unnecessary. Aaargh!!! You can tell I used to read Beano and Dandy!!!
Importantly, and new, was that our former librarian winkled out of them that it would cost at least £20,000 to demolish the building. Why demolish it? Malcolm, the man who was privileged, said it could not be left as a focal point for vandalism. By then the vandals had already been thumping on the wire meshed windows and throwing a missile into the our hall. This was a fully occupied hall, full of so-called adults!
Cllr Best used her time, not necessarily to rubbish the service on offer in Grove Park, but almost (not happy news for the library staff who work so hard to do the best for all the library users AND ARE A BEACON in an outpost of the Lewisham Empire.) Yet again (ref Crofton Park) she mentioned that Full Council would be meeting on 29th November. Opportunity for a question Peter (one of those naughty protesters from out of area) asked if the date had been altered. Chris stated that it had, as the scrutiny committees needed more time. So, my friends, what does that tell you? Confirmation of this came from Governance.
Now, dead important, Council Question Time deadline date is now midnight 14th November. Get your questions on library closures (and anything else that is Council business, which may annoy you at present) into the mix.
E-mail Kevin Flaherty as follows [email protected]
Keep up the pressure, you have everything to gain, nothing to lose.
Patricia Richardson
Minutes Secretary of LLL
Secretary of Users and Friends of Manor House Library
CARNIVAL PROCESSION in SUPPORT of LEWISHAM'S PUBLIC LIBRARIES
Saturday 30 October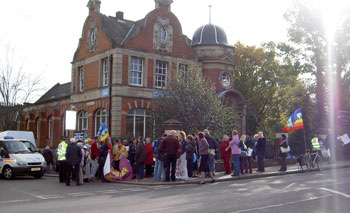 We gathered from all corners of Lewisham in cheerful and carnival mood. The sun finally blazed down from the arctic blue sky and blessed us until we reached the darkening portals of the Town Hall There was something medieval in the brightly coloured clothes, the dressed up children of all ages, the whistles, the drum, the horn. Even St Hilda accompanied us from the splendidly wrought banner, carried by the St Hildas Church contingent. We were truly a motley crew. The lead was eventually taken by the coffin in which lay the body of Lewisham libraries, carried by the appropriately attired pall bearers.

Do look at the photo, and see who leapt aboard Sir Steves ship, the coffin. Who are they? They be Cllr Curran, who stands to lose Sydenham Library in his ward and has made a good fist of supporting his constituents, thus far. Heidi Alexander, MP for Lewisham East, where both Grove Park Library and Blackheath Village Library may close and Joan Ruddock, MP for Deptford which has Crofton Park and New Cross Library to close. The latter two did not march, but Cllr Curran did while distributing his leaflets, but then he had news for us all, outside the Town Hall..Two other Councillors also attended at the Town Hall:- Cllr Paul Bell of Telegraph Hill and Cllr Bonavia of Blackheath Ward.

Off we set, in remarkably good humour, whistles blowing, chanting slogans and making them up as we went along. It was noisy, we held up the traffic and the traditional police escort handled us extremely well, even on our journey down the South Circular. They deserve our thanks, but we, in return, were biddable, as London Folk are. Our own stewards did sterling work along the route.

No ifs, no buts, no library cuts. We have had that before. Then, my partner on the Pensioners Forum banner introduced Steve Bullock here us say, library closures, no way! The children blew their whistles to match the chants!

Not quite Battlestar Galactica and her rag tag fleet but, the car horns were hooting, bus passengers waved and grinned, residents opened their windows and peeped from their front doors, shopkeepers left their businesses We were noisy and drew attention to ourselves.

Cllr Maines was there at the beginning and Cllr Morrison managed to help with a banner, making it to our destination. Cllr Clarke skipped along with the marchers. When you consider how many wards are affected by these closures it was surprising to see so few councillors. If any other was there and has been omitted, let us know, and we will ensure your name is recorded for posterity.

About 160 set off from Crofton Park and those unable to do the 2 mile walk, or not having enough time, joined us outside the Town Hall. One young woman with child and sleeping baby was amazed at herself, I have never done anything like this before, she confided.

As we approached we were overshadowed by the Council buildings and the air grew cold. People waiting in droves for buses on one side of the road just gawped. This is all getting very Pied Piper, but, we were not swallowed up, we stood our ground and listened, finally, in disbelief, to Cllr Curran. He urged us on, encouraged our campaign, trumpeted the 20,000 signatures on the petitions (10% of the electorate, dont you know) but finished by saying that whatever happened he would vote for the proposed Council Budget (whatever is in it?)

How fitting to finish on that note. He has diligently and consistently backed his constituents in their campaign, advising them well. But, when push comes to shove.

Congratulations to the organisers. This takes much hard work and dedication, but, then libraries are important. How can we call ourselves a civilised society and deprive little kids (and bigger kids, too) of something so precious? Just a political comment, how many better libraries would you get for the near half a billion extra we will have to stump up for the EU?

Patricia Richardson

Minutes Secretary LLL

Secretary of the Users and Friends of Manor House Library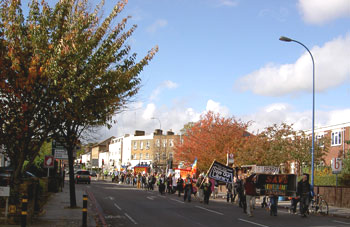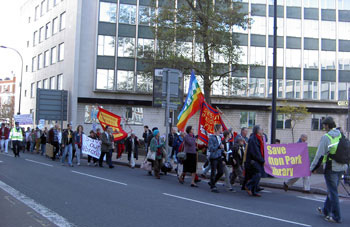 Lewisham Round 2 Consultation Meeting:
Proposed Closure of
New Cross Library

All Saints, (leaving the jokes to your imagination) yes another chilly church venue, but this one sported a portable mike, usually like gold dust. We had Malcolm Smith for the evening, but then, he is local. He managed marginally better this time. But, no sign of Roy Clare. And so to our cast of characters, and werent they just full of character! More were present, over 60 souls, and new faces too. All Saints is somewhat up the road from the library as opposed to us being across the park before.

Ms. Buckton conducted the intro but was able to refer to the CSR as delivered by George, our Chancellor, last Wednesday. Any hope that 7.1% cut per annum would give us some respite was kicked into touch. Guidelines here, oh yes, years one and two see the heaviest cuts first, although we do not know the percentage yet.

The mike, a proper one courtesy of the church, NOTE, was passed to our first eloquent, knowledgeable speaker who said it all really, New Cross is a deprived area that needs a library. It provides books, IT and a welcoming place to go. Nobody voted Labour for libraries to be closed. Why spend so much on consultants? There should be no personal benefit here, cut top wages, cut top jobs, cut out the elected Mayor syndrome (and therefore the salary.) It was well known that Mayor Bullock publicised probable cuts before the election. It was well known that developers could pay money to the Council under 106 to ease the passage of local development, why could that money not be used? Libraries are the great leveller and the money could be found.

Cheers all round.

Ms. B. said all services were facing a 25% cut, but added they were seeking to look at providing some use WITHIN THE CURRENT BUILDING, books and IT. See how something creeps in? Same as Crofton Park, but, read on and see how the attitude seems to bend and sway. Our second chap also cited nothing in New Cross, a common refrain and after over 40 years of a Labour Council! How important a library is to the community in these conditions. Closing it would be a waste of money. Ms. B reaffirmed that there was no prioritisation/no exception to consideration of what was to be cut.

We then had a delightful continental touch from a tiny French lady, and we could hear the tumbrils rumbling in the background. Off with his head is also redolent of Alice in Wonderland. Typically, she regarded the cuts as a fallacy. Felt, as did the Guardian, that women would be most badly affected and compared library closures to the burning of books, whoever did either!

The next chap was tired of going round in circles. This applied to the peculiar logic preferred at the Crofton Park meeting. The expensive, refurbished libraries cannot take a hit because they have had money spent on them. So, we must hit on those which need money spent on them. Purely coincidence but the battery went in the mike. Amazingly a spare was found. This enabled us to hear the accusation of spending on local roads to the tune of £1.4bn. Mr. Smith had a take on this one, his department. The New Cross/Old Kent Road realignment (taking out the one-way system and putting it back to what it was when I went to school down the road) was TFL money. The Kender Street changes, oh yes, that was Lewisham capital money and therefore not available for libraries. How much money? I do not know. But sometimes eye-watering amounts of money are tossed about.

No wonder Susanna did not need a mike and was incandescent with rage, and would not be doused. She concentrated her fire on senior management, consultants and local government, just for starters. What were they all for? Why elect a local government? When asked by Whitehall to jump, they say how high? We did not elect people to make these cuts, but we had no confidence that anybody we elected would do anything for us. Aux armes citoyennes sing along, she joined forces with the French in defending their way of life! Cheers all round!!

James did not quite seize the mike, but almost, and he led from the front. He reminded officers that they worked for us. There had to be alternative possibilities and we should write to government. It looked as if the CSR left us with more leeway. The budget should be revisited and there should be more flexibility in spending. Under Georges plan we had 3 years to continue campaigning. He also recommended an equal spread of cuts across the service, if cuts were necessary. We were then promised that the report for the Mayor and Cabinet would say that the library service with shorter hours across the board was not sustainable. Are you surprised to learn that longer opening hours encourages more usage? No, I did not think so, and neither were we. What a surprise! echoed across the church.

One genius suggested pulling out of the EU, meaning an automatic saving per annum of £60bn and wiping out the deficit in 2 years. Now that IS saving money, big money!

Tony was very concerned about peoples jobs and felt the decision had been made by default. Susanna was still awaiting an answer, and quite rightly said so.

Peter pointed out this was his eighth meeting (actually, it is his ninth, smiles all round, even the officers) and he had yet to understand why cuts in hours could not be made elsewhere in the library service and challenged Ms. B. to prove it. Ms. B still judged this would not provide a viable service. The fact that 5 areas with library closures will not have a viable service seemed to escape her entirely. LOGIC LOCK. If the spending cuts were as outlined by George, why could this not be taken into account? Ms. B. reiterated her introduction, that cuts were to be front loaded and there were not 3 years to decide.

Hal suggested all kinds of ways, across the board, of saving money and increasing the tax take. He had seen opposition to current policies country wide.

Other ladies spoke up about the lack of facilities in New Cross. The damaging impact on children, their learning and literacy, books, homework and study clubs was obvious. How, when we had Council Tax increases year on year could this be possible? What about other library closures in other authorities? What about the trio of councils, banding together to provide services in the hope of saving money? Important statement here - Ms. B. again committed to keeping the building open, but there would be no professional library staff. One such person would visit occasionally though the week. Again, another important statement - Ms. B. stated that Lewisham was in discussion with Lambeth and Southwark, but not in relation to these closures. Where it will leave democracy and accountability nobody knows! But it is for another day, and must not be forgotten.

In keeping with diversity one of our American friends spoke. He was from Oakland, California, but no California Dreaming here. He warned of the violence and destruction prevalent in American inner cities. He believed one of the reasons was the withdrawal of core services by the city fathers and this could accelerate in our inner cities if we followed these policies. Have you seen The Wire?

Essential repairs to the building were raised and AT LAST, important statement here - we were told that whatever happens to the building it was to be repaired at a cost of £30,000 (Lewisham Homes, we think.) We do not know when.

A library user outlined her concerns that if the library closed when would we get it back? You will remember the other mantra, first time round, "None of the libraries will re-open." She cited the history of the place. Geoffrey Chaucer had been mugged in the street outside the church. We did not need to make the area more squalid and ignorant than it was. Why was it easier to get a lap dance club than a library? The building must remain open and occupied. A cynic suggested that the library had been set up to fail with short opening hours as it had no real sustainability.

By this time Ms. B. had donned her winter coat to be read her fortune on volunteers. It sounds fine said our speaker, who had been a volunteer until the money started to run out for the organisation she represented. This was more likely in the current climate than not. She added, what if volunteers do not come forward or sometimes do not turn up? Again a proper service could not be sustained. Her conclusion was that if libraries were closed down it was another route closed to those who wish to manage life for themselves.

Costs of running New Cross library were introduced by James. His figure was £106,000. The professionals still do not know. Running costs are £30,000 - £35,000. Staffing costs were not available. James is looking at the closure not as a problem but as an opportunity to improve the library. Good man! A really frustrated user wondered where she was meant to go as an alternative? Bus fares to Central Lewisham were £2.00 each way! The new Wavelengths would open but the site was also somewhat distant from where we were. Cross borough boundary libraries could not be guaranteed due to the financial climate. The history of public service was raised, when people resigned rather than do these unspeakable things. But, we all knew that was not going to happen, even in Alice's Wonderland.

We have to investigate the question raised on the EIA. It seems that it should not have been completed yet, only in conjunction with the consultation. The point of it was to assess the impact! This really needs to be clarified and is so important. Anybody out there with concrete information, rules, guidelines?

The one elected person present spoke to us. Cllr Millbank had been elected for the first time in May 2010 to represent Telegraph Hill Ward. She had been fast tracked to a Cabinet post. She apologised for those absent saying they were at a council/political meeting. Jeers, not cheers, this time. In fact, she took the flack for the absentees. She carried on gamely, but had lost some of the certainty she displayed when we first had discussions at the Town Hall in July. By now she supported keeping the library open. She had experience of the Voluntary Sector, the Third Sector, and this could be made to work in conjunction with the library service. Nobody believes that. No cheers all round.

As we have come to expect the voluntary organisation place person stood up. She represented 170, a voluntary organisation in New Cross Road, just round the corner. She had the sense (they are learning) to say the best option was to keep the library open in the building, BUT, if they took over such things as ESOL classes could be provided. ESOL classes are dependent on public and student funding, so why can they not go in the library anyway?

James launched his final salvo saying it was a mistake to close the library. It should be fully funded, properly staffed and better. We were not going to make it easy for the Council to do the unacceptable and close libraries.

Our final speaker was a young lady, aged about 9, who pleaded for the library not to close as people like her go every Saturday to do Arts and Crafts. Please dont shut the library.

So, there you have it. It is long, but they all deserve to be heard out there in cyber space, let alone this planet. Arent they all wonderful? Dont they deserve their library? Great shame Roy Clare missed it all! He might have learned something.

So, out into the cold, crisp, clear night, chatting about what we had learnt. So, see you in Grove Park.

We have to return to Cllr Fletchers question to Council on 23rd September 2010. It asked when the council officers were first told to start planning for £60m of cuts?

Answer Planning began before 6th May 2010. For example on 24/2/2023 the Executive Director for Resources advised Members that the Council will face a need to reduce its budget by £50m - £60m over the 3 years 2011/12 to 2013/14.

The Financial Survey in Autumn 2009, demonstrates that the Council was already actively planning for a more austere financial climate, including estimates then of savings requirements of up to £55m. It serves no purpose to pretend it was all such a surprise.

Now a question since when did it creep into Local Authority thinking that it was there to provide one level of service to some people and another level of service to others?
Patricia Richardson,
Minutes Secretary of LLL
Secretary of the Users and Friends of Manor House Library
CILIPs Response to the Comprehensive Spending Review
The Chartered Institute of Library & Information Professionals "expressed grave concern about the impact of the Comprehensive Spending Review (CSR) on UK library and information services". Annie Mauger, CILIPs Chief Executive, commented: "No government should want to lose something so fundamental, and all it represents to a free, fair and democratic society.
Publishers Move to Sabotage Public Library E-Book Lending
For some time the Bookseller has been campaigning for ebooks to be excluded from the free lending activities of public libraries. Now the UK Publishers Association (PA) has adopted a stance which will, if allowed to proceed, severely restrict ebook lending activities by public libraries.
Stephen Page, the CEO of Faber and Faber, announced the new PA guidelines at a recent conference. Apparently all major publishers have agreed that library users would only be allowed to download an ebook from within a library and via a computer terminal i.e. not via an ebook reader, mobile phone or other mobile device. The obvious objective of this agreement is to make access to free ebooks far more difficult for all sections of the community. Whilst the booksellers and the publishers will gain financially, the least well-off will be discriminated against.
This latest move comes after many publishers had adopted an agency model for selling ebooks. This model is very similar to the outlawed retail price maintenance model. No doubt, the lack of any official interest in this earlier restriction of competition has encouraged the publishers to expect a similar blind eye treatment from Ed Vaizey, the Minister for Culture.
Incontrast to the restrictive actions of UK publishers, Amazon is loosing the restrictions on its ebook apps. Later this year, Amazon will introduce a new feature which will allow owners of Kindle books to lend them to other Kindle device or Kindle app users. Each book can be lent once for a loan period of 14-days. Whilst this may appear to be a small step, it is certainly one in the right direction. Of course, the publishers could still stop this happening for the books that they control.
Reference:

AT Oct 2010

Lewisham Round 2 Consultation Meeting:
Proposed Closure of Crofton Park Library
(Tuesday 19th October 2010 at 7.00 pm)

It was no surprise Roy Clare did not appear. What a cold, damp night it was to be in a chilly church, St. Saviours no less. No matter, we started with 60+ present and ended with about 75 (+ officers, of course.) Our new MC turned out to be Kevin Sheehan. He has a record as a safe pair of hands, and is usually courteous and organised.
Ms. Buckton was introduced to go over familiar territory, but she made it clear this time, there is not much wrong with the fabric of the building. It needs modernising as a library, perhaps a new roof and better use of the upper floor. It does not seem to be falling down, as rumour had it.
Attention was drawn to the EIA which showed 45% of users lived in the Crofton Park Ward, 16% in Ladywell Ward (by-election due) and 11% in Telegraph Hill Ward.
James asked his usual pithy question, like Alice in Wonderland. What is the point of an Equality Impact Assessment that does neither? You have it wrong dear boy, we put results up against a list and points are scored. Dont ask me!
Question time was thrown open and because people were allowed their say there was less aggravation (but, give them time.) We started with, what will you do with the site? Ms. Buckton referred back to the first meeting and said it had never been planned to get rid of the building. Yes, my eyebrows lifted at this. The building would be retained as a community asset for community use, BUT NO LIBRARY STAFF. Like soldiers, seamen, airmen, policemen, council officers etc. librarians are equally dispensable. Another was keen to know of feedback from the other 4 libraries in this package. Was it different? No is the answer. There is the same feeling across the board and New Cross has shown improved feedback. Lack of information about the consultation meetings was an issue, but we were told they were advertised in the SLP, which one has to buy and is not seen as a local Lewisham paper. Other community groups had been informed and it was on the Councils website. You see how we are not really reaching masses of people here. It was not in the September issue of Lewisham Life, its own publication!
Yet again what a surprise to many that the whole library service had not been included in the cuts. We were doing quite well until then, but we easily revert to that Wonderland where Alices logic means nothing. Council logic is that it is better NOT to provide a thin service across the board, but to provide virtually no service to some favoured residents! With a good service to even more favoured residents. The Users and Friends of Manor House Library recommended, at the beginning, personally to Ms. Buckton, that services be maintained, even at a lower level, for ALL residents until the time came to re-invest in the service overall. Bemused and bewildered again? Yes we were!
The question of the criteria used to judge closure was raised again. Again it is because 7 libraries had massive public investment so had to be maintained to justify the spend. Therefore the hit was on those less fortunate. It was a Council decision to borrow to spend on the Manor House, when they could have had a Heritage Lottery Grant. That is now part of the public debt in Lewisham (£27m pa total interest costs were mentioned) and costs £122,000 for each year until 2049. All Lewisham residents are contributing. Wavelengths Library is a PFI development and Downham Leisure Centre is similar. Just try extracting the costs from the accountants books. We are told it cannot be done. Is it really true public money cannot be tracked? Torridon Road is being refurbished in conjunction with a Childrens Centre. It is still public money.
It was observed that other authorities were not closing 5 libraries and Kevin fell into a trap of his own making. I wrote it down All other authorities are putting forward similar proposals. This is what we suspected. If Lewisham falls, watch out the rest of you. We may be the first domino! Time to get your friends around you and be prepared!
Someone wondered why Wavelengths had to be rebuilt. Had it not been an award winning library when built? Oh yes, but it was now too small and could not be developed so Lewisham took the opportunity of a free rebuild in connection with the development of the school site. The pool was being rebuilt too as that was no longer what was required, but it had been, not so long ago. More errors of judgement?
One campaigner pointed out that the logic (oh dear, you know not to expect logic) of using the criterion of little investment to justify closing the libraries chosen bore no relation to the value that library has to the community. Why not spread the cuts over the service? Staff in all 12 libraries are facing re-structuring and redundancy. Unfortunately the answer to that is still in paragraph 4 and it is still 19 lost jobs.
But, soft! What light in yonder window breaks? It is The Rt. Hon George Osborne MP, who has announced that the local authority grant cut will be 7.1% pa for each of the next 4 years, not 25% in one go. Question? How does this affect a 25% cut in library service funding in one year? Much as I would wish to give up campaigning one awaits the Council-speak on this one. Orwellian is their middle name. The dark side of George is that the rumours persist on the freezing of Council Tax rises AND would Councils be allowed to borrow on projected income? We all thought debt was the problem, not the answer!
Up spake a strongly voiced contributor. No mike needed he. We had all struggled to hear questioners (no mikes for the proles) while Ms. Buckton was graced with her own mike and Kevin had access to the pulpit mike. The strong voice was angry that as it was clear there had been unanimous opposition to the closure of Crofton Park at the first meeting, what were we all doing now? There had been no confusion, no grey areas, no obfuscation, or were WE naïve? More voices were raised to criticise the Mayor for not making this clear before the election, the possibility of the Council seeking to out source the service and the Council wanting users to rubber stamp their proposals. Ms. Buckton reiterated the point that if the government cut the local authority grant there was less to spend, so they would have to spend less. (Memo to AB, talk to George)
Peter suggested that users of libraries not threatened should have been asked if they were prepared to tolerate fewer hours to help out the threatened libraries. Officers seemed somewhat bemused by this and had no proper answer except they had not done so.
Proposal 1: The Director of MakeBelieve Arts and her colleague gave a theatrical presentation on what they could offer the library building. They have existed for 9 years and receive core funding from LBL, according to their website (said to be £14,000.) Apparently European funding is a possibility and gets some of our money back, but it does not fund libraries! These two were kitted out with cute little personal mikes! We were all well aware of what libraries have to offer and what they are achieving, which is why we were present to save them. To get to the nitty gritty they were suggesting the possibility of a Community Asset Transfer. Plans were outlined for the full use of the building (does it have a lift?) with a smaller library facility and to connect with Libraries of the Future. Some books and shelves would have to go.
Proposal 2: The Ackroyd Community Association, also in receipt of funding from LBL and in existence since 1977 presented similar plans to develop the building (Does it have a lift?) on the lines of the one they already have in the area. Yet again running the library service would be for trained volunteers.
Questions were raised as to how these organisations were funded as well as what an Asset Transfer entailed. Ms. Buckton assured everyone that the contract would contain an Asset Lock and if the organisation failed or ceased to function the building would be returned to the Council. Concerns were expressed at how small the library service would necessarily be if the building absorbed the needs of another organisation. Also how could permanence and continuity be guaranteed? Answer? It cant.
There were many concerns across the board and Ms. Buckton admitted this was not the ideal solution. However, having an anchor organisation (what was the library?) in the building would be positive. Helen Mercer raised the question of reflecting what support these proposals had as opposed to keeping the library in the building, as it was. How would this be reflected in the officers report to Mayor and Cabinet? At least Cllr Best later confirmed that the campaigning groups would be able to see the reports once ready.
One young man, who had changed his seat in the church (to get in another question? In total frustration?) again voiced strong concerns about the fund raising possibilities of these organisations in such straitened economic circumstances. It seemed too unstructured and insecure. Seriously, most people cannot deal with the lack of logic and lack of sensible use of any public money that exists. The libraries in their buildings tick the boxes. What on earth will be the cost, eventually, of rearranging the chairs on the decks of the Titanic? How much better could that money, and the officers time have been spent? Do not even mention the huge amounts of time put in by the communities, as well as money. We were addressed by the Chair of the Board of MBA. Yes, she was present as were quite a few friends and supporters of the organisation. Clearly she was reading the runes in the meeting and admitted MBA could not run a library. In fact, wearing her other hat as a head teacher, she felt a political campaign to save the libraries was required. Just between thee and me that is what we all thought we had. She added that the Council should support and provide a library service. If this was not possible, we had to work with what was on offer.
Surely all these highly paid, supposedly experienced officers should have been able to come up with alternatives? Something users could deal with, something that did not provoke outright opposition. Surely the Mayor should have given them better guidelines. Surely he should be saying, We are not selling this to the voters and payers for this service. Give me alternatives. They think they live in a democracy.
And while we are on the subject, where are the government guidelines to councils and does it live in a democracy?
John Hamilton has the last word on the whole issue, FAKE ALTERNATIVES.
Consequently there will be a march from Crofton Park Library to the Town Hall on Saturday 30th October 2010, mustering at 12.00 noon.
All are welcome.
Patricia Richardson
Minutes Secretary of LLL
Secretary of the User and Friends of Manor House Library
Lewisham Round 2 Consultation Meeting:
Proposed Closure of Blackheath Village Library
(Wednesady 13th October 7.30 pm at Blackheath Concert Halls)

There we sat in an even grander venue, the magnificent surroundings of Blackheath Concert Halls, hired courtesy of the Blackheath Society, with people streaming in from all over the village and surrounding area. I stopped counting at 130, a more persistent soul reached 204. How impressive it seemed, but how unimpressive it became.

Why?
Not one person expressed a scintilla of human sympathy or concern for those about to lose their jobs as front line librarians. (Now put at 19.)
But some were outraged that those on large salaries might be asked to take a cut in salary, to help out the library budget.
Not one person asked what the impact would be on the whole library service.
Not one person connected themselves to the 4 other libraries under threat of closure, in far more deprived areas than the village, except for Gillian Gadsby (the star of the evening, and more of her later.)
Only one person seemed concerned that groups renting the first floor of the library building would be out on their ear, if the council sub-let it, ie U3A, The Bridge Club, Art Groups, Craft groups etc.
Who was connecting up the dots of Council policy, with Sir Ian Mills wish to save the Reminiscence Centre and having a viable library?
At least you, dear reader, please connect up the dots and remember the crucial word, VIABLE!
The meeting started with Mr. Smith as MC, again. He introduced himself and remembering what happened on Monday, introduced the panel. He even managed to remember that it was a bad move to try to stop those present asking questions, if you have asked before. Resignedly we sat through the same resume of fact versus fiction, which is Council policy, from Ms. Buckton. She must be reciting this in her sleep, I know I am! (See earlier coverage.) What is clear is that the purpose is to save money and it has to be staff cuts (leading to library cuts) as that is the biggest component of library spending. Plans are under way for outreach services and one is due to open on the Pepys estate. Note to self, must visit. Use of local schools seemed unlikely.
Graciously, ten minutes were allowed for questions why not infringe the 1964 Public Libraries etc Act and start charging, £50 annual membership plus a fee for loans? Apart from the Act how this would go down in less affluent areas, although Blackheath has its pockets of the less affluent, was not considered. Questions of building a new Town Hall, rumoured cost £10m, were definitely on the back burner, stated Mr. Smith. Concerns were raised about schools not being an option as they were closed during weekends and the holidays. Ms. Buckton suggested that Local Assembly funding might be used to support a childrens reading programme. Unlike Sydenham nobody said, We have one, its Blackheath Village Library.
One person had the courage to suggest that there must be room in a bloated budget to tackle waste and overheads. It was necessary to protect core services and thus protect the library budget. The current rent on the building of £75,000pa, reviewable every 5 years (2013) was raised. Officers said tentative research into subletting produced positive results. The old chestnut of volunteers was raised, however this would not be helping out, but running the show. A trained librarian would visit occasionally each week.
Proposals
Ms. Buckton said one option was to keep the status quo. The library would remain in the building, the first floor could be sublet (projected rent £30,000 - and where do the incumbents go?) As staffing was the issue this still had to be resolved. Meanwhile, carry on campaigning, she said!

And to our real star Gillian, Chair of Blackheath Village Library User Group, kept it simple. She reminded her audience that their library was not threatened in isolation. There were 4 others. The groups policy was to keep a fully viable, comprehensive service run by qualified staff. A petition of 4500 signatures had been handed in. The total now stood at 6000, and it continues. The groups view of a good library was for it to be open to all, supporting cultural, social and educational needs. Closure would threaten the local economy.
Sir Ian Mills was then asked to describe his proposal. Sir Ian is Chair of the Age Exchange, housed in the Reminiscence Centre in the heart of the village, just round the corner from the library, which is next door to a Post Office. How fortunate! The impetus is that the Sir Ian judges that the Age Exchange is under financial pressures and could fold. We were given no figures and it is clear from their website that AE gets grants, donations and subscribing members, but not how much. He feels that if library and AE were under one roof, this mutual support would ensure the future of both. On these grounds AE funded, he said, a feasibility study and architectural designs for this purpose. This would result in a community centre with possibilities for further developments within empty parts of the building.
The library facility would contain an accessible, comprehensive adult and childrens library, family centre for IT users, a reference library, high quality coffee shop and upgraded patio with outdoor café for the summer. It would be professionally managed by AE with fully trained volunteers for the library. He felt the building would be fully upgraded for these purposes in 18 months, but there would be no break in continuity of library service. How, if to meet the remit, the library has to close on 31st March 2011? The capital investment is £500,000. There are gasps of disbelief coming across the internet waves.
Volunteers: Sir Ian stated that the new library would be open 6 days a week for 7 hours a day. It would be staffed as suggested by 6 volunteers, fully trained by Lewisham (on-costs?) Whether this is a team or 6 per day nobody knew and nobody asked. Who is prepared to give up all this time, for no remuneration (not mentioned) is not known. Evening opening was not mentioned, and, youve guessed it, nobody asked.
Stock: Someone did ask how many books were currently on the shelves. Nobody answered, not even the Library Service Manager. The figure settled on was 20,000, could be more. The new facility would contain 7000. Well, Sir Ian thought this was fine as in todays world it is IT, e-mail, reference on-line, BOOKS? What he does not know is that Blackheath Village Library, although only open for 31 hours per week, had 64,766 issues during the 12 months of the last financial year. There were 91,797 visits. This averages 5,400 issues monthly. How can 7000 items of stock be sufficient? Yes, you may reserve books. Will you be charged? Anne Bennet asked this question at New Cross, where unfortunately Ms. Buckton did not even know there was a charge! When all was revealed she said there would be no charge. Will she remember she said this? Will you be prepared to wait for a book? Will you carry on using a library with so few books?
Financing: Sir Ian admitted that Ms. Buckton could offer no money on behalf of the Council. It may be that AE would have to raise money from its contacts with people who wish to help, even bankers. It was expected that the Council would pay about £40,000pa rent for this facility. Ms. Bridget Prentice, former MP for Lewisham East and member of the co-ordinating panel, spoke in support of the scheme.
No comment from me is necessary.
Alan Dove had the sense and foresight to ask who would ultimately be responsible for these 6 fully trained library staff? Would the Council accept responsibility to manage, recruit and train the volunteers? Ms. Buckton agreed it was the responsibility of the Council.
Comments: * Howard Shields, Chair of the Blackheath Society, supported the continuation of the Library Service in the village. Alternatives needed to be looked at. He was happy with the idea of volunteers and although Council input of funding was only a possibility he supported The Age Exchange proposal.
**Blackheath Residents Association actually had concerns. On asking the staff loss had mounted to 19/20, since Monday. At least the question was finally asked, and firing people was regretted. Support was given to keeping the present library open and fully staffed.
***Cllr Maines (Lib- Dem Cllr. for Blackheath ward) supported keeping the library service in the Village. It was also an outlet for the Councils only presence in the Village. He felt Sir Ians proposal was more dependent on his own enthusiasm and trained volunteers. He was concerned that the true cost of his proposal had not been subject to scrutiny.
The dots are joined up, there are enormous gaps in the plans (let alone the thinking) and why did I not ask a question? There were simply too many.
At least the bar was open and the surroundings congenial. Drinks all round to quash the despair one sometimes has in ones fellow man!
And so out into the cold night air for a dose of reality, re-awakening and remembering to remind (I hope I did not shout) Mr. Shields that peoples jobs and 4 other libraries were at stake here!

Patricia Richardson
Minutes Secretary for LLL
Secretary for the Users and Friends of Manor House Library
Lewisham Round 2 Consultation Meeting: Proposed Closure of Sydenham Library
(Held at the Tudor Livesey Memorial Hall, Monday 11th October 2010 at 7.00 pm.)


So, there we were in the rather glorious surroundings of the Livesey Memorial Hall, just down the road from the library itself. The Hall is yet another unsung architectural jewel in Lewisham. Grade II listed since 1995, built with London Stock Brick in 1911as a memorial to Sir George Livesey (1834 1908), the former Chairman of the South Suburban Gas Company, then for the employees of that company. It is in far better condition than the public library.
Between 60 70 people attended and it was really heartening to hear the same thread running through the meeting, as before. For Mr. Clares benefit they still do not wish to lose their library, where it is, staffed properly and open for use. NOW THEY ARE REALLY ANGRY.

This was followed by a raft of complaints about the attitude of officers, their approach to meetings and the public etc. Only Mr. Smith (MC and Director for Regeneration) introduced himself, others had to be asked. Pinned to one wall were the results of the so-called Equality Impact Assessment. This is what we were meant to look at, all of us, at a later moment. We would then be required to adopt the Post-it approach and stick our comments on the wall!!! No giggling in the back row, please. Complaints were made about the patronising approach, telling the public instead of listening to them, having no alternative proposals and treating the consultation meeting as if it were a Local Assembly meeting. Nobody present was going to help them abolish or re-organise (Mr. Clare?) their library service. Most insulting, it was reported, was the lack of reference to these closures by the Mayor. He had felt it incumbent upon him to deal with the funding problem for Blackheath Fireworks Night in Lewisham Life. The net costs of this publication are £237, 545 pa, excluding any council staff work.
Points were raised about the Wirral experience and talking to local schools. There are 4 Primary schools within walking distance of the library, but the Council has no Schools Library Commission. Most such schools operate with a book corner within the classroom, but poor stock. Even these are not available at weekends or during the holidays, natch! Officially, putting a public library in a school was no longer an option. Secondary School libraries are already over used and Primary Schools in Lewisham do not have enough spaces for the pupils queuing up to gain entry, let alone a public library facility. (Another miscalculation by the authorities, but that is for another day.) Mr. Rizzo, describing himself as the Service Manager for the Library Service (could you not weep? Sounds like the maintenance man! No disrespect intended to maintenance men) tried to explain all this away and was eventually handed a microphone. We heard him but the message did not change.
Mr. Smith somewhat lost control here and raised his voice against the uprising peasants. Ms. Buckton, who is not inexperienced in dealing with the public, stepped in to mollify the rabble, telling them the Council did understand, had taken note of all the opinions, comments, views and suggestions. It did not exactly improve much but gave those present the opportunity to demand the resignation of Steve Gough (responsibility for Property Services.) Apparently part of the ceiling damage is due to the fact that nobody came along to clear out the leaves from the guttering, the library is surrounded by huge trees, on the edge of Home Park, you would think would you not? There were plenty of volunteers for this job, but not to run the library.

We seemed to be going over the same ground as the first meeting, because people feel they are not listened to an empty building would be a focus for vandalism and trouble, adding to the anti-social behaviour already present. There are policing priorities in this area, and a used library helps to support them. Anthony Scully, acting chair of the library campaign group, reiterated that the library must stay where it is. It had the support of the whole community so other cuts should be looked for. There were increased visits and it worked in conjunction with Home Park. He advised Mr. Rizzo that there was a school library programme, it is called Sydenham Library.
Rounds of applause, cheering get the message, dare I say it, Mr. Clare? In fact there were lots of rounds of applause and cheering, so put them in where they fit!

And up spake an alternative if the Opening Doors facility has to close at Sydenham Library (due to lack of funding) The Director of Sydenham Community Radio has a solution. SCR would like to move in and be at the heart of the Sydenham community. It needs discussion but it was on the table. He produced a quote from the Mayor saying in order to maintain levels of service we have to be innovative and creative.. He queried how this was possible in such a short time span. The libraries are up for closure from 31st March 2011.

Details of staff loss were given, approximately 13 19 jobs would go, said Ms. Buckton, Cllr Best (Cabinet member for Community Services and elected Cllr.) gave her spiel, which was basically what we had heard before but she included that over 17,000 petition signers supported the 5 libraries remaining open.

What else is there to say? Some of us trooped over to the wall display to discover an Equality Impact Assessment is a series of pie charts on gender, religion, age, race and how many use which libraries. It had been expected to show what the impact of closures would be and an assessment on those grounds. But it seems users and campaigners will have to do that themselves, for presentation to the Council.
As somebody present had already said, we are expected to do your work for you! (Do we include volunteers, too?) Pace, Mr. Clare.



Patricia Richardson
Minutes Secretary of Library for Life for London
Secretary of the Users and Friends of Manor House Library
A Frank Exchange of Views - Lewisham's Plans - "Impressive Re-imagining" or "Desert Created"?
The Initial Salvo from Roy Clare of the MLA
The Response from Pat Richardson, a Lewisham Library User

Hello my attention was drawn to your blog re Lewisham libraries.
For the record, I am not the Chair of MLA. Sir Andrew Motion is the Chair of the MLA Board.
I competed openly more than three years ago for the appointment as CEO, which is a non-political post and has nothing to do with the shade of government of the day. I am not and never have been a pal of Sir Steve Bullock, who I first met professionally at the very end of my time in Greenwich. It is true that I gave evidence at his Libraries Commission; indeed, I felt that the Commission was a very good initiative and contributed markedly to furthering a positive debate within Lewisham. The formation of a broad-based Commission was a best-practice idea.
So, whatever point you are trying to make about libraries, please dont make insinuations about me personally. Facts are better than fiction.
I have no personal vested interest; my professional focus is to ensure that Councils across England receive the best possible advice about ways to deliver the best possible library services.
My judgment is that Lewishams plans are a potentially impressive re-imagining rather than salami-slicing. If they pull off a partnership model on the lines of those theyre exploring in London, they could produce an interesting new paradigm for running libraries in London. In addition, Lewisham is leading on the South East London consortium of the new governments Future Libraries Programme, which is engaging more than 30 Councils across the country.
On one thing we seem to be agreed: we both want a comprehensive, high quality, well-managed, and accessible library service for all Londoners: and we seek to emphasise the social, educational, economic, and cultural importance to every section of the community.
Kind regards,
Roy
Roy Clare CBE
Chief Executive Officer
Museums Libraries & Archives Council
www.mla.gov.uk
Libraries for Life for Londoners runs a website, Mr. Clare, not a blog. Therefore this is not an Andrew Marr moment! So sorry to ignore Andrew Motion (what is his take on this?) and to over promote you.
But, hey, we all make mistakes! You were forgiven for not answering, or even acknowledging, my letter to you after you gave evidence to Lewisham Mayors Commission on Libraries and Learning in 2008. No doubt this was an oversight, but we have no oversight over this, do we?
It is obvious you do not know what library users in Lewisham have been told. Ms. A. Buckton, Director of Community Services for Lewisham (salary £135,000) made it clear from the start, at each of the 5 consultation meetings, for the 5 libraries threatened with closure. Here is the explanation. This is a cost cutting exercise in preparation for the cutting of government funding to local authorities. As the largest expenditure within the Library and Information Service is on staff (80%) it faces 25% cuts. This saves £830,000. Without the number of staff 12 libraries cannot be run, so, they reduce to 7. Naturally, there will be an impact on the remaining service. Please look at our maps on LLL website as that shows the desert created. The other saving arises on not having these buildings in the properties portfolio needing maintenance. This saves, we are told, £170,000. Secondly she said these libraries will never return. Quite how this ties in with not binding your successors to policy beats me, but there we have it.
Thirdly the newly created outreach centres have not been properly explained or costed. They will be dependent on volunteers and a qualified librarian will visit occasionally during the week. Have you read Lewishams staff restructuring document? If you would like a copy you are very welcome.
If you read the rest of the website on these issues you will note that what is created is a 2-tier service for the people of Lewisham. All residents are contributing to public spending in one way or another, but will not get an equity of service. Those who live near Manor House or Downham or Lewisham Central etc, fine. They get long opening hours, pleasant surroundings, computers and some books. What about the rest?
Yes, we do want a comprehensive, high quality, well-managed and accessible library service for all Londoners: and we seek to emphasise the social, educational, economic and cultural importance to every section of the community. These are your words. This is exactly what many residents in Lewisham will be deprived of if the Lewisham plans go ahead.
We naughty library users have had the temerity to stick our heads above the parapet in large numbers. But, if you have not been to the meetings, if you have not stood with them on street corners collecting signatures, if you do not see 4 local schools (plus the rest near a library threatened with closure) about to be deprived of a library service invaluable at weekends and during school holidays, childrens use of the libraries is increasing, if you do not talk to elderly and infirm residents worried sick about losing the one local facility they have .
Well, excuse me, but this is what Lewisham is leading on. These plans are NOT a potentially impressive re-imagining rather than salami-slicing. Yet again, your words, your opinion.
How about getting yourself down to Lewisham and justify your opinions to these people. Seventeen thousand have thus far supported the petitions. It is they who will bear the consequences of the closures, not you.
There is still time to visit:
Wednesday 13th October, 7.30 pm at the Blackheath Concert Halls
Tuesday 19th October, 7.00pm at St. Saviours Church, Brockley Rise
Monday 25th October, 7.00 pm All Saints Community Hall
Wednesday 27th October, 7.00 pm W.G. Grace Centre S.E.9 4HG
Please e-mail us for further details, if you are able to spare the time to come and meet threatened Lewisham library users and campaigners.
Patricia Richardson
Minutes Secretary for LLL
Secretary of Users and Friends of Manor House Library.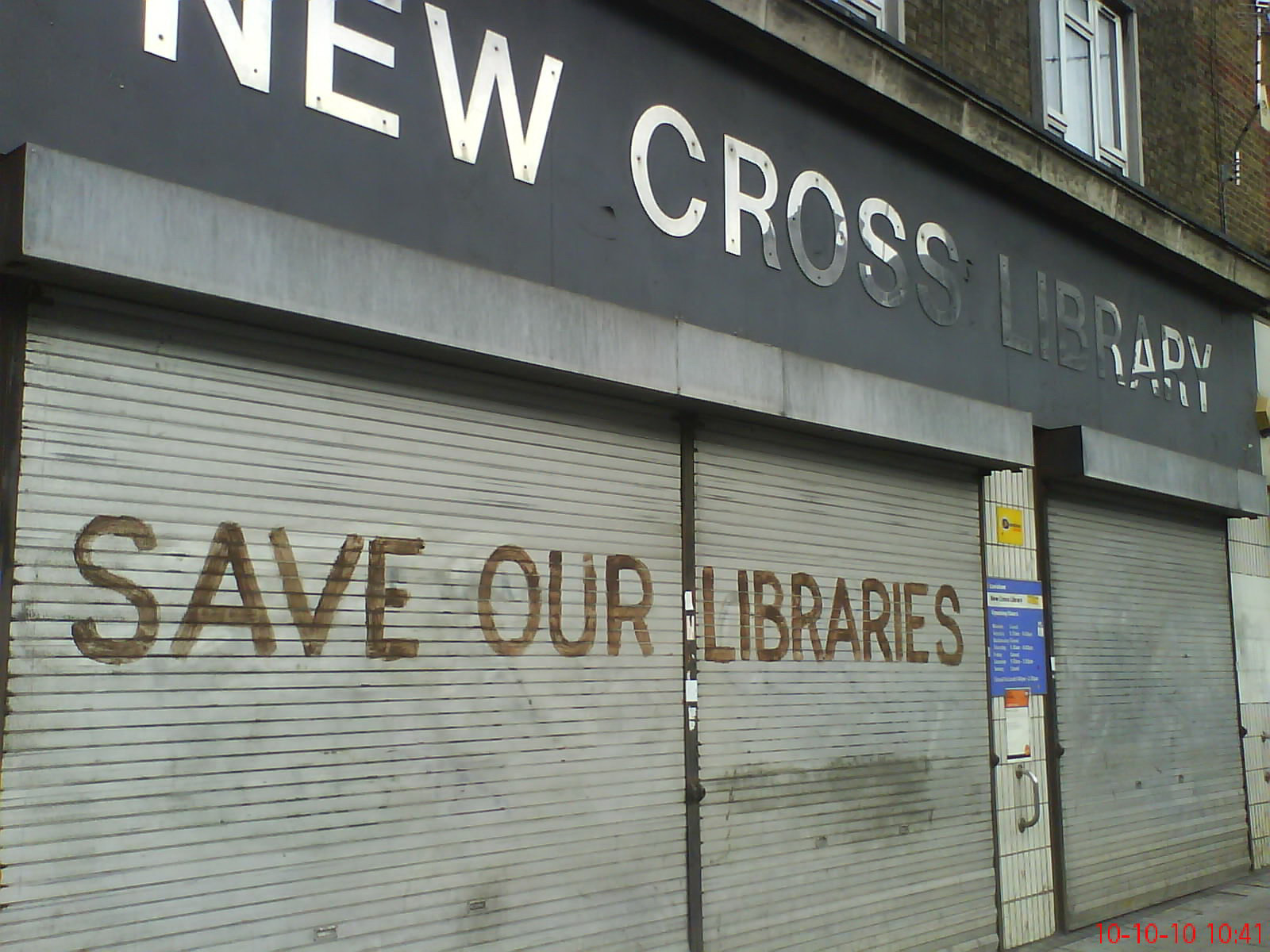 Library
Redecoration
l
l
Lewisham
Style
Lewisham's Worst Fears

Our worst fears were confirmed when we had sight of the full staff re-structuring plan for Lewishams Library service 2 weeks ago. No library left in the service (last men standing?) will remain unscathed by this, if it goes ahead. There is a joke buried in the so-called plans for reorganisation, to whit, point 9, the first expected outcome, It is expected that the reengineered Service and the improved structure will deliver a better, more sustainable Library & information Service for the residents of Lewisham.
Having a laugh, at our expense? You cant be serious? Such phrases spring readily to mind. Has Roy Clare (Chair of MLA, appointed under the last Labour government) been having words with Mayor Bullock? They were pals when Roy ran the Maritime Museum in Greenwich. He even addressed the Mayors Commission on Libraries and Learning in Spring 2008.
Overall the staff will be reduced, paid less, be less experienced and qualified. There will be a hit on the Reference Library in Lewisham Central Library. There will be no dedicated Reference staff. Both Reference and non-fiction are expected to be placed on the same floor. Will this result in Reference stock turning into lending stock and disappearing? Best take away in town, yet again. Reference study space is expected to be reduced. This is tantamount to a library closure. The Local History Archive will also lose one member of staff.
To date no library campaign group has keeled over in the face of the onslaught or the bribes concocted by Council Officers. I am not sure Ms. Buckton fits the bill of the Ice Queen (or was it the Snow Queen?) and this is no fairy story, but, look at the tactics! The 5 closures are dependent on the re-structuring and the re-structuring is dependent on 5 closures. Room for manoeuvre, doesnt look like it, which is why campaigners are standing firm. Just a thought, what room for manoeuvre has the Council?
The bottom line
New Cross says -
Must be in the same building, which should have its roof repaired
Be open for at least as many hours and be staffed at all times by at least 2 trained, professional librarians (preferably 3)
Be funded by the council to an amount in the region of £90,000 (now £105,000 after new information)
Have the heritage collection moved to a more suitable location
Be genuinely community controlled
They hope to include a variety of activities and to make the library better.
The outreach suggestions by the Council are truly hopeless and uncosted.
Blackheath Village Library says .. The meeting with Ms Buckton was reasonably constructive and she seemed much more willing to listen to us and discuss possibilities. She is willing to consider keeping the library in its present building but the sticking point is staffing and volunteers. (I should think so!)
Sydenham says
The building must remain an asset of Lewisham Council
That the funding of the Library Service including maintenance and repair of the building must continue to be the responsibility of Lewisham Council.
That the Council continues to fund, run, and staff the Library and to maintain ( and improve if possible) the existing level of facilities and hours of access.
It is clear that no library campaign group can do a deal with the council on the present policy.
We will all lose out if they do, or if this Council overrides local feeling (not uncommon!) all users, all potential users, future users all council tax-payers and all tax-payers. We are ALL paying and we all deserve the same service. Such an ill-thought out rag-bag of policies is an insult.
The alternative? Read about Bellingham outreach facility. The original Bellingham Library was closed in the nineties. Do not worry, said the Council, all residents will use the new facility at Laurence House (part of Lewisham Town Hall.) Well, they did not. Children, families, the elderly, ordinary residents were left bereft. The library service had deserted THEM! What have we now? Over two years ago the former Library Manager, John Hughes, told the Mayors Commission on Libraries and Learning about the outreach centre in Bellingham. And what do we have? The latest report says this community library is not yet open. When it is open it will be just staffed by barely trained volunteers for a couple of hours a day. In the Bellingham estate we currently have NOTHING as far as a library service goes . I do not support it being touted as a library service, it is merely a book collection, open limited hours, by volunteers. It is nowhere near what the community needs and something similar certainly does not come close to replacing Sydenham Library.
All library users in Lewisham should be frantically concerned about these plans. The Users and Friends of Manor House Library see the writing on the wall, but we have dealt with Lewisham Council over 10 years. These proposals are to take advantage of a situation. They want a much reduced library service that is their bottom line.
And thats no fairy tale, either.
October 2010 consultation meetings are as follows:-
Sydenham, 11th October, 7.00 pm, at the Livesey Memorial Hall, Perry Hill
Blackheath, 13th October, 7.30 pm, at the Blackheath Concert Halls
Crofton Park, 19th October, 7.00 pm, at St Saviours Church Hall
New Cross, 25th October, about the same time, in All Saints Church Hall
Grove Park, 27th October, 7.00pm, at the W. G. Grace Centre, 1 Lions Close, S.E.9 4HG
Turn out will be crucial. We owe it to ourselves and those who come after us to save a cultural jewel, a true legacy.
Patricia Richardson (Secretary of Users and Friends of Manor House Library)
(minutes Secretary of Libraries for Life for Londoners)
More Chicanery in South London
"The Campaign [Upper Norwood Library Campaign] and other Crystal Palace community groups are alarmed by yet another inappropriate manoeuvre by Croydon Council, regarding the Upper Norwood Joint Library. It smacks of duplicity, as Croydon Council flouts the Upper Norwood Joint Library partnership agreement." This is the opening statement of a hardhitting newsletter from the south London library users group. Click for the full newletter.
Library Closure Petitions and Political Chicanery in Lewisham

Monday night, 20th September 2010, the leaders of the campaigns against 4 library closures met to co-ordinate the coming demonstration at the Council Meeting scheduled for Thursday. It was concerning that nobody came from Grove Park, but, read on. We were four days away from the 106th anniversary of the opening of Sydenham Library, a fine Carnegie building in a state of poor repair. (Thanks Lewisham Council.) Crofton Park campaigners were already applying to English Heritage for the listing of their building, also needing repair, so Sydenham people agreed to follow suit. The latter had applied before but was turned down on the grounds of alterations to the building. However, it was agreed to try again. Listing would give the buildings protection, force the Councils hand on some repair work and prevent the prospects of poor development if the worst came to the worst.

In spite of long, round about discussions the bottom line agreed was that none of the libraries (Sydenham, Crofton Park, New Cross, Blackheath Village) would accept an offer by the Council to renege on the defence of the library they had. Any offer would be an outreach facility with no library staff. The options suggested do not merit the description of service. It is still incomprehensible that the Council officers have stated that none of these libraries would return. How this decision can be binding on future administrations is undemocratic and indefensible. But, there you have it!

Thursday evening, 23rd September, less than one day from the 106th anniversary of the opening of Sydenham Library, we mustered outside the Town Hall with children, babes in arms, mothers, oldies, in betweenies and youngsters as well as lots of banners, the most beautiful custom made by a supporter of Blackheath Village Library. A young woman from Sydenham Radio toured the crowd with her microphone, many photos were taken. Someone from the steps led us in the traditional chants, in order to embarrass attending councillors, No ifs, no buts, no library cuts! You get the drift. Others had a go at making up rhymes on the spur of the moment. John Hamilton, former mayoral candidate for People Before Profit produced the Libraries song, to the tune of The Internationale. We even had copies distributed! This time Grove Park was well represented. And guess what? They want to keep their library, too!!! You might call it a full house. Even a couple of Unions were represented.

At 7.20 pm (5 hours from the 106th anniversary of Sydenham Library) we were invited to the Public Gallery of the Council Chamber. There were not enough copies of the agenda, councillors questions, public questions or the amendment on the library closures issue. But we managed. Of the 41 public questions nearly all were on the topic of library closures. There were even some councillors who asked library questions. These questions and answers should be available on the Council website. The next Council Question Time is Wednesday 24th November, decision day for the libraries policy. The questions deadline is midnight, Tuesday 9th November 2010.

During Petition Time the petitions against library closures were handed over by local councillors:-
Crofton Park 4600
Sydenham - 3700
Blackheath Village 4467
New Cross - 1700
Grove Park - 1076
And so to the amendment There was an amendment to Item 15 which was the motion in the name of Cllr Maines (Lib-Dem) to be seconded by Cllr. Bowen (Lib-Dem)
(A) The amendment is proposed by Cllr Best (Labour Cabinet member for Community Services) and seconded by Cllr Bonavia.
Insert at the end if at all possible considering the coalition governments likely cuts to Lewishams funding
The amended motion would read:
Council calls upon the Mayor not to proceed with the full proposed reduction in the boroughs library services if at all possible considering the coalition governments likely cuts to Lewishams funding.
After much politicking and attempts at point scoring the motion with the amendment was passed unanimously.
Some typical political chicanery here, especially as the Council admitted to planning for expenditure reductions before 6th May 2010. The Executive Director for Resources advised members that the Council will face a need to reduce its budget by £50m - £60m over 3 years 2011/12 to 2013/14.
In addition earlier public planning documents., e.g. the Financial Survey in autumn 2009, demonstrate that the Council was already actively planning for a more austere financial climate, including estimates then of savings requirements of up to £55m.
This information is taken directly from the answer given in Q.5, in response to Cllr Fletchers question. In other words, as has been repeated long and often, they knew what was coming, whatever the government in power.
But, back to the amendment, last word really today, the day of the 106th anniversary of the opening of Sydenham Library .
Patricia Richardson,
Secretary of the Users and Friends of Manor House Library
Minutes Secretary of LLL
FIVE PROPOSED LIBRARY CLOSURES
IN THE LONDON BOROUGH OF LEWISHAM
SEPTEMBER 2010 ROUNDUP

< height="1183" colspan="21">

16TH SEPTEMBER 2010: WHERE ARE WE NOW?

It is difficult to say. Perhaps what should be said is Where is the Council policy, now?

After the 5 first consultation meetings the public and library users are quite clear, Books rather than Bullock, says it all really.

We know where we stand and have no idea why the Council officer class cannot look at this in any other way. It certainly shows up their limitations! Why would they do that? Why give a very unpopular policy to the Mayor for consideration? Why pick on libraries? Councillors elected in May 2010 have, by and large, opted to oppose the policy, but it only takes one third of councillors to vote through a budget, as Cllr Maines (Lib-Dem) reminded Ms. Buckton. It is still very intriguing how vital snippets of information are excluded from the general discussion, which then turn out to be utterly crucial.

So, on the other hand, are we dealing with a cunning plan? Are we being manipulated into jumping through hoops created for us, by the officer class, to produce a desired result, known only to themselves? I dunno. My experience of manipulation has revealed how often it does not turn out as plotted. The whole country is littered with the unintended consequences of policies that were implemented, because WE know best! and YOU dont! Worse, little is thought through. Is this all too Machiavellian and have I been subject to Council workings for far too long? Let me OUT!

What do we know?

1. The proposed closures will result in a two tier service.

2. Some of these libraries have 6000 -7000 visitors per month, where does it leave them? Some users are elderly, infirm, young mothers with children always the big losers in this kind of situation.

3. We are all paying taxes of some kind, even a childs pocket money may go on sweeties (VAT), so, what are we paying for, if we do not have equality of provision?

4. Having only 7 libraries (and maybe outreach sites) will have a greatly damaging impact on the whole library service in Lewisham.

5. Libraries are a cultural jewel. Their value to all communities cannot be underestimated and if fostered they will thrive. I speak of literacy and the cultural but the added educational, social and civic benefits are just as important.

6. We accept savings are required. Authorities and officers should accept they have often spent unwisely and foolishly, misusing eye-watering amounts of public money. Change is essential.

What should be done, in view of the looming fiscal crisis? Armageddon was trailed by Steve Bundred, CE of the Audit Commission, in Feb. 2009. Our Council still saw fit to spend £12m on consultants fees in 2009/2010.

1. Central Government, as the payer of most local authority spending, needs to get its act together.

a. Where are its guidelines for cuts? Where is the leadership from the Centre?

b. The announcement of the Comprehensive Spending Review on 20th October 2010 gives little time for long term solutions.

2. Public Services are in Shared Ownership is the Council co-ordinating employee engagement with the requirements of users of services, alongside funding?

3. How will councillors deal with this in their own wards? How will an elected Mayor use his overriding power?

4. How will these authorities deal with public reaction? What will be the Government reaction? Will national politicians stay out of the local debate? The Government says it favours the Big Society and Localism. Areas of discretionary spending, locally, are increasing. Where does this lead?

5. The link between tax payers, their money and political representation needs to be restored, on both sides.

6. Trust, openness, fairness and patience should be watch words, if difficult to achieve.

Is it the Chinese who say, There are no problems, only opportunities? Whoever, in the present situation it is a good starting point. But is there time?

Further information on some of the threatened libraries:

Click for Blackheath Village Library, click for Crofton Park Library, Sydenham Library
Patricia Richardson
Minutes Secretary for LLL

16th September 2010
Wednesday 25th August 2010, the gods were displeased. The rain hammered down, especially on parts of the high glass roof, some thunder thundered as it passed and the evening darkened very quickly. Nevertheless 90 residents turned out to hear just why Lewisham Council was proposing to destroy, forever, their library. Ironically we were seated in the large hall of the local TA where every sound made was swallowed up by poor acoustics or drowned out by the weather. Yet again no microphones were available so we all strained to hear a word. But, as it seems they do not listen anyway, maybe it was not so ironic on that level too.
Back to the first ironic here we were in the TA hall 70 years since the Battle of Britain. Prior to 1940 a proposal was made to close Britains public libraries, to discourage numbers of people being present in single locations. It was decided, in the interests of social cohesion, to preserve normality, to keep up morale and maintain community spirit, this should NOT be done.
Are our current authorities, politicians, officers lesser people than of those times? The British people endured 6 years of WAR with libraries, now we cannot deal with debt without closing libraries!
Books rather than Bullock declaimed one Grove Park resident to the 90 present after listening to Ms. Bucktons limp excuses for closing their library. Every time she says how she knows they are much loved and well-used, but, hey, tough, yours has to go! Interestingly one of her first statements was to say that it was not the building that was a problem, but the leaflets first point is that the building is in poor condition and requires substantial investment. The library function could be re-located/co-located but no financial costs are given. If they do not know where or when how can it possibly be stated that Relinquishing the five buildings identified for closure will realise revenue savings in maintenance costs and rent of ca. £240,000 per year. The lady behind me had it right, Its just a jumble of words to me.
The three local councillors all stood and introduced themselves, saying they supported the library. Cllrs. Allison and Britton (Conservative) both wanted to hear views before making a final decision. Cllr. Allison felt council money could be spent more wisely and not on the councils own pet projects, e.g. Local Assemblies, which cost £1m annually. Cllr Clarke (Lab) had a long list of how this relatively small library building could be used to accommodate many other services e.g. Sure Start and what might be possible in a more affluent future, but, she was keen to keep the library having fought to save it 10 years ago. Ms. Buckton did admit later that there was no capital available to re-build at present.
Mr. Fox demanded microphones and also suggested cutting out council vanity projects, not to mention the regular publication of Lewisham Life. A million here, a million there, pretty soon we are talking big money! More than enough to save libraries.
Pleas were made on behalf of the 2 Primary schools in the area, who needed the library for project books and could not possibly get to the next nearest library at Downham.
Bob Mathew-Walker put the question many wanted the answer to, and not just in Grove Park. Why was it that the building was in such poor condition? When they had the money at the Town Hall why had they not used it for such purposes? He also pointed out that council information stated expenditure on premises was 0.4%. If it was so low and money was spent elsewhere this saving would be wiped out. By this time someone was so desperate they suggested local people contribute money to keep the library open.
Another resident, a teacher, said the library was vital to the area. Encouraging users to travel further was ecologically unsound. He suggested reducing hours at other libraries. If the per hours costs were correct then Grove Park was good value for money. As were many present he was angry that earlier negligence by the council resulted in the public losing its services. He needs quoting, we want to use it, we want to continue to use it and continue to use it in the future. Another speaker, angry at having his library picked on for closure, said if you spend money on libraries keep them open, if you dont you close them. (He meant all of them.)
Bill Bishop suggested ring fencing the service, it was that important. Others drew attention to what the site offered, the childrens playground, the garden, the value of books and how precious it all was. Decisions needed to be made at local level. Concerns were expressed about the future of the staff, what would happen to the land and property. Another added that Lewisham was actually advertising for librarians. What would happen to a closed building? Would it become a target for vandals?
Answers were somewhat skated over but Steve Gough did say that as the building was on Metropolitan Open Land it was protected and would be difficult to build on. This was not bought in any shape or form by those present. They mostly had an inbuilt distrust of the council and politicians in general.
An old timer (campaigner) from 10 years ago, Geoff Cox, reminded everyone that it had been planned to sell the land then. He warned everyone they were going to have to pull out all the stops to save that library.
It was noticeable that a certain weariness had settled over the meeting, especially the panel Ms. Buckton, Ms. Renwick, Mr. Rizzo and Mr. Gough maybe all these meetings of constant repetition, trying to remember what you had made up before and obvious distrust from the public was getting to them. Cllr Best wound up the meeting and promised to take views back to the Mayor, that is, if she had heard them.
The panel was quite keen to get away, but in conclusion, surely venues could be better chosen, sound and vision equipment provided and some semblance of professionalism might be attempted. At times officers could not always be bothered to stand to speak to the public! If these are the proposals you should look as if you are taking the whole procedure seriously.
And what did it all cost? See Council Question Time, cut off date for questions Wednesday 8th September at midnight. Answers are to be given at the full Council meeting on Thursday 23rd September. We should all go along. There is nothing like the numbers game!!
Here we go again!

From my 9 pages of notes it is clear this was the best attended, most vociferously angry meeting yet! To say the panel of officers was flagging is not an exaggeration and everything falls on Ms. Buckton, except the ringmasters duties.

We all had a leaflet presentation on our chairs and yet again Ms. Buckton went through the proposals, flanked by the Head of Library Services and the Head of Culture. Why pick on Crofton Park? It is not in bad condition but will require investment in the future e.g. electrics, the boiler. There was a possibility of using Brockley Primary school, which was due for rebuilding, and could incorporate a new library facility. The Mayor had asked for the proposals and consultations. No decisions had been made.

Our ringmaster (Steve Gough) limited us to one question per person, due to the numbers present.

Firstly Cllr. Bowen (Lib-Dem) queried the chronic under investment in such a well used facility. Where was the long term strategic planning? Steve replied that his department had about 160 buildings to maintain and simply did not have the resources. Queries followed on finding other funding and/or bring in more money for other projects. Cllr Johnson (Green) asked how the primary school would deal with possible breeches in security with strange adults coming and going? Ms. Buckton said they were already dealing with this in a refurbished school in Bellingham (Bellingham lost its library in the 1990s). A newly built primary school in Deptford would have a new public library (to replace the existing library Wavelengths.) Attention was drawn to the fact that the new Brockley primary school plans had not even gone to planning yet. How would these plans now incorporate a library and where would the money come from? How would this fit in with the proposed timetable for closure April 2011?

The panel was asked at what point did they think this was the right thing to do? As an aspect of social cohesion (mentioned a lot) it was vital to keep the library. All users present could not understand why anything else would be done. What was to happen to the building? How would this affect the public realm? What would be the impact on the local shops and bank? Crofton Park has 7000 visitors per month. This footfall helps keep local facilities going.

One resident who really made an impact spoke of the value of the library to her foster children - when things got tough it was a refuge and an outlet for them. They were always welcomed by staff and learnt to be part of the community.

As this was seen as the centre of the community a more creative approach to its use was required. The suggestion was to make more connection with business or other partners to provide computer training suites, a job club, use of the upper floor. All residents believed not enough time was being given to serious consideration of future possiblities. They were tired of short term fixes.

John Hamilton (who had stood for the People Before Profit party in the May elections) realised votes across London had gone to Labour as Conservative cuts were feared. But, that is what we were getting anyway. Why would the Council not be brave, stand up for local communities and tell central government it was not going to play ball? Although many councillors in areas affected promised to vote against the cuts this was a damp squib. In an elected Mayor authority the Mayor held all the cards and all the power.

Ms. Buckton reiterated what she says is the key saving, fewer staff, but this would be voted on by the full council. Cllr Maines pointed out that only a third of full council votes was needed to support the budget, which is 18 out of 54.

Demands were made for the presence of the Mayor, especially when the council had spent so much on consultation fees last year - £12m.

Jim proved a star and loudly declaimed his disgust. As it was not a fait accompli, most people did not want a change to Crofton Park or piecemeal solutions what were the strategies for taking on the government? Why erode the quality of our lives? You need to answer that!

There followed a statement that, in essence we were all vulnerable people and we would all be hurt by these proposals.

And then the next star appeared in the firmament. An elderly lady was concerned about redundancies and those costs as well as the loss of jobs. She wanted to know how she and others like her were supposed to get to Forest Hill Library? She felt this move would take everything from the community when in the past such buildings had provided for the people, by the people. Yet she was well aware if Steve Bullock said No, it was No! She was articulate, thoughtful and sound. They did not dare try to shut her up.

Another asked why we had this all or nothing approach? Why not keep the service ticking over, reduce across the board and re-start when times were better? Ms. Buckton said this was not viable.
She was asked how many volunteers worked in Lewisham Libraries, but said there were none.

Cllr Morrison (Crofton Park ward, Cabinet member for the Third Sector) supported residents in their attempts to keep the library but had an idea that there was a possiblity of asset transfer of the building to community groups. Where the money was to come from in such hard times to support such a venture was not suggested. Ms. Buckton then told us that a room with 1000 books was to be provided on the Honour Oak Estate. We need to know these costs! But this is not comparable to a library anyway.

It was truly amazing that every suggestion made to improve the position was met with why it could NOT be done. As someone said, defeatist! Finally someone asked the key question, so important, where is the cost benefit analysis? When it exists (as if) will it include the social costs? Well, you may not be surprised to learn it is now called a Quality Impact Assessment, and they would be talking to EVERYONE!!!

Former Socialist Worker councillor, Ian Page, reminded everyone what had happened when St Katharines library Telegraph Hill) was closed, both to the service and the building. There were shouts of and Stanstead Road and Bromley Road. Like me he had served on the Mayors Commission on Libraries and Learning, which predicted none of this. He reminded us that it was the pre-election council members who had voted through the list of cuts to be looked at. Dont say nobody knew.

The other end of the age spectrum was represented by a young girl, about 10, who fearlessly and warmly spoke of the value of the library to her. Big rounds of applause, natch!

At least everyone had the chance to speak and make it abundantly clear how these proposals were stoutly opposed. There were proposals to dissolve the local assemblies as they cost £1m pa. Why was the council spending £11m on St Laurence House (council officer territory) refurbishment?

Sorry this is long, but there is more, much more. I hope you have a strong flavour of how valued our libraries are and what potential they have, from people who live in the real world.

For the third meeting to discuss 5 library closures we trekked through the London borough of Lewisham to seek out the prey in Sydenham. We almost made it to Crystal Palace because the officers had chosen the most distant hunting ground from Sydenham library that you could imagine. In spite of this, fellow trekkers had turned out in force, over 80 of them. Some of the enemy, councillors, other officers etc made us about 100. Nobody revealed that Sydenham library is actually in Bellingham ward, until one of its councillors let us know. Councillors did turn out. Three wards ere represented Sydenham, Bellingham and Perry Vale. Those present did vow to fight these proposed cuts.
Interestingly each presentation is slightly different, almost as if they are trying to learn by all the mistakes they make, because nothing is thought through. Attempts at the Power Point presentation, the first, led to a map of SE London, showing all the public libraries. As Peter later pointed out, use our maps instead. One map shows the present library situation in Lewisham, the other shows Lewisham minus 5 libraries. It is available on this site and amply illustrates the desert created across a whole swathe of west Lewisham. The Sydenham Society news letter editor grabbed copies for use in their newsletter.
Back to basics our chairman this time was Steve Gough, in charge of Lewisham Buildings. This was the new strain of difficulty introduced. If the library buildings are closed not only will £830,000 be saved on staff but an extra £170,000 will be saved on building maintenance! Therefore the net save is £!m and as was said before Ms. Buckton has delegated powers from the Mayor to take decisions on projects of this amount. She keeps repeating it is for the Mayor, council and cabinet to decide.
She accepted that Sydenham was popular, well-used (like all our libraries) so we want to look at options to relocate the library provision into existing community buildings and possible establish new, mutually beneficial partnerships. Unfortunately this building (a most attractive Carnegie, purpose built library) is in poor condition. The roof needs work and it will cost £250, 000 that is the magic figure. It is ALWAYS £250,000! Any outreach support would not be on a daily basis, but you would retain IT and access for childrens activities. Nobody suggested the costs here. It is clear other options can prove expensive.
QUESTIONS there were so many questions and those present took no prisoners.
How spending was prioritised actually revealed that Forest Hill Library (we were meeting closer to that than Sydenham library) had been renovated at a possible cost of one and a half million (officers were not quite sure.) Local Assembly members promised to look at the Councils budget. As that part of Sydenham was an area of deprivation with 4 primary schools why were we here in the school holidays? Ms. Buckton is used to making things up as you go along, and thinking of answers on the hoof, so she did. It was not an unseemly rush, we had to be prepared! Primary school views would be taken into account as would those of families with pre-school children who could not turn up at 7pm. However TINA rules, nothing would meet the level of saving required except reduction in staff (or lost jobs) and transfer of buildings.
Sydenham library is on the edge of Home Park, the chairman of the Friends of Home Park was devastated at the proposed loss of the library when they had worked so hard to make Home Park a decent, wellused place. A new childrens playground, an outdoor gym, a summer house in the centre and the library were integral to this project. This could hold the community together, so he focused on the social costs of closure and the damage to the whole surrounding area, where there was so little for people. If the building was not properly used everyone felt it would be a target for vandalism and destruction.
Julia Webb expressed her doubt about the figures given, as did many others. She felt (what we always say keep it ticking over) that the economic crisis was not permanent (we hope) so keep using the building as it is. Are the refurbishment costs urgent? The priority was to keep the library open. Ms. Buckton flunked her lines by saying when the building closes but was immediately challenged on this. She was accused of not answering questions properly and going on to the next, while presenting us with a fait accompli!
Our friend, Cllr Best, at last spoke up and drew attention to Manor House library users being present and what benefits had been achieved at their library. My raised hand and But were overridden but eventually I caught the eye of my friend Steve and managed to ask how it could be justified to put so much money into these other libraries (Forest Hill, Wavelengths, Manor House, Downham) with such long opening hours and end up by leaving other residents virtually bereft? They were paying the same taxes for others to enjoy the benefits. Yet again we had the democratic deficit. (My hobby horse.) Rounds of applause, as happened throughout the evening. Ms. Bucktons non-answer centred on staffing cuts not being available in these libraries as they already had RFID (self-issue) so staffing had been cut to the bone. Peters moment, up he jumped shouting I interject! He pointed out that Manor House was fully staffed for all its opening hours and users often chose NOT to use RFID, but go to a librarian. We have since learnt that the system regularly breaks down in the Manor House so a member of staff is required. My turn to shout, You are in danger of creating a two tier service. More applause. But, I must add, not only does this invoke the 1964 Public Libraries Act, what about equal opportunities?
Overall those present were very unhappy. The value of the library was uncontested, young Mums, small children, social interaction, community interests, the elderly, the unemployed and even those who just want a book. It is not rocket science. The panel of officers was accused of supporting excessively high salaries for some, would an impact assessment have an effect on the decisions? What about the statutory requirement to provide a comprehensive and efficient service? Dont go there!!!!
Finally, finally they were accused of being derelict in their duties. No attention had been paid to the condition of these buildings in spite of these officers having been around a long time, with money sloshing around the system. They had let us down badly and should not expect us to pay the price. Why not cut the PR budget? Why not discontinue the Local Assemblies, as libraries were worth more?
No answer there though.

Monday night sees us at Crofton Park, Wednesday at Grove Park and then the closure caravan moves on to the next stage.
Fahrenheit 451 in Lewisham
Temperatures are rising in Lewisham as the battle to scupper the borough's library closure program intensifies. The directly elected mayor, Sir Steve Bullock, is a major target for the wrath of the protestors. He is regarded as a latter-day Savonarola, with extreme political expediency replacing the religious frenzy. Both motivations can be very destructive and Lewisham's residents fear that the contempt for education and culture exhibited for a short time in late 15th century Florence is replicated in their borough's administration.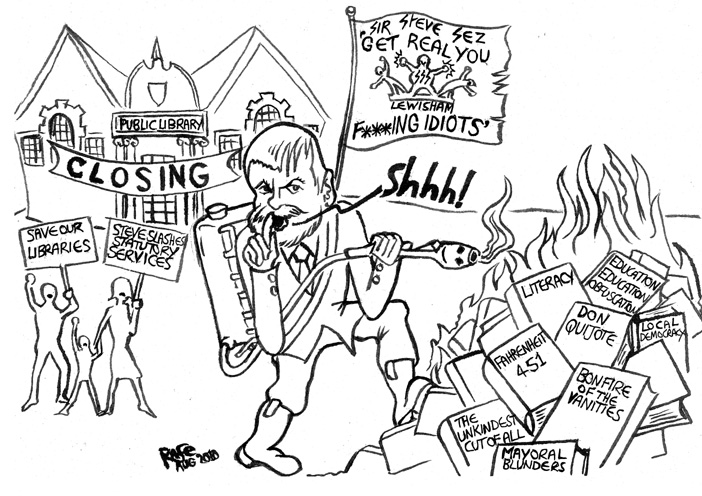 Lewisham Library Closures Meetings Diary


Grove Park Library, Wed. 25th August at 7.00 pm, in the TA Centre, Baring Road,
Grove Park, S.E.12 0BH
Crofton Park Library, on Monday 23rd August, at 7.00 pm in St Saviours Hall, Brockley Rise, S.E.23
The Crofton Park Library page: localgroups/lewisham/CroftonPark.htm

O, reason not the need! Wednesday evening, 18.8.2010, found us in the rays of the setting sun trying to do just that! The Moonshot (!) Centre was our venue and we sat on a mock Greco/Roman arrangement of steep steps, totally inaccessible if you were disabled or infirm. Truthfully the Greeks and Romans did it better.

This put the council entourage at somewhat of a disadvantage, being in the pit, and very vulnerable. It was the same old faces, facing us. It was the same old explanation. We were all prepared to reason the need.

New Cross Library has some added refinements as problems. It is now in the control of Lewisham Homes, an ALMO, set up in January 2007. The library is housed in what is a shop site. The basement houses the Lewisham History Society collection, as there is nowhere else to go, and was always subject to flooding. It still is. As a reason for closure this is a non-starter. Why has nobody, either Lewisham Council or, now, Lewisham Homes, dealt with repair? If the library goes what will Lewisham Homes do?

The usual suspects were put forward as possible alternative sites, but a proper, clear explanation of what was involved was not given. As time went on you could sense those present were not buying it. Having been through it all before (Fluff and Bluff, Bluff and Fluff) Anne and Alan, Pat and Peter grew weary, but hung in there. Minds drift off into wondering what exactly are the costs of other options. Experience says, quite a lot. Mostly everyone else was amazed and one or two were really angry. Bit by bit this picked up momentum. Of course its not well used, it is closed most of the time!. What it does do in a run down, deprived area is exceptional! Without this facility on the main road, the whole of New Cross would suffer. Libraries are social levellers! People were concerned about those who would lose jobs. They were even more concerned that highly salaried staff showed no signs of opting for pay-cuts, let alone redundancy. Nearly everyone present felt there must be another way.

We cannot have staffing figures until December. The decision to close is to be made by November. We do not have proper costings for some libraries. How is it a fair consultation when the public does not have precise accounts of how its money is spent?

My question on pools/leisure centres was answered, although I already knew the answer. Where council services are outsourced, as are all the pools/leisure centres and the parks/gardens, the council cannot escape from the contract. Therefore services such as libraries, still in council control, will take a heavier hit. On being a statutory service it is not a statutory service, although backed by Act of Parliament, in the sense of a legal requirement. SEE YOU IN COURT.

Finally Ms. Buckton said proposals to close New Cross would be decided by the council in November and it was not her decision, or that of officers, to make. She may have forgotten that the elected Mayor arranged for the delegated powers of officers to include any project under £1m. Such a project is the non-spending of £830,000 over 3 years, about £277,000pa. If savings cannot be found to cover this, the top ranking officers are not worth their high ranking salaries. The best moment of the evening was Ms. Buckton flunking the question on the fee to be paid for ordering a book (50p) and her colleagues not helping her out. Do you use the library? some wag interjected. She promised Anne that as fewer books would be available in each outreach centre the normal fee would not be payable. Lost revenue?

Councillors present from Telegraph Hill Ward opposed the library cuts and when challenged promised not to vote for the budget. New Cross Ward councillors started out like that but its not cut and dried as they may support an alternative venue. Cllr Maslin, Cabinet member for Resources was somewhat equivocal. You know what I mean. Cllr Best, Cabinet member for Communities yet again said nothing. She may speak up on Thursday, as Sydenham is her area.

It has to be asked why the council allowed each building to get into the state it is in, yet when money was freely available they chose to spend £12m on consultants last year.

Reason not the need!
The Future Library Programme
On 16th August, the Department for Culture, Media & Sport (DCMS) announced which local government groups had been chosen to participate in phase one of the Future Library Programme. This partnership between national and local governments is intended to help the library service during the current challenging financial situation, with an ambition to ensure libraries play a central role for communities in the Big Society. Ten proposals have been chosen by the DCMS from the fifty-one submissions, representing over 100 local authorities. The ten projects will be offered practical support and advice in this phase.
There are two London groups included on the chosen list. These are:
· Lewisham with Bexley, Bromley, Croydon, Greenwich, Lambeth and Southwark (total population = 1.9 million approx.)
· Kensington & Chelsea with Hammersmith & Fulham (total population = 350 thousand approx.)
Other chosen groups are:
· Northumberland with Durham
· Bolton, with Bury, Manchester, Oldham, Rochdale, Salford, Stockport, Tameside, Trafford, Wigan
· Bradford
· Lincolnshire, with Rutland, Cambridgeshire, North East Lincs, Peterborough
· Suffolk
· Oxfordshire with Kent
· Herefordshire with Shropshire
· Cornwall with Devon, Plymouth, Torbay
The DCMS press release states the programme promises to build momentum on the ideas that have been generated and spread learning between library authorities to achieve cost savings, new partnerships and governance models, and to take advantage of digital opportunities. Central to the programme is the vision for library services to have greater connection with other local services and an ambition for services to be designed around the needs of the public, rather than based on organisational boundaries. In the present financial climate, it is highly probable that the cost savings part of the programme is intended to be the overwhelmingly dominant one, with all other items serving to produce that outcome. History suggests that the needs of the public are unlikely to be considered very deeply and will be interpreted in such a way as to support the cost savings proposals.
Perhaps library users should consider this initiative to be a damage limitation exercise. The cost savings will be obtained by hook or by crook. The national government is determined to obtain them and local government is in no position to resist. The local government preference is always for the simplest solution to a problem and there is no doubt that, as far as public libraries are concerned, that means library closures. Recognition that public libraries can make a huge contribution to education and social mobility has been lost in local government. Right wing Councillors consider public libraries to be a waste of public money (everyone can afford to buy books for themselves, is their argument), left wing Councillors consider them to be a subsidy for the middle classes and moderate Council Members are often simply not interested. Thus, the quick fix of library closures is almost irresistible for the political class. There is a possibility that the Future Library Programme will force everyone to rationally consider that future. So, some good may come out of it.
Both the chosen Future Libraries Programmes from London are based on developing cross border cooperation. The south London one envisages cooperation over a very large area, but the west London proposal is limited to just two local authorities. It is obvious that the project most likely to succeed is the low key, low risk one in the west of the capital. There are just too many axes grinding in the south for anything worthwhile to be achieved, apart from large quantities of hype. However, the southern group has the potential to do the most good, if its worst performing boroughs (Lambeth & Greenwich, with 134.513 & 146.979 active borrowers per thousand residents respectively) can be brought up to the standard of the best borough (Bexley, with 261.081 active borrowers per thousand residents). Sadly, with the heavy emphasis on cost reduction, it is also very possible for the best boroughs to be dragged down towards the worst - for the group to adopt the worst practices of its members, rather than the best.
One of the problems that the south London group will have to untangle is the one caused by the Lewisham library closure programme. There, the Council is proposing to close five of its libraries (over 40% of existing libraries). The threatened libraries are sited outside the boroughs central area and the proposals will therefore result in a withdrawal of service from Lewisham residents living on the periphery of the borough.
For those Lewisham residents who live in the affected areas and have difficulty travelling, this is a disaster. Lewisham Council is targeting mothers with young children and the sick & disabled. So, the needs of the public part of the Future Libraries Programme is already compromised in south London. Most of these needy people will simply stop using public libraries entirely (the best possible outcome from the viewpoint of a local authority seekinf cost savings). A few will demand to be served by the Home Library Service (if it survives the cuts) and will thus receive a poor substitute for what has been withdrawn.
For those Lewisham residents who can travel easily, there is the choice of travelling to central Lewisham or travelling to a neighbouring borough. As the closure program is totally driven by financial considerations, Lewisham Council would clearly prefer the latter option to be chosen. Not a good start for a project dedicated to improving cooperation between neighbouring authorities.
Reference:
https://www.mla.gov.uk/what/strategies/Support_for_councils_to_re-model_libraries
https://www.mla.gov.uk/news_and_views/press_releases/2010/~/media/Files/pdf/2010/libraries/Future%20libraries%20programme%20summaries
AT Aug 2010
| | |
| --- | --- |
| | - - - - - Not Bothered by Lewisham Library Closures |
In response to a protest to Ed Vaizey (Minister for Culture, Communications & Creative Industries) from a library friends group in Lewisham; the Department for Culture, Media & Sport (DCMS) stated that the proposed massive reduction in library services in the borough do not necessarily constitute a breach of the 1964 Act (the Public Libraries and Museums Act 1964).
The letter (click to view) was not actually from the Minister, but from a military sounding Public Engagement and Recognition Unit. The subaltern in charge of the unit admitted, The Secretary of State for Culture, Media & Sport [Jeremy Hunt] does have a statutory duty to ensure that public library authorities in England provide a comprehensive and efficient library service. The problem is that Secretaries of State at the DCMS have invariably avoided "engagement" with and "recognition" of the more difficult public library issues. In essence, there is little difference between the Lewisham response of the DCMS under Conservative Jeremy Hunt and the initial Wirral response under Labour Andy Burnham its someone-elses problem. The someone-else, according to the DCMS, is a combination of the Museums, Libraries & Archives Council (MLA) and the Local Government Association (LGA). One of these organisations is in the process of being wound-up and the other is specifically tasked with representing the body causing the problem and its peers.
This traditional DCMS catch 22 scenario is meant to insulate the department from the real world, but the desired outcome is always achieved at the expense of library users throughout the country. Ed Vaizey has promised that he will meet library users representatives in the autumn. Let us hope that this meeting will be early enough to have an influence on the rapidly developing Lewisham situation.
It is unfortunate that library users have to rely on obtaining a meeting with a busy Minister to get their voices heard. Library users have had a national organisation for a quarter of a century and it is difficult to understand why this has not been part of the decision making process for many years. If it had been, the Wirral debacle would have been quickly resolved, with far less embarrassment to the DCMS.
1964 Public Libraries and Museums Act,


Wirral inquiry report:

AT Aug 2010
<>
Episode Two of Pat Richardson's Lewisham
Library Closures Saga - Grove Park Library
(click for episode 1 , click for episode 3, click for episode, click for episode 5, click for final episode)

>
Armed with a list of points, 2 maps and copies of e-mails, I set off on Saturday morning [7th August], very enthusiastically, to talk to the Labour Councillor in Grove Park ward. Being a bit of a Pollyanna I was not downhearted at receiving no reply to my two e-mails, as her Conservative ward colleague on the Council had not replied either. My concerns were the proposed closure of Grove Park Library and the possible loss of Adult Education at the Grove Park Centre. It was hoped they would have been interested in the 2 main facilities their ward offers, hence my attempted visit.
It was not to be. Would you believe these poor over-worked councillors take August off, like the MPs, I was told! Having only been elected in May and facing a crisis on all fronts, according to our elected Mayor, one hour a month, in August, is just too much for the poor dears.
So, London has the benefit of my words.
There will be an impact on the whole of Lewishams library service if these closures go ahead. While on the Mayors Commission on Libraries and Learning (2008/2009) the Mayor did mention he had seen the books and it was not pretty. But, at no time was it suggested any library closures would result. Read the Commission report on Lewishams website, if it has not been removed in haste to fit with the latest scenario.
At the first Blackheath Village consultation it was noticeable that officers were running the show. It occurred to me that they were treading a very fine line between presenting policy and promoting policy. Two of the Blackheath ward councillors did make comments, however, Cllr. Best the Cabinet member for Community Services -was in the back row and contributed nothing on behalf of the elected administration. Ms Buckton Head of Community Services on £131,000 (+ some pennies) stated that once these libraries had gone they would never come back. How is it that an unelected, unaccountable officer is able to make this decision in perpetuity for all Lewisham councils to come, all future politicians and officers? Does it exceed her brief? Does it exceed her powers? Will she never retire?
Unfortunately Sir Ian Mills had revealed that discussions had begun on the future of Blackheath 4 months earlier. That would have been the end of March, before the elections. So why was this not put before the electorate? We all know why, but it is still worth asking!
Another aspect not tackled is that all Council buildings come under its Building Services department. These costs are not part of the library budget. That needs further investigation and we are currently asking for the library budget book. Otherwise it is extremely difficult to unravel the complex spending involved in the different bodies and business contracts providing buildings. Interestingly, of the five proposed closures, two are not owned by the Council. By closing the other three the Council is literally shutting itself down. No comments necessary.
As they used to say at Saturday morning pictures, after the cartoons, Thats all for now folks!
But this story will run and run. Why is it impossible to consider that the service should be kept ticking over until such times as it maybe revived? Why go out of business? There is more to this than meets the eye.
Patricia Richardson
Lewisham Library Closures Update
Residents living towards the periphery of the borough of Lewisham have been targeted by the Council for library closures. It is unknown how pleased adjacent boroughs are at being forced to dip into their shrinking resources to provide library services for the abandoned Lewisham residents. Of course, the danger is that the adjacent boroughs will simply retaliate with similar closures and provide the next step in spreading the practice throughout London. If this does happen, Lewisham Council will bear a heavy responsibility.
Lewisham Library Closures Meetings Diary


Sydenham Library, Thursday 19th August at 7.00 pm, in the Grove Centre, 2 Jews Walk,
Sydenham, S.E.26 6PL
Grove Park Library, Wed. 25th August at 7.00 pm, in the TA Centre, Baring Road,
Grove Park, S.E.12 0BH
New Cross Library, on Wed. 18th August at 7.00 pm in the Moonshot Centre, Fordham Park,
Angus Street, New Cross, S.E.14 6LU
Crofton Park Library, on Monday 23rd August, at 7.00 pm in St Saviours Hall, Brockley Rise, S.E.23
The Crofton Park Library page: localgroups/lewisham/CroftonPark.htm
| | |
| --- | --- |
| More Library Redundancies | |
An estimated 40 redundancies are expected in the Harrow Library Service as a result of the borough's move towards self service in the libraries. The borough intends to install 22 radio frequency identification (rfid) self-issue machines. The installation of the machines is at the heart of Harrow's "Better Deal for Residents" program which is designed to save £50 million over three years.
AT Aug 2010
The future of Blackheath Village Library, as explained at the FIRST Lewisham consultation meeting on 28th July 2010, as if!

The venue was packed, lists and lists of names were taken and conducting the meeting were Aileen Buckton, Head of Community Services and Malcolm J. Smith heading Regeneration.

Ms. Buckton explained, as she has often done, the Council cannot wait and be caught out by not being ready with its plans for CUTS. All councils are doing this! Will they all get the same Fluff and Bluff which all Lewisham officers trade in?! The estimate is that Lewisham will have to find £60m savings from 2011 -2014. The exceptions will be statutory services. Nobody seems to have revealed that the Library Service is a statutory obligation under the 1964 Public Libraries Act.

She went on to say that officers believe this has to be done in one fell swoop. With an annual library budget of £4.2m staffing has to go. It is necessary to withdraw from 5 buildings and restructure the staff. WHY? Well, there are buildings with problems (due to lack of attention by Lewisham Council.) The lease on one library, (Blackheath) costs £75,000 pa and that is due to poor Council decision making, to be found in the archives. As a result of many poor decisions, we have problems.

Let us look at the figures

Annual net spend on the library service in Lewisham = £4,207,410

The L&IS will not be exempt [from local government budget cuts] and is aiming to realize cashable savings of approx. 25% of its Total Expenditure (£830,000)

Is this per annum? Is it over the 3 years?

41% of libraries in Lewisham will close leaving large numbers of residents not able to access a library. However, they will be paying for the remaining, more expensive libraries, through any kind of tax they pay. Not a good deal!

However, nobody has suggested closing one swimming pool and/or leisure centre in Lewisham. They are having a lot of money spent on them. The newly refurbished Forest Hill and newly built Loampit Vale pools will be ready by 2012. Downham has been up and running for 3 years and we await yet another new Wavelengths. Why are pools/leisure complexes more important than libraries? They are not a statutory requirement.

A solution is sought by perhaps doing a deal with a community organisation or school. The name of the game is CO-LOCATION, but, read on.

Arising from the background was Sir Ian Mills, chair of The Age Exchange in Blackheath Village, running the Reminiscence Centre a long standing charity with quite a large property, which holds events, runs a café, features exhibitions, has its office etc etc. Believe it or not, talks started FOUR months ago, at SENIOR LEVEL, of course. Forget about the little people, who wait at least 3 months before learning what is in store. We only pay the bills!

3 weeks ago talk had come down to the practicality of re-locating the library in the Reminiscence Centre (yes, rent would be required.) Also involved were the chairs of the
Blackheath Village Library User Group and the Blackheath Society. Sir Ian hopes to be part of the solution and will operate with total transparency, with the community, and there would be NO SECRETS! You have noticed!!!

ABSOLUTELY NO CONSIDERATION IS GIVEN TO THE IMPACT ON THE LIBRARY SERVICE PROVISION ACROSS THE BOROUGH. All residents are paying for this!

To continue, there was another meeting 6 days ago with Ms. Buckton. Lewisham agreed to put forward a range of service specifications. Architects had been commissioned to upgrade and modernise the upper and lower floors. A co-ordinating oversight group had been formed comprising Blackheath Village Residents, The Blackheath Society, BVLUG, Sir Ian Mills and Bridget Prentice. Who she? Well, there is a blow for independence! Bridget Prentice is the former Labour MP for Lewisham East and to say she has a good understanding of local communities beggars belief. She is one of them. Their report will be out at the end of August. Time is of the essence.

Sir Ians last word, Oh, but keep the campaigning going.

The questions started and the first led to the admission that the Reminiscence Centre is actually in the London Borough of Greenwich, just.

Others wondered why cuts were necessary at all. Indeed, during the financial year 2009/10 Lewisham, by its own admission, spent £12m on consultants. In the new year it was announced that it had bought the run down Catford Shopping Centre for £11m and it has been revealed that they are owed £7,818,000 in council tax plus £1,571,000 in non-domestic rates. Then the Mayor is happy to join in breaking ground of the Loampit Vale development which needed kick starting by a government loan earlier this year. Obviously, there is no shortage of money in some areas.

Fortunately some very thoughtful, informed people were present who were asking all the right questions. One of these finally unveiled the plum fact of the evening. None of these co-located libraries will have on site staff. (The best take away in town?!) I think you might need to sit back and take that in. You note, in the interests of no secrets and absolute transparency this had NOT been mentioned. It occurred by way of. As did the idea that other closed libraries might see their areas served by a terminal or a book drop off.

New Cross might see a co-location with Lewisham College, hardly in the same area. Secondary schools are not an option as their libraries are so well used. Primary schools have a problem with space and a local mother told the meeting that the 2 Blackheath Village primary schools had no libraries. We know Ms Buckton is interested in co-locating Grove Park Library in the run down Community Centre, because they are looking for support to continue.

COSTS? You may well ask, and they did. Nobody knows how the £830,000 projected saving, is made up. Is it net? Is it gross? What are the on-costs of re-location? Are there planning implications? What are the likely impacts on the overall service? What will be the impacts on the Age Exchange and its volunteers? No secrets did not run to them.

Questions were asked about the impartiality of the officers present. There was a very fine line between information and defending the policy. Not good. In fact so many questions were necessary because what was being put forward was not open and transparent. Being prepared does not seem to include thinking things through. Back to scouting and guiding for most of the boys and girls, I think.

So, none of this is satisfactory in any way, shape or form. The least we are owed is an apology by the whole Council officers past and present, councillors past and present. (AS IF )

Large numbers of library users will be isolated and detached from books, IT, reference and general information, and that is just for starters.

Already our affairs and our money have been completely mismanaged. We should not settle for their ramshackle, cobbled together last ditch stand.


Patricia Richardson I was present at the meeting. As Secretary of the Users and Friends of Manor House Library; Minutes Secretary of Libraries for Life for Londoners and a member of The Library Campaign, and lifelong library user in different parts of the world my basic concern and real worry is, why pick on libraries.

| | |
| --- | --- |
| Want to Find a Book in Londons Public Libraries? | |

Until a few days ago, the answer to that need was to point your browser at Whats In Londons Libraries. Now, trying to use that simple remedy will only result in frustration. The service has been quietly withdrawn due to financial constraints.

Further, the London Libraries website (www.londonlibraries.org) will be unavailable from 31 July 2010.

No official announcement has been made - presumably "due to financial constraints".

The catalogues of each of Londons 33 library services are still available on line at present and will have to be interrogated individually. After George Osborne announces the results of his Comprehensive Spending Review on 20th October, how long will this be the case?

AT July 2010


"Yes Minister"

On 26th July, Jeremy Hunt; Secretary of State at the Department for Culture, Media & Sport (DCMS); announced that his department was considering disbanding two QUANGOs. These were the UK Film Council and the Museums, Libraries and Archives Council (MLA).

There was an immediate flurry of adverse comment from people in the film/arts world about the possible Film Council demise, but almost none about the MLA. Whilst the MLA is not completely friendless, it has a less than glorious history to justify its existence. Its support from local government is distinctly half-hearted and most library users organisations believe that it has failed to consider their views in any meaningful way.

The MLA considered itself to be part of a command structure simply implementing the dictates of government. It completely failed to realise that it was just as important to pass back to government information about the populations views on those dictates - it did not know them or wish to know them. It thus failed both the government and the population.

Few will miss the MLA, when it finally disappears, but there could be some adverse side effects. The MLA was the financial conduit for several useful programs (quangos are responsible for 13% of total government expenditure) and it is unclear what will happen to these. Presumably, the DCMS will deploy a less expensive mechanism for this task.

The "Read Before Burning" report from the Institute for Government suggests that " the new administration must avoid repeating history [Mrs Thatcher's Bonfire of the Quangos] and that reform of arms length government must go beyond a simple numbers game, the traditional post election cull of ALBs [Arms Length Bodies]." The removal of the MLA from the scene is just the start.

AT July 2010

Adendum
Just a few days after this post, The Centre for Social Justice published a report (Response to the Spending Review Framework 2010: Maximising Social Value) also cautioning against a blunderbuss approach to cost cutting




Lewisham Consultation on Library Closures

Lewisham has proposed that it should close five of its 13 public libraries to accommodate expected funding cuts. It is moving, with great haste, to the consultation stage and has set a date and venue for a meeting on each threatened library. It should be noted that all meeting dates are in the summer holiday period. This means that many Lewisham residents will be unable to attend and places a large question mark over the effectiveness of the consultation process. The meeting arrangements are:

Blackheath Village Library, Wed. 28th July at 7.00 pm in the Leemore Centre, Clarendon Rise, Lewisham, S.E.13 5ES
Sydenham Library, Thursday 19th August at 7.00 pm, in the Grove Centre, 2 Jews Walk, Sydenham, S.E.26 6PL
Grove Park Library, Wed. 25th August at 7.00 pm, in the TA Centre, Baring Road, Grove Park, S.E.12 0BH
New Cross Library, on Wed. 18th August at 7.00 pm in the Moonshot Centre, Fordham Park, Angus Street, New Cross, S.E.14 6LU
Crofton Park Library, on Monday 23rd August, at 7.00 pm in St Saviours Hall, Brockley Rise, S.E.23

An exasperated comment from one Lewisham library user, Pat Richardson:
Having viewed councillors, officers and politicians at close quarters for over 10 years, there are not many of their opinions, statements, policies etc etc that cannot be seen through with ghastly clarity. The public seldom benefits, huge costs are involved and you can guarantee a legion of shrouded figures will be lurking in the background. Nowadays they are called consultants but they make off with your money and mine like any cut-purse or pickpocket, with precious little to show for it!

Last week we were invited to 2 events. Local activists held a demonstration outside the Town Hall. We were then able to sit in on the Mayor and Cabinet meeting which was discussing proposals for cuts, pages of them, almost £3m of them, for starters! Unfortunately we missed the entertainment and had to read about it in the Daily Telegraph on Saturday and our local News Shopper on the following Wednesday.

Now, whatever you think of Sir Steve Bullock, the elected Mayor of Lewisham, he is a pretty smooth political operator but chaos set in on Wednesday. Having quite evidently lost his cool and forgotten to switch off his microphone witnesses recalled he swore at hecklers. Then he actually wondered what planet the public present were living on. Really the public should have had an opportunity to put the question to him. It was he, dear reader, who allowed the spending of £12m on consultants during the last financial year! It was he who sanctioned the purchase by the council, late last year, of the run down Catford Centre for £11m (and we do not know where that money came from.) And he knew what the future held because he told a group of us in 2008! He cannot escape responsibility because he is an elected Mayor and all decisions could be agreed or rejected on his say. No Cabinet Member is going to disagree as their position in Cabinet (and pay) depend on his support!

A fine mess I got myself into, and that is probably the source of his irritation.

But, they got the Show on the road. The following evening we had been invited by the council to attend the meeting of community and local groups. Firstly we were addressed gently by The Chief Executive, Barry Quirke (salary £199,000pa) plus extras for being the Returning Officer. We were given the Quirke version of why the country was in such financial trouble, and not a mention of Mr. Micawber, annual income and all that. The Mayor then stepped up to the podium for his 5 minutes to support the agenda, but no hecklers were heard. We were asked to busy ourselves in groups and come up with a thought that might help to bridge the financial gap and what we were prepared to put up with, really.

Peter and I really do wonder why we take part. After 10 years and a literal bonfire of unquantifiable amounts of cash we are worse off than 10 years ago. How can that be?

How has it come to this?

Down in the bunker, that passes for a Town Hall, they must be really worried or all this activity would not go on. Arranged are 5 separate consultation meetings over each of the libraries proposed for closure. Currently the public has no leverage. There is no election on the horizon until 2014 - I am discounting Boris and the GLA. However, the results of CUTS will be kicking in by then, so maybe it is not so short- sighted.

In all the information churned out one element was missing and it will be my first suggestion to show goodwill, all employees at the council earning over £100,000 pa should offer to take a 5% cut in salary. Residents may then see a completely different picture and take on board the seriousness of our predicament.

Pat

DCMS Leads by Example

On Tuesday 20th July, the Guardian stated that up to 50% (minimum 35%) of the Department for Culture Media & Sport (DCMS) staff will be made redundant, as a result of forthcoming funding cuts. In addition, the department is expected to move out of its prestigious headquarters building in Cockspur Street.

The departments Secretary of State, Jeremy Hunt, has made these proposals to the Treasury in response to the general government cost cutting program (overall cuts of 25% to 40% required). He believes that the internal DCMS cost reductions are necessary in order to head-off criticism from the powerful arts lobby about cuts to its funding.

The department is one of the smallest and weakest of central government and is extremely unlikely to win an argument with the Treasury. Therefore, it is unsurprising that Jeremy Hunt is quickly falling into line.

The arts and museums big hitters are already making their concerns about cuts to their budgets very clear. So far, no very high-profile person has jumped into the arena to protest about possible cuts to public library funding, but a group of library users had a meeting with Ed Vaizey, the Minister responsible for public libraries. They carefully prepared for the meeting and their pre-meeting notes can be read here (courtesy Desmond Clarke). Rumours suggest that Mr Vaisey did not have an encouraging funding message for the group, but he did suggest another meeting in the autumn.
Reference:

AT July 2010
The First Casualty List
Lewisham is often among the first London boroughs to introduce a new concept to its library service. So, it is rather unfortunate that it now seems to be the lead borough in introducing a very old concept to that service library closures.
In the Autumn of this year, the closure of 5 (at least) public libraries in the London Borough of Lewisham will be announced. These closures are expected to save the borough £800,000 and, of course, free-up the sites for development from which the local communities will get little benefit.
At present, Lewisham has 12 libraries, so the closure of 5 of these (42%) is an enormous blow to literacy in the borough and, as a direct result, to social mobility in the area.
The libraries chosen for closure are:
BLACKHEATH VILLAGE LIBRARY
CROFTON PARK LIBRARY
GROVE PARK LIBRARY
NEW CROSS LIBRARY
SYDENHAM LIBRARY
The last time Lewisham attempted to close public libraries, there was intense resistance from residents and this was ultimately successful. The rationale behind that campaign is set-out here (click).
Rumours of the preparation of similar closure programs are widespread throughout London and, like Lewisham, many of these will be put before Councils in the Autumn, for implementation in 2011.
AT July 2010
Public Lending Right Scheme Cut Back
Authors are not the first group of people that springs to mind as probable victims of the recession and, to be honest, they are just one small group in the great host of people similarly afflicted. However, their plight does need to be recorded.
For every block-buster novelist, such as J.K. Rowling or Ian Rankin, there are hundreds of authors who barely make a living from their writing. In 2007, the Authors' Licensing and Collecting Society found that the average income for an author in the UK was £16,531. Thus, for the majority, the money they receive from their books being lent to the public by libraries is not just a welcome bonus, but an essential part of their income.
For every loan of a book, its author receives slightly over six pence. The money for this payment is drawn from the Public Lending Right Budget, for which the Department for Culture Media and Sport has responsibility. The department has already cut the budget by 3% and it is expected that it will cut further, as it struggles to live within its diminishing means.
It appears that saga authors, childrens authors and crime writers are particularly vulnerable to falling revenue from the PLR budget, as they are disproportionately reliant on income from public library lending. Of course, public library closure programs will have a marked affect on this income. Thus, for practical as well as idealistic reasons, authors are enthusiastic supporters of user groups that oppose such destructive policies. For library user groups seeking publicity for their campaigns, this is anopportunity not to be missed.
AT July 2010

Culture Minister Launches
Support Programme for Libraries
At the Remodelling Libraries Conference on 1st July, Mr Vaizey launched a new, expert support programme led by the Museums Libraries and Archive Council (MLA) and the LGA Group (Local Government Association Group). They will work together to support councils as they adapt to the current economic challenge, helping them to deliver the key services valued by communities while driving down costs.
The programme will initially undertake intensive, proactive work with approximately 10 library authorities. The most effective methods developed by these projects will then be shared throughout the wider public library network, so that everyone can benefit from the work.
The Minister reinforced the Governments commitment to a high quality library service. Of course, a high quality library service can mean anything that Mr Vaizey wishes. The LLL Charter, endorsed by both the Library Campaign and the MLA, is a very good definition of what a high quality library service should be. At present, there are few library services which pay more than lip service to the aspirations contained in this document. There is a danger that the need to save money will reduce this number further. Therefore, the favourable remarks made by the Minister about the Charter are encouraging. It is important that the recommendations which come out of the MLA/LGA initiative should be judged against the LLL Charter.
LLL Charter ,
AT July 2010
<>
Love your Libraries
- the people's inquiry into the public library service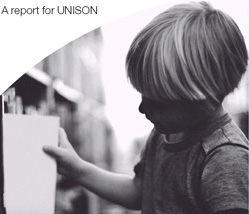 >
Unison, the public sector trade union, held an inquiry into the state of Britain's public libraries on 11th February and took evidence from Rachel Cooke, an Observer journalist, and authors Joe Craig, Michel Rosen, Sue Townsend & Ann Thraite, plus many others. A report on the day's proceedings has been written by Steve Davies, Senior Research Fellow at the Cardiff School of Social Sciences and has just been published. It can be obtained from Unison by accessing their Comms Online Catalogue at www.unison.org.uk/resources/publicity.asp . Alternatively, a request for a copy can be requested by email from [email protected]
AT June 2010
<>
Payment for Success in Public Library Services - A Question of Priorities
>
The recent KPMG report Payment for Success claims that it offers the chance to fundamentally change what is achieved out of spending on public services. So, it appears to be no different from its many predecessors but, like those, it does have some interesting suggestions suggestions which are capable of producing bad outcomes as well as good ones.
It is accepted by most people that public services in Britain are somewhat poorly managed. However, the difference between the UK and other countries with similar systems is not enormous. Unfortunately, that small difference costs the nation billions of pounds per year and that is the target for this report. In the short term, local government has to find savings of £1.165b and, in the long term, much more. When faced with a funding short fall, the traditionally, knee-jerk reaction of Council Members and Officers is to first cut the library budget. This time the problem cannot be solved simply by following this well-worn path the sums involved are far too large. Indeed, the scale of the required savings are so great compared with the average borough library budget (approximately £6m in London) that it may well be not worth the inevitable backlash which will result from yet further reductions in an already degraded service.
Of course, this is unlikely to stop library budget cuts being applied and these will probably be accompanied by claims that the service to the public will not be reduced. In reality, the service will be reduced and it would be better to admit that. This would allow Council Officers to concentrate on minimizing the adverse effects, rather than wasting time trying to convince the public that it should not be worried that irreparable damage will be inflicted on cherished services.
All is not well and difficult decisions do have to be made. These decisions should be made rationally and should aim at minimizing the long-term harm which will result. The good times will return and local government will then be faced with the task of repairing what has been damaged by the cuts. It is imperative that the actions taken now are capable of being reversed in the future, if it is found necessary/desirable.
Thus, the outlook for public libraries in Britain is dire. The country is in a financial mess and the most senior levels of local authorities have an attitude somewhere between antipathetic and antagonistic. At present, the only proposals on the table are those contained in the KPMG report.
The lack of understanding and less sympathy for the work of public libraries within Councils Directorates has been caused to a large extent by a confused message that has been propagated by the library profession. Library users have not suffered from what often appears to be a slavish commitment to fashion and have consistently supported the original public library activities book lending & education (the drivers for literacy and, therefore, social mobility). In this, the users have been simply reflecting the needs and wants of their local communities.
As far as libraries are concerned, Paying for Success seems to be advocating a model close to that of many US public library services. There, many public libraries are fairly basic and run by volunteers. Of course the top tier of US public libraries are very impressive places, but it is not the top tier of UK pubic libraries which are likely to be badly damaged/destroyed by poorly managed budget cuts.
Professional librarians have, almost universally, condemned the KPMG report. However, the profession has not produced any viable alternative suggestions on how to save money. The documents objective is just that and it is very relevant to the countrys present situation.
If there is a will within government to consider radical changes to the way public libraries are run, it would be sensible to start by properly listening to what real library users consider to be important. It will be difficult to obtain a priority list acceptable to every single library user, because they each have a unique set of reasons for using a library. Nevertheless, there is much common ground and this is roughly what that list will look like:
1. Library buildings (once a library is closed, it never reopens)
2. Books (book borrowing is the prime activity for over 80% of library users)
3. Well trained, well treated staff (crucial for a good atmosphere within a library)
4. Public access computers (important for reducing the digital divide)
5. IT classes (important for reducing the digital divide)
6. Quiet study areas (important for students of all ages and ordinary readers)
7. The 1001 activities which are considered important by information professionals
8. Volunteer participation
Volunteer participation is generally considered to be the least important part of any public library operation. Most users are very happy that libraries use paid staff. Of course, they are not so happy about paying the taxes that make this possible, but the connection between the two is not usually made. In London, only twenty local authorities used volunteers in libraries during 2007/08. Although this number has been slowly increasing (the figure for 2006/07 was 17), this has not been caused by a great demand from users. Of those Councils which do use library volunteers, very few use them in a serious way and none to the extent that would be required to make a very significant budget contribution (there were only 724 library volunteers in the whole of London in 2007/08 - see spreadsheet).
If volunteer run libraries is the method by which local authorities intend to drive down costs, they will find that they have chosen one that will take some time to produce noticeable reductions. Indeed, if it is intended that there should not be a major reduction in the service offered to the public, the initial costs could well be greater than before. Recruiting and training volunteers to a high enough standard will cost a lot of money and, due to high volunteer turnover; a fairly high proportion of this cost will be a permanent part of the budget.
The use of volunteers is no panacea. There are inevitably going to be cuts to the offered library service. The next level up the priority list will have to be addressed, as well. It is here that much of the library professionalism is centred. That professionalism is important, but only to a limited number of people in any one week. It is thus vulnerable to the efficiency test, but will severe cuts at this level be enough to produce the required savings? Perhaps not. The further up the priority list the Council knife is applied, the greater will be the backlash from the public. Unfortunately, the cost of that backlash does not appear in the KPMG calculations. There will be local government blood on the carpet, if the simplistic KPMG arguments are slavishly followed. Flexibility is required from everyone, not just users and staff.
Reference:
The use of volunteers in London

Librarian comment on KPMG report
AT June 2010
| | |
| --- | --- |
| What Everyone Knew about Public Libraries | |
In December 2009, the DCMS commissioned Ipsos MORI to carry out research into public library usage in England and the findings of that investigation have now been published. Ipsos MORI interviewed a representative sample of 5000 people aged 15+ and found that 81% of library users visit a library to borrow a book. This figure is very similar to the finding of a recent survey in the inner London borough of Camden. In Camden, it was found that borrowing books was the prime aim of 82% of library users.
These very high percentage figures have been achieved in spite of a massive reduction in book stock in virtually all of Englands public libraries and would indicate that the number of books within a library has little bearing on the behaviour of library users they still keep trying to find something suitable. However, a high percentage of a decreasing overall usage would actually suggest that users who are dissatisfied with a librarys book stock simply stop going to the library (confirmed by CIPFA active borrower figurers) and, therefore, also cease using its other facilities. The situation may well be far worse in London than in the rest of the country, as Londoners are the least likely to borrow a book from a library according to the survey.
The overwhelming importance of the book lending activity in the nations public libraries is a constant theme of all library user group statements and it is one which is, equally constantly, ignored by library authorities. There are many new, exiting activities which can be carried out in public libraries and the boring, old-fashioned one is pushed down the library service priority list. The Ipsos MORI report clearly shows that there is a great mismatch between the priorities of library users and library authorities and, most likely, is just one additional piece of evidence to be ignored.
Of course there is more to the research findings than a confirmation of the importance of book lending. Some of these are already well documented, such as the fall in library usage in the 20 30 year age group. Perhaps the most interesting aspect of the report is the analysis of the employment status of library users. The investigation found that the unemployed were apparently the least likely people to use libraries. This is a group that could obviously benefit greatly from the help available in public libraries, but which seemed slightly unwilling to do so. The detailed analysis showed that only 28% of the unemployed group borrowed books (the lowest figure of all occupation groups) but, more encouragingly, 54% carried out research on jobs/health/training/local events (the highest figure of all occupation groups). In fact, although the headline figures for the unemployed appeared poor, this group became very focused in the way that it used public libraries and it concentrated on what mattered most. The overwhelming priority was to find employment. This is confirmed by the high interest that the group showed in learning about and using computers.
AT June 2010
Armageddon for Londons Public Libraries?
Department for Communities & Local Government
Eric Pickles, the portly Tory Secretary of State at the Department for Communities and Local Government has been told by the Treasury to put his department on a starvation diet as part of the initial £6b cut in government expenditure. He has to reduce the department's expenditure by 7.4% (£780m). This is the highest percentage cut of any department and probably reflects a Treasury view that local government is more inefficient than other sectors.

It looks as though £537m of the £780m will come from the grants to local government and the Minister for Housing and Local Government, Grant Shapps, will need to make some very difficult decisions.

The reduction in communities and local government grants is bad news for local communities, in its own right. Unfortunately, that is not the end of challenges to local authorities. Grants from the Department of Education will be reduced by £311m, grants from the Department of Transport will be cut by £309m and grants from DEFRA shaved by £8m.The total 2010 reduction in local government spending will be £1.165b.

The simplest response from the departments would be to reduce the money allocated to each local authority by a constant percentage, thus sharing the pain equally among the authorities. This would confirm the existing inbuilt London budgetary disadvantage. However, as Londons Councils are overwhelmingly Labour run, there is a temptation for a Tory run Ministry to increase the amount of money effectively exported from London to the rest of the country. By making life more difficult for the London Local Authorities, the Labour Party will reap a greater share of the backlash against the consequential local service cuts.
Department for Culture, Media & Sport
The DCMS is the department responsible for ensuring that Britain's public libraries provide a good service and this has had its budget cut by £88m. This 3.5% cut is unlikely to have as great an affect on library services as the much larger percentage cut in local government expenditure.
Crumb of Comfort
Public libraries are traditionally considered to be the soft option, when budget cuts are under consideration by local government Officers. One of the reasons for this is that grants targeted at library services are not ring-fenced, whereas many other grants are. Thus the options available to local authorities have been fairly limited. This situation has been eased by the removal of ring-fencing from grants totaling £1.7b.
Local Government Association comment: https://www.lga.gov.uk/lga/aio/11410179
AT May 2010
| | |
| --- | --- |
| Public Library E-book Activities | |
Overdrive, the e-book distributor, is now five years old and its public library service is only a little younger. Its competitor in the UK, Bloomsburys Public Library Online is still an infant at one year old. These are the organisations on which the UKs public library services rely, as they slowly rollout their e-book offerings. Whilst many of the problems that inevitably afflict a new service will have been removed from both systems, it is not surprising that there should still be one or two left.
The most obvious problem is the lack of an agreed e-book format. The battle over which format will come to dominate the field is ongoing, but has not yet reached the ferocity of the Betamax/VHS video format one. As the e-book battle is about a software format and not about hardware, this is more of a nuisance than a major obstacle to progress.
However, there may be a major problem for library services in a period of austerity. The automatic deactivation of the downloaded e-book after the initial loan period (usually two weeks) deprives library services of an income from overdue charges. As overdue charges are usually accidentally incurred, this may seem to be an advantage from a users perspective. Nevertheless, the lost revenue has to be made up from other parts of the librarys revenue budget and, as a consequence, the general user does not gain anything in total. The magnitude of the problem can be gauged from the following table
London Library Services Revenue Income per 1000 Population
(CIPFA 2007/08 Actuals)

Inner London

Outer London

Greater London

Overdue Charges, £

342

350

357

Total Revenue Income, £

2,942

1,617

2,125

Overdue Charges as a % of Total

11.6

21.6

16.8
The problem is clearly something that cannot be ignored, especially by the outer London boroughs. Potentially, the removal of £50k - £100k from library revenue budgets would be crippling. Of course, this assumes that the overdue payments actually go into the library budget rather than the general Council pot.
The easy solution for library services is to charge for the hire of an e-book. Many Library Services would be very happy to equate an e-book with a CD or DVD purely because it is an electronic version rather than an ink on paper one. Whilst this may not be a definite breach of the 1964 Museums and Libraries Act, it is certainly not in the spirit of the Act and is something that library users should resist.
Overdrive and Public Library Online are creatures of the book trade. So their prime objective is to maximise revenue for themselves and the publishing houses. It is unrealistic to expect them to eagerly seek a solution to this problem. However, they may be well advised to take it seriously, while they can. Google is lurking just below the horizon.
In some boroughs, all that is required may be a little lateral thinking. The home library service is not cheap to run, but is an essential lifeline for the housebound. The issue of free e-book readers to people who use this service would quickly give a significant cost saving and an improvement in service. Perhaps this is the balancing item for the loss of overdue charges.
References:

1964 Museums and Libraries Act,

Overdrive
Essex Libraries E-Books (an MLA Case Study):

AT May 2010
| | |
| --- | --- |
| The New Ministerial Team at the DCMS | |
| The Secretary of State | |
Jeremy Hunt has been appointed Secretary of State at the Department for Culture Media & Sport (DCMS). This now combines the responsibilities of the old DCMS with that of the 2012 Olympics. He stated in his first interview with the BBC that "The Olympics is our number one priority and what we need to do is to grasp the opportunity."
As the Olympics will be a sport and media fest of major proportions, there will be little time left for him to spend on the cultural aspects of his remit in the next few years. This does not bode well for the public library sector in a period when it expected to be under considerable pressure to cut costs.
Mr Hunt has been the MP for South West Surrey since May 2005 and has served as Shadow Minister for the Disabled (2005 2007) and Shadow Culture Secretary (2007 2010). He is thus not totally new to the problems experienced by the UKs public libraries.

His experience prior to becoming an MP is also slightly relevant. He co-founded a publishing company which produces information about about educational courses in the UK. This company, Hotcourses, is based in the borough of Hammersmith.
As was widely anticipated, Ed Vaisey has been made the Minister for Culture in the department. From 1996-2004 he was director of a public relations company before turning to politics. He was Shadow Culture and Creative Industries Minister 2006-2010.
Other appointments to the team are:
Hugh Robertson , Minister for Sport and the Olympics
John Penrose , Minister for Tourism

Reference articles:


YouTube video: https://www.youtube.com/watch?v=YZBkzkrdXqE&feature=youtube_gdata

AT May 2010
| | |
| --- | --- |
| US Government States that Media Piracy Claims are Overstated | |
A study by the U.S. Government Accountability Office (GAO) has revealed that claims by the film and recorded music industries about the devastating effect of intellectual property piracy have been grossly exaggerated.
The 41 page study, which took a year to complete, was undertaken at the request of the US Congress and considered the affects of piracy on digital music, films, and software. Whilst e-books were not specifically included in the list, they obviously fall into the same category as the considered subjects. As the software associated with e-books is still in a state of flux, the study is very relevant. The piracy hysteria generated by the film/music industries is in danger of distorting the development of the e-book format to the detriment of the public. Public libraries will therefore also be disadvantaged in their difficult adjustment to the new technology.
The study commented on the methods of measuring the affect of piracy: Each method has limitations, and most experts observed that it is difficult, if not impossible, to quantify the economy-wide impacts." This leaves the field clear for massive exaggeration by the film and music industries something in which they are both well practiced.
The GAO found that three commonly cited reports could not be substantiated or traced back to an underlying data source or methodology to support claims that piracy was destructive to the film or recording industry. Reports from the Business Software Alliance and the Motion Picture Association of America (MPAA) were also found to have been highly speculative and overstated. In spite of this, one of these is still being used officially.
The GAO study did not suggest that there was no piracy/counterfeiting problem, but simply made the point that it had been overstated. The draconian measures which are being forced on the public by hasty legislation are therefore probably unnecessary for the defence of intellectual .property. They are more about the defence of an outmoded business model.
GAO study: https://www.gao.gov/new.items/d10423.pdf
AT May 2010
<>
Grass-roots Activism Gets Results
>
In the coming months, everyone is expecting many attempts to close public libraries in order to help bail-out an economy ruined by incompetent national politicians and greedy bankers. Library closures have long been regarded by local authorities as easy option cost cutting. One London borough, Walthamstow, has found that this can be far from the truth.
About three years ago, Walthamstow closed one of its libraries without any prior notice and certainly without consulting the local residents. Since then, those residents have been a thorn in the side of the Council. They organised themselves and have been battling to get the library reopened at every possible occasion.
The received wisdom is that once a library has been closed, it will never reopen again. The Council was probably counting on simply out-waiting the Walthamstow residents, but it miscalculated. The fight is still going on and it is the Council which is beginning to tire. The St James Street Library Campaign have issued its latest press release (click to view) and it is looking a little hopeful.
The moral of the Walthamstow story is that it is better to act before the Council shuts your library, rather than after. Form that Fiends Group now.
AT April 2010
| | |
| --- | --- |
| The Public Domain Charter | |
Almost all cultural objects published, painted, photographed or released anywhere in the world before the 20th century are within the Public Domain and therefore can be freely used and reinterpreted to fuel the creation of new treasures.
However, the dash to digitise Europe's cultural heritage is now putting these Public Domain Rights in jeopardy. Some digitisation contracts grant exclusive rights that restrict access to newly digitised works for years or even decades.
The European Online Library, Europeana, has responded to this retrograde trend by publishing The Public Domain Charter: a statement that calls for the Public Domain to be kept freely accessible to Europe's citizens. The intension of the Charter is to ensure that material held in trust for the public for generations, often at taxpayers' expense, should not enter the private sector when it is digitised.
The Charter can be found at:

AT April 2010

A Manifesto for London's Public Libraries
LLL has published its Library Manifesto in advance of the general and London Council elections. It calls for the Mayor of London to take a hands-on role in the improvement of Londons libraries and deliver the changes promised by the London Library Change Programme (LLCP)
It believes that only direct intervention from the Mayor will provide the motivation for the LLCP to start living up to its name and implementing the changes required to improve Londons libraries for Londoners. A new start for public libraries should be his legacy.
The
Non-stakeholders

The Department for Culture, Media & Sport (DCMS) has published its long-awaited Modernisation Review of Public Libraries to a cacophony of comment. As is to be expected from a government department, the review is mostly a statement of the obvious and much of the journal comment on it is concerned with the lack of overwhelming support for one or other viewpoint.

As a library users group umbrella organisation, LLL has a particular viewpoint and this is not the same as the high profile local government, literati or book trade viewpoint. Even the views of library staff are not exactly the same as that of library users. It is therefore of concern that the UKs national public library users group, The Library Campaign, should complain that the DCMS failed to consult it before writing the review / policy statement.

The document has much to say that is good but, as the Library Campaign points out, it could have been better. The implication of the comment is that the DCMS has been overly influenced by organisations and individuals whose primary concern is not the provision of a practical, well-rounded, modern library service which is dedicated to serving the needs of the community.

Of course, the DCMS would strongly deny that it has shown a bias against library users organisations. However, there is some evidence in the review document to support this contention. The breakdown of responses to the consultation is:

| | |
| --- | --- |
| Local Government | 44.2% |
| Individuals | 27.9% |
| Companies & Organisations (excluding user groups) | 22.1% |
| Library User Groups | 5.8% |

It is clear that the category with the largest stake in the public library system (the users) is the one with the least say in the review process. The under-representation is massive and it is surprising that the DCMS did not take steps to redress the balance. The DCMS has had over 30 meetings with stakeholders, but not with the national users group. Obviously, the users are not considered to be stakeholders. Apparently, it does not matter that they have been drowned out by the sound of axe grinding.

Reference

AT March 2010
"The Government Must"
With those three, uncompromising words, CILIP (the Chartered Institute of Library and Information Professionals) begins its Library & Information Manifesto 2010. The Manifesto sets out CILIP's "six priorities for the next Westminster Government to ensure that quality library and information provision continues and improves". These priorities are:
MAKE school libraries statutory and develop an action plan for implementation
PROMOTE AND PROTECT the rights of users within copyright law and ensure these rights apply within the digital and print environments
BUILD a successful knowledge economy based on effective information management, and restore public trust in the responsible management of public information
ENSURE the legal deposit system works effectively so that the nations digital heritage can be enjoyed and exploited effectively by future generations
FUND AND ENABLE the effective co-ordination of health information so that everyone who needs it - patients, carers, doctors, nurses and planners - will be able to find the necessary information to meet their needs
DEVELOP a set of library entitlements for public library users and promote the concept of user entitlements in other library sectors
Most public library users would find nothing to object to in the CILIP wish list. However, considering the expected assault on the county's public libraries, it would have been better not to leave the subject of public library user entitlement to the last. It does give the impression that it is the least of the priorities, in spite of being the one which directly affects the most people.
Reference: www.cilip.org.uk/manifesto
AT March 2010
| | |
| --- | --- |
| Changing Perspectives in South London | |
"What future for Blackheath Village Library?" was the title of a meeting at The Bakehouse on Tuesday 16th March in which Antonio Rizzo, Head of Lewisham Library Services, explained how change might affect the local library service in the next few years. The revitalized Blackheath Village Library Users Group wants to know what you want from the library. Contact them at tel 020 8852 4032 email: [email protected] The Blackheath Village Library Users Group newsletter can be found by clicking here.
THE newly refurbished West Greenwich Library and the beautiful East Greenwich Library are the subjects of Pat Richardson's write-up about this part of south London. It incidentally shows how important the presence of a Friends Group is to the continued existence of a public library.
Click to read Pat's article

Public Library Funding Cuts
&
Damage Limitation
There is no doubt that this country is in dire financial difficulties. A toxic mix of political hubris and banker greed has produced the worst economic downturn since the 1930s. The UKs private sector has been suffering severely and the countrys gross domestic product has fallen by a massive 6% but, so far, the public sector has escaped virtually unscathed.
The badly damaged private sector produces the wealth which funds the public sector. Therefore, this state of affairs cannot continue. There is no magic formula which will allow it to do so. Public sector cuts are inevitable. It is better to accept this and plan properly rather than to simply deny the fact.
Mein Kampf Freedom of Information or Censorship?
One of the sillier aspects of copyright law is the insistence in many countries that the copyright holder has complete control of the work for 70 years after the death of the author. Perhaps this excessively long period has more to do with the fact that lawmakers are frequently spare time authors than with ensuring a flat playing field in the book trade. However, that is the situation that we have to live with.
One of the difficulties this causes is actually determining when an author died and, thus, when copyright runs out. This is definitely not a problem for Mein Kampf. Nearly everyone knows when Adolf Hitler died. The copyright clock started ticking in a Berlin bunker in 1945. Therefore the book can be freely reproduced in most countries from 2015 onwards.
As the deadline approaches, interest in the book has begun to rise. New editions have been printed and there are more planned. This presents a dilemma for public libraries. Should they have these books on their shelves? There is no doubt that Mein Kampf is of historic importance. However, the ideas contained within it are not generally acceptable, but neither is censorship.
The Institute of Contemporary History (IfZ) in Munich has obviously been thinking about the problem and has arrived at a good compromise. It intends to publish an "annotated version" of the book. The annotations will consist of historical notes about the Third Reich and its policies.
Compromises tend to satisfy nobody and this one will probably not stop a furious debate and the quality of the annotations is critical in this. With the rise of right-wring political parties such as the BNP, there will be a great temptation to use these notes for anti right-wring propaganda. If the authors of the notes succumb to this temptation, the resultant book(s) will be no better than the unannotated one. It is certain that there is going to be a very difficult judgement to be made in library book selection in the next few years.
AT Feb 2010
Another Chapter in The Google Book Settlement Saga

A US federal judge has rejected Amazon's request that he withdraw his preliminary approval of a settlement between Google and US authors & publishers to allow Google the right to digitize millions of books.

On 1st December, U.S. District Judge Denny Chin said that he would conduct a "thorough fairness analysis" of the settlement on 18th February next year and Amazon would be able to argue its case then.

The original agreement between Google and US authors & publishers was criticized on monopoly & copyright grounds and for its probable consequences in non-US countries. These criticisms have resulted in major changes.

One of these changes has restricted the agreement to the United States, Australia, Canada and the United Kingdom i.e. to major English speaking countries.

UK public libraries have an interest in the small print of the final settlement, as Google has promised free access to all US public libraries to its archives. Each library will be allowed to have one terminal with this access. It is unknown whether the DCMS is attempting to ensure that this facility is extended to UK public libraries or whether it is content that the UK is treated as a poor relation by the agreement.

AT Dec 09
The Wirral MBC is Found to be in Breach of its Statutory Duties

The Public Inquiry into Wirral Metropolitan Borough Councils (MBC) decision to reduce the number of libraries in its area from 24 to 13 has found this to be in breach of its statutory duties under the Public Libraries and Museums Act 1964. If the changes had gone ahead (they were withdrawn when it became clear that the Inquiry would comdemn them), the Council would have failed to provide comprehensive and efficient public library services for all persons desirous to make use thereof.

The Inquiry, led by Sue Charteris, stated that the primary reason for this breach was that the Council failed to make an assessment of local needs in respect of its Library Services. She concluded that financial considerations, rather than those of library users had driven the Wirrals policy.
The damming report has received a furious counter attack from the Local Government Association and the Wirral MBC leader, Steve Foulkes. Cllr Foulkes is reported as stating that the inquiry report was fundamentally flawed in its logic, and in many places it is just plain wrong.

Perhaps Mr Foulkes and the Local Government Association should take some time to consider just what has happened. Unheeding, top-down policy implementation has met grass routs rebellion and the grass routs won. It is certain that the DCMS, the MLA etc will claim responsibility for this demonstration of democracy at work. However, it should not be forgotten that these bodies were very reluctant to interfere. They had to be forced into action by local protesters.

"DCMS REVIEW IGNORES PEOPLE WHO USE LIBRARIES" states a press release from the Library Campaign on libraries minister Margaret Hodge's 'public libraries modernisation review' Perhaps Sue Charteris could take a look at the workings of the DCMS itself. There seems to be little difference between the attitude of Margaret Hodge and that of Cllr Foulkes.


Cost Reductions in Londons Library Services
It is no secret that the UK economy is in grave difficulties and that all local government services will have to deliver cost reductions in the near future. When this has happened in the past, Councils have taken the easy option and simply cut those services provided to the public. The easiest to cut have been library services and, as a consequence, these have tended to be the most severely reduced. Coincidently (possibly), the London region of the Museums, Libraries & Archives Council (MLA) has commissioned an investigation of methods of improving the efficiency of Londons library services. At least in theory, these should reduce costs without reducing the quality and quantity of the provision to the public i.e. exactly what local authorities will be seeking soon.
The investigation took into consideration the views of both library staff and Councillors but, very noticeably, not library users. The MLA is thus following its usual top down attitude to service provision. A report has been written and this will be discussed at a meeting on 1st December by borough Councillors responsibility for library services.
The main thrust of the report is the often-cited cost reduction potential of amalgamating some or all Londons library services. However, some other options were considered. The option list was:
Local authorities to contract out library services to private companies
Dissolve London library services and create one pan London or several sub regional library services
Learn from other authorities to use staff more effectively to deliver outputs
Reduce libraries in close geographical proximity
Joint strategic planning of library service and workforce deployment and development
One pan London purchasing model which maintains local accountability for stock
Secondments of staff to other authorities
Training, advisory and specialist services to be wholly outsourced
Shared job descriptions and HR processes
Specialist posts to cover several library services
Shared recruitment and advertising processes and costs
Develop shared training across library services
Vertical integration of local authority advice services/customer services points with library services
Joint posts within managerial level of library service
All options were considered to be desirable except for two privatisation and shared job descriptions & HR resources. Whether library users would be similarly enthusiastic is unknown, as they have not been asked and, one suspects, they will not be asked - just told.
AT Nov. 09
The Amazon Kindle is Really on its Way to the UK More or Less
Amazon has announced the availability of its Kindle eReader to customers outside the USA. It is not easily available, as these customers still have to purchase their Kinder from the Amazon US on-line store and pay a premium for the privilege. In addition, there are countries excluded from the new offering, such as Canada, China, South Korea and Singapore. Blogkindle.com has analysed the availability of the Kindle worldwide and its operating restrictions in each country.
Kindle 2 World version will start shipping on Monday 19th October. The International version of the Kindle 2 is identical to the one that was released in February, apart from its use of the AT&T 3G network for book downloads and internet connections in the US (the Kinder used Sprint before) and roaming partner networks in over 100 non-US countries.
UK customers will find that the actual cost of buying a Kindle is approximately $345, or $65 more than the list price, due to import duties and shipping. Amazon also charges an extra $1.99 every time a book is downloaded outside of the U.S. Blogkindle.com has generated the following information for the UK market:
| | |
| --- | --- |
| Wireless capable | Yes |
| Typical book price | $11.99 ($13.99 inc VAT) |
| Duty included in price | Yes |
| Browser & blog capable | No |
| Number of books available under $5.99 | 70,000 (25% of total) |
| Total number of books available | 280,000 |
The UK is an important market for Amazon and it cannot afford to provide second class service to its British customers for very long. The announcement appears to be an attempt to mitigate the damage being done to the Kinder market potential by its long period of unavailability outside the USA. More or less available is better than not available.
AT Oct 2009
| | |
| --- | --- |
| Minister Warns Councils Not to Cut Library Budgets | |
Margaret Hodge is the new Minister for Culture, Creative Industries & Tourism within the DCMS. Soon after her appointment, in an interview with the Sunday Times, she said that local authorities should not cut library services as part of the expected reduction in public spending. They should, instead, concentrate on encouraging increased use. So, the underlying message appears to be: central government cuts ok, local government cuts unacceptable. The method by which this remarkable stratagem would be accomplished is that of turning public libraries into quasi-commercial organisations.

Of course, this is arrant nonsense but, as the Good Library Blog pointed out, it is the party conference season. Local government in general and library managers in particular do not have the skills necessary to run commercial enterprises. If the existing, semi-commercial activities within libraries (dvd/cd hire for instance) were rigorously costed; it is almost certain that they would be found to operate at a loss. Adding further activities which are loss making does not seem sensible, especially as there would need to be significant initial investment for them to operate at all. If the DCMS is eager for public libraries to follow the Hodge doctrine, perhaps it should provide the necessary capital injection.
The new minister does not seem to have got a firm grip on her Culture portfolio yet and she also appears to have under-whelmed in the tourist part of her remit as well.


AT Oct 09
Every Library is a Local Library

From 28th September, it has been possible to borrow books from more than 4,000 public libraries in England, Wales and Northern Ireland simply by showing a valid library card. The new scheme is an initiative of the Society of Chief Librarians (SCL) and, in spite of the hype, is simply an extension of what has been in existence for many years. With the diminishing book stocks in most public libraries, many users have been forced to use public libraries in several boroughs in order to access a large enough stock. There has been no difficulty in doing so, provided filling in a few forms and keeping track of several library cards is acceptable.

The next step under consideration by the SCL is the introduction of a universal library card which can be used anywhere in England, Wales and N. Ireland. This creeping federalisation of the countrys public library services does have advantages. However, the concept does need to be openly discussed, to identify the disadvantages before it is taken too far. Top down decisions, made without consultation, often end in disaster.
One possible disadvantage is that local authorities with no interest in the literacy or culture of their residents will find it easier to dismantle their public library services.


AT Oct 09

The Virtual Public Library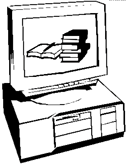 Ereaders are the new fangled, pocket-sized, electronic gadgets designed to allow owners to easily carry around up to 1000 books and read them wherever the user happens to be. They are usually sold with 100+ ebooks already in the memory, but only a few of these are likely to be what is really wanted by any one person. So, it is necessary to add to this collection.
Publishing houses in the UK and US are increasingly offering ebook versions of books in the current lists and, for some new additions to their lists, they have even started offering the ebook versions before the printed versions. Additionally, a very large number out-of-copyright books have been available for download for some time, free of charge.
Between these extremes is a long list of books which are out-of-print but not out-of-copyright. Most of the books on this list will never be reprinted, as the demand for them is too small to justify the cost. However, the cost of making them available for downloading is quite small. In the US, this new book supply opportunity has been seized upon by Google and the legal framework for it to become a reality is being put into place (Main2.htm#GBS). Wherever the US goes, the UK is not far behind, even if it is not always very happy with the scenery.
So, the advent of the ereader has hugely increased the number of books available to the public in a convenient form and many of them cost nothing to acquire. Every day that passes produces more ebooks to reinforce this situation. So far, the sources of electronic books have excluded public libraries, although traditional book retailers are increasingly offering them for sale. The net result is that in a world of increasing book availability, the widespread public library policy of reducing book stocks is in danger of making them irrelevant for the majority of the population. Once public libraries are seen to no longer serve any useful purpose for the majority, they will be closed. The fact that this will seriously disadvantage the poorer sections of communities will have little influence on local authorities desperately short of money.
It is unrealistic to expect the deeply conservative library services of the UK to follow market trends closely. However, there are signs that they are beginning to react and a mechanism for extending the book lending service to ebooks is starting to take shape.
At present, ebooks published by Bloomsbury, Pearson Education, Random House, Rosetta Books, Wiley, Harlequin, Harper Collins, Taylor & Francis, and McGraw Hill Education are available from pioneering public libraries (Essex, Croydon & Dorset). Obviously, this list is heavily biased towards publishers of text books and non-fiction works. The reason for this is that academic libraries are well ahead of public libraries in adopting the new form of presentation. As more public libraries take up the new option, the balance will change.
One of the advantages of the new loan mechanism is that the borrower does not have to go to a public library to borrow a book. Providing he/she has a computer or suitable ereader, e.g. Sonys Reader, all that is necessary is to go on-line to the library services website and download what he/she wants. This is an enormous advantage for the house bound and the very busy among us i.e. for almost everyone. It is also a great advantage for the library service, as it extends its reach right into the homes of its borrowers and potential borrowers. Further, it removes the restricted opening hours tyranny to produce a very cheap 24/7 service to the public.
Once a borrower has downloaded his/her selected books, he/she has the use of them for the period defined by the library service. At the end of that period, the downloaded book becomes unreadable and it should be deleted from the computer/ereader. If the borrower wishes to continue the loan, it is necessary to download the ebook again i.e. the loan has to be renewed, just like a printed book.
There has to be at least one disadvantage to any innovation and this development is no exception. In this case, the downside is that the expertise of the library staff is not available via the computer or ereader. However, it is possible to provide some of this with on-line programs giving borrowers alternative titles/authors to those which are sought. The friendly chat is lost though.
AT Sep 2009

The future of reading: A public value project
The Arts Council has something it calls its Literature Team and this is seeking to engage organisations and members of the public in a debate about the role and value of reading. This project is intended to be one of the inputs to the development of a programme to promote reading. This will be aimed at raising the profile of reading as a creative activity and strengthening its position within national, regional and local policy agendas and the plans and activities of cultural agencies. It will also be a vision, setting out shared aspirations for the future of reading and galvanising a wide range of individuals and organisations, particularly libraries, to help make that vision a reality.

Understand how members of the public perceive, experience and value reading and whether they see it as a creative activity
Explore perceptions of and attitudes towards reading among non-readers, and understand the barriers to greater engagement
Enable members of the public to help develop a vision for the future role of reading in society
Generate ideas as to how the Arts Council, the MLA, The Reading Agency, libraries and other organisations can make that vision a reality.
Among the specific questions which the Arts Council wishes to answer is:

What could individuals and organisations, particularly libraries, do to help meet public aspirations for reading?

Sorry for stating the obvious, but would it not be a very good idea for public libraries to stop reducing their book stocks? The reducing number of books on library shelves that are of interest to a reader, reduces the likelihood that he/she will take a book home and, subsequently, come back for more. Removing a major discouragement to read should be a first priority surely. Once the opportunity to read has been improved, more arcane theories can be considered.

Effectively, the UKs public libraries have been dismantling the infrastructure on which the reading habits of a large part of the population have been built. Over time, as the practice of reading falls, this produces an increase in illiteracy. Research has shown that this is happening in this country.
AT July 09
Meltdown
It is not news that the UK economy is in a bad state. The OECD predicts that the British gross domestic product will fall by 4.3% this year, producing a significant fall in government income, and there is not expected to be a return to economic buoyancy for some time. Thus, heavy cuts in government expenditure are forecast from 2011 to compensate for this fall and also to pay for the recent fiscal stimulus. The magnitude of the required cuts is subject to fierce debate and estimates range from 7.5% to 20%.
These are average figures and there will be services which fare better and services which fare worse than the average. For instance, health can be expected to be less affected than culture. In fact, culture will probably be one of the most heavily cut areas. Public libraries are firmly in this sector, although it could be argued that they are also in the education area.
Thus, it is inevitable that central government money allocated to public libraries will fall substantially in the coming years. However, this is not the only bad news for library services. Past experience suggests that central government will try to pass more than a pro rata funding cut onto local government in general and to London local authorities in particular. Thus, Londons Councils will be in desperate trouble and will cast around for any way of saving money. Again, history suggests that, in this situation, one of the first budgets to be cut will be the library budget.
When budget cuts are demanded, the choices are: improve efficiency or cut services. Sadly, most Library Services will automatically opt for the latter, as it is the easy option for senior managers.
The value of sales in Britain's £4bn book publishing industry fell 6.5 per cent in the first quarter of this year. People are earning less and becoming unemployed at an increasing rate. They simply cannot afford to buy books as before. Of course the poor have always had this problem and their local public library provided the answer. Sadly, falling book stocks in the UKs libraries have limited the degree of help available from this source. Now, those stocks will undoubtedly have to stretch further, as the new poor also turn to the traditional provider.
Thus, library services will have to meet a greater demand on an already inadequate resource and there is a grave danger of further mindless cuts to that resource. Library users need to start preparing their defences to against further reductions in library book stocks or worse - remember the Wirral and Swindon (click to see Shirley Burnham's desciption of the Swindon mess).

AT July 09
Google Books Investigation
A long awaited U.S. Department of Justice formal investigation has started into possible antirust violations in the Google Book settlement with US publishers and authors on digital publishing rights.

In October 2008, for a payment $125 million, Google reached an agreement with US publishers and authors. This gave Google the right to digitise and publish books that are out of print, but still protected by copyright law. This would put Google in the position of a monopoly supplier and has caused concern. The in-copyright facility cannot be offered by Google until a federal judge has authorized it and the current Justice Dept. investigation is part of that authorization process. Google continues to digitise public domain books and has negotiated deals with some publishers for current works.
Google is proposing to allow all public libraries in the US free access to all digitised books from one terminal. For more terminals, the libraries would have to pay.
Whilst the Google Book situation is a little unclear at the moment in the USA, it is completely opaque elsewhere in the world. If it is allowed to go ahead, it will have enormous affects outside the USA. However, there seems to be no interest from other governments.
AT July 09
| | |
| --- | --- |
| The Telephone Box Cometh | |
No not the Tardis, but possibly a library link. Roy Clare, the head of the MLA, has proposed a third tier of public libraries which will have book stocks of about 1500 books. He specifically suggested that the new type of library, christened library links, could be housed in doctors surgeries or post offices (I thought that post offices were being phased out), but he has obviously not thought this through. A telephone box would hold approximately 1500 books and BT is not very keen on them any more. Therefore, he could solve a problem for two organisations, local authorities and BT, if the existing public libraries are replaced by telephone box libraries. Of course, library users may find that this new public service is a little limited, but when has that ever been a valid consideration?

Those that have taken more than just a passing interest in the UKs public libraries, will recognise this new idea as one which has been proposed several times before. The last time it was seriously suggested was during the wave of public library closures which swept the country, ten years ago. Then, the new model libraries were to be located in community centres. However, there probably are not enough of these left open for this type of location to be considered, even by our policy makers.
Perhaps quite innocently, Roy Clare has wandered into the library closure minefield. There are just too many people around (both library users & staff) with bitter memories of past slight-of-hand exercises for this particular initiative to pass unchallenged.
AT July 09
Five Months Later: The BBC has reported that the village of Westbury-sub-Mendip in Somerset have bought a telephone box from BT and have turned it into a library containing approximately 150 books and CDs. It is open 24 hours per day. So, what it lacks in size, it makes up for in persistence.
Actually, the villagers use the telephone box as a convenient way of swapping books and CDs. However, that is really what a public library does. The only difference is that the original purchase was made by an individual and not by a local authority.
DCMS Ministers
| | |
| --- | --- |
| | Ben Bradshaw was appointed Secretary of State for Culture, Media and Sport in Gordon Browns recent Cabinet resuffle. He will thus have overall charge of the department. He has been MP for Exeter since 1 May 1997 |
Barbara Follett is the Minister for Culture, Creative Industries & Tourism. The subdivisions of the Culture remit include the arts, heritage, architecture, Royal Parks, galleries, archives, libraries and museums.

She is also the East of England Regional Minister
AT June 09
Scanning Delivers the Goods
The scanning of documents and artefacts in libraries and museums around the world has been going on for a couple of years now and the results of this are beginning to appear on the internet.
The big national libraries, such as the British Library and Library of Congress were among the first to start this process and we can now see what has been achieved in their websites . The BL offering has some particularly interesting, world-class subjects e.g. the da Vinci notebooks, Mozarts composition books for 1784 1791 and Jane Austens History of the World.
The huge libraries and museums of the developed world are not the only organisations digitising collections and Unesco has provided a website for these other, less well-known, establishments. For instance, it is possible to view Christopher Columbus's diary for 1493, in which the explorer describes his discoveries, from the Center for the Study of the History of Mexico Carso .
This is only the beginning. The central libraries and museums of the world have such large collections that it will take decades to scan all those items of general interest, let alone those of purely academic interest the New York Public Library has scanned 30,000 items in 9 months, but has 50 million items to go.
In the short term, the present economic chaos will probably slightly dampen the ongoing increase in the digitisation rate. However, the experience of the past two/three years and the lessons which have been learnt are now beginning to significantly improve the quality of the scanned images. Further, it has been discovered that it is possible to combine techniques from other fields to produce images of documents and artefacts which have previously been impossible to view by any means. The use of multi-wavelength scans, CAT scans and X-ray technology to read invisible images and brittle scrolls without unrolling them is now feasible. This would have made the reading of the Dead Sea Scrolls very much easier. However, there are very many scrolls in a similar or worse condition than them which now become candidates for serious investigation. A large range of new and forgotten knowledge is on the brink of becoming accessible.
AT May 09
New Powers for Local Government?
In a new report, the Communities and Local Government Select Committee of the House of Commons stated that local authorities need both sufficient formal powers and more general autonomy to pursue a leading local leadership role.
The Committee recognises the frustration that, regardless of their track record, local authorities remain subject to invasive central government scrutiny and interference. and urges the Government to take a more flexible view of decentralisation, and to deliver on its promises of earned autonomy.
AT May 09


Library Service Modernisation Review

A spokesperson for the Department for Culture, Media & Sport (DCMS) said that publication of its Library Service Modernisation Review, led by culture minister Barbara Follett, has been delayed to July. Observers point to the fact that Folletts review may want to take into account the results of the Wirral inquiry (see below). These will investigate whether the councils plans are consistent with its statutory duty to provide a "comprehensive and efficient" library service under the 1964 Museums & Public Libraries Act and will therefore have broad implications.
AT May 09
| | |
| --- | --- |
| Andy Burnhams U Turn | |
Andy Burnham, Secretary of State at the DCMS, has removed the telescope from his blind eye and has seen that there is considerable, countrywide opposition to the proposed mass closure of (11) public libraries in the Wirral. The previous DCMS position of "not minded to intervene at this time" has been modified to: They [public libraries] should never be an optional extra for local authorities."
The Secretary of State has ordered a local inquiry into Wirral Council's plan and the Council has promised that the libraries will remain open during the inquiry.
Laura Swaffields Chartered Institute of Library and Information Professionals blog commented: It will open up quite a can of worms. The last time anyone even tried to do this intervention thingie was in 1991. One can almost (I said almost) sympathise with Andy for trying to dodge it
Perhaps it will open a can of worms. However, that is not what Andy Burnham will want. A quiet burial would be his preference and he will choose a Chairman of the inquiry who will be sympathetic to this viewpoint.

The Cilip blog
AT April 09.
Addendum
Sue Charteris has been chosen by Andy Burnham to Chair the Inquiry. She is a Founding Director of Shared Intelligence and a public policy consultant specialising in local government and public service improvement. Her comment on her appointment was: " I am very pleased to have been appointed to lead this Inquiry into the Wirral library service. Having been involved in local government and worked for local authorities, I fully understand the challenges that they face in the provision of services - particularly in this difficult economic climate - but also know the valuable role that libraries play in local communities. My advice to the Secretary of State will be based on a thorough study of the evidence, and I will give all interested parties the opportunity to comment."
Sue Charteris' report is due in June, and the Secretary of State's decision will follow shortly after.
Reference
AT May 09
< height="73">
London Boroughs Comprehensive Performance Assessment - 2008
>
The 2008 Comprehensive Performance Assessment (CPA) scores for Local Authorities have been published by the Audit Commission. The CPA measures how well councils deliver services for local people and communities. The new report contains comparisons of council performances since the last set of results was published for 2007.
Each score is on a scale from 1 to 4, where 1 is the lowest score and 4 is the highest. The relevant category for libraries is the Cultural one and the table below gives each London boroughs score for that.
The change assessment given below covers all council services, but can be assumed to be a measure of the commitment to the improvement of cultural services as well as other services. Only one London borough has been assessed as not improving adequately. This is Haringey, where there are well known problems.
In general, the lowest assessment made for any service is 2. The exception to this is for "children & young peoples services". In this very sensitive area, a more critical regime now seems to exist and some 1 assessments have been made. As is to be expected, Haringey appears in this list, but no other London borough.
The inevitably low 2008 Haringey score highlights the overly rosy picture which the CPA usually gives of local government performance. The 2007 scores for this borough were 3 star overall, 3 for culture and improving well (see LondonCPAScores1.htm). There was no indication that things were about to fall apart in Haringey - rather like the assessment of Enron by its auditors.
Comprehensive Performance Assessment 2008

Cultural Category Score
Change Assessment
Corporation of London

3

Improving strongly
Inner London Boroughs
Camden


3

Improving strongly
Greenwich

2

Improving well
Hackney

2

Improving strongly
Hammersmith & Fulham

3

Improving strongly
Islington

3

Improving strongly
Kensington & Chelsea

2

Improving strongly
Lambeth

2

Improving well
Lewisham

3

Improving well
Southwalk

2

Improving well
Tower Hamlets

3

Improving well
Wandsworth

4

Improving strongly
Westminster

4

Improving strongly
Outer London Boroughs
Barking & Dagenham

3

Improving strongly
Barnet

2

Improving strongly
Bexley

3

Improving well
Brent

2

Improving strongly
Bromley

4

Improving well
Croydon

2

Improving well
Ealing

3

Improving strongly
Enfield

3

Improving well
Haringey

4

Not Improving adequately
Harrow

3

Improving well
Havering

2

Improving well
Hillingdon

2

Improving well
Hounslow

3

Improving well
Kingston-upon-Thames

2

Improving well
Merton

4

Improving strongly
Newham

3

Improving adequately
Redbridge

2

Improving strongly
Richmond-upon-Thames

4

Improving strongly
Sutton

4

Improving strongly
Waltham Forrest

3

Improving well
AT Mar 09
| | |
| --- | --- |
| Unison Library Campaign | |
Unison, the public sector trade union, has launched a campaign in support of public libraries or, more accurately, in support of public library jobs. The campaign, defend the public library service pointed out that there had been 60 public library closures in the UK during the last year and that more were planned.
Like some library users, Unison disapproves of a shift towards computer services within public libraries and the fall in expenditure on books. Worryingly, it suggests that the use of volunteers is a cause of reducing services, rather than a method of maintaining and improving services. It would be interesting to find out if there was any concrete justification for such a allegation beyond the long standing antipathy to a community helping itself.
The demands put forward are not completely restricted to special pleading on behalf of library staff, but do have some relevance to users.
Taking stock: the future of our public library service is a 59 page Unison document which has recently been published and contains a lot of useful data on national trends in library service provision. This data has been abstracted from CIPFA publications, so can be considered to be reliable. However, care must be exercised in using it to make comparisons with individual local authority performances. A better method of carrying out comparisons is to compare the individual authority with its peer group e.g. an inner London authority should be compared with all 12 inner London authorities.
More information:


AT Dec 08
| | |
| --- | --- |
| Bloomsbury Open Access | |
Bloomsbury, the publisher, is to offer free, non-commercial, downloading of books from the internet. Initially the books will be in the social sciences and humanities areas. It intends to build thematic lists on current global issues and expects to have approximately fifty new titles available by the end of 2009.
Bloomsbury is assembling a high-power advisory board for its new venture, drawing in academics from the British Library, MIT, Open University, Max Plank Institute, LSE and Johns Hopkins University.
The works will also be sold as books, using the latest short-run technologies or Print on Demand. The Print on Demand method of distribution is ideal for academic publishing, as it avoids the high set-up costs of normal book printing.
Academic authors are not primarily interested in earning money from their books. They are more interested in gaining greater peer recognition for themselves and for the ideas which they espouse. As their works will not be subject to the normal long production process, the authors will benefit from having them distributed very quickly. Also, the books will be capable of being searched more easily and need never go out of print.

The first book to be made available by this new venture was published in October and, appropriately, it was written by Lawrence Lessig, the copyright reform campaigner. In his new book, Remix, he makes the point that the present copyright laws tend to criminalise people, especially the young.

Bloomsbury's German partner, Berlin Verlag, will be actively participating in the new venture and discussions are also underway with Melbourne University Publishing.
Further information

AT Nov 08
| | | |
| --- | --- | --- |
| | European Online Library | |
The European Online Library (described here in Sep 2006), Europeana, was launched on 20th November and proved immensely popular. It received 10 million hits an hour and promptly crashed. The site was relaunched in early January 2009.

More than 1,000 cultural organisations, including The British Library in London, are making contributions to the library. National libraries from all over Europe have contributed printed and manuscript material, including digitised copies of rare and valuable books, such as the Gutenberg Bible. Also among these institutions are the Louvre in Paris and the Rijksmuseum in Amsterdam which have supplied digitised paintings and other objects from their collections.

The intention of Europeana is to provide digital access to information on Europe's history; in the form of image, text, sound or film; which is held in libraries, archives or museums.

The Institut National de l'Audiovisuel has supplied 80,000 broadcast recordings from the 20th Century, in addition to early footage shot on the battlefields of France in 1914, and The British Library has provided access to its vast collection of sound recordings, covering British accents and dialects, British wildlife, and early ethnographic wax cylinder recordings.

Internet users will be able to access more than two million books, maps, recordings, photographs, archive documents, paintings and films, without charge.

<>
Link to Europeana
AT Nov 08
>
| | |
| --- | --- |
| The Noise Issue | |
Mobile phone conversations, teenage chatter & giggling, the hiss of espresso machines, the rattle of coffee cups and a liberal scattering of food waste - these are all desirable attributes of a modern public library. At least they are according to national politicians.
It is a well known phenomenon that, as politicians claw their way up their particular greasy pole, they become increasingly divorced from reality. Their contact with ordinary life is restricted to a very few hours per week and they begin to live more and more in a fantasy land containing only other Westminster-village virtual people. Of course, part of the fantasy is that they all believe that they are in close touch with their electors. In these circumstances, it is not surprising that the nonsense of noisy libraries should be given such wholehearted support by some of these arbiters of what is good for us.
It is the nature of adversarial politics that everything is viewed as a black & white issue. In real life, most issues are actually just shades of grey and the noisy library is one of those. If the argument was about what should go on in large, modern libraries only, there would be some sense in the suggestions. These buildings usually have some spare space that can be used for coffee shops etc and their structures can often be fairly easily modified. Even in this circumstance, care must be taken in applying these transiently fashionable concepts, to avoid more people being driven away from libraries than are attracted to them. A few simple rules should be used to ensure that it is the library user that is really the beneficiary, rather than the victim, of any changes:
· Ensure that there is a noise barrier between the quiet, library areas and any new facility.
· Do not steal space from the library proper for the new activity.
· Use the voluntary sector to run any commercial enterprise, in order to keep all the benefits in the local community.
The vast majority of Britains public libraries are more friendly institutions than the large monuments to civic pride that politicians and librarians love. However, they are also small and elderly suitable for their original purpose of housing a largish collection of books, but little else. The addition of a few public-access computers into each of them necessitated considerable modification to their layouts and often resulted in the loss of bookshelves. Perhaps the politicians believe that the loss of bookshelves is a bonus and should be encouraged. Surely they cannot be that out-of-touch, or can they?
The main supporters of the noisy library idea in the Palace of Westminster are Andy Burnham MP and Lyn Brown MP
AT Nov 08
Public Library Volunteers in London
The subject of Library Volunteers is becoming a popular topic of conversation among members of Londons Public Library Friends groups and the new issue of CIPFA Library Statistics has some data to add substance to those conversations (see below).
Just over half of London boroughs have public library volunteer schemes,but there appears to be enormous variability in how the boroughs use those volunteers. Some have very few volunteers and use each of them intensively. Others operate in exactly the opposite manner.
Inner London boroughs (42% have volunteer schemes) are less enthusiastic about volunteers than their Outer London counterparts (60% have volunteer schemes).
Some boroughs (3 of the total of 17 boroughs with volunteer schemes) are so off-hand about this form of help that they are unable to say how many hours of work are freely given by their volunteers per year. However, on average, Londons public library volunteers give only one hour per week to their library service (allowing for holidays). For the widespread, major improvements in service which advocates of volunteer programmes suggest is possible, there has to be a great increase in this commitment. Relying on a large number of people coming forward is unrealistic.
As with all published statistics, the CIFA figures are historic and tell us nothing about what has happened since the end March 2007. Because of this, the picture painted of the Hackney library service volunteer activities is quite average an average number of volunteers occasionally helping out in the boroughs archives. This picture changed radically in March 2007, when Hackney reopened a library which had been closed since 1996. This small library is completely volunteer run and has proved to be a notable success. A LLL delegation visited Woodberry Down Community Library and has come away impressed. A report on the visit can be viewed at: VolunteerLibrary.htm
| | | | |
| --- | --- | --- | --- |
| Inner London Borough | No. of Volunteers | No. of Volunteer Hours | Hours per Volunteer |
| | | for Year 2006 - 2007 | for Year 2006 - 2007 |
| Greenwich | 9 | 2600 | 288.89 |
| Hackney | 28 | 1381 | 49.32 |
| Hammersmith & Fulham | 5 | 138.5 | 27.70 |
| Wandsworth | 56 | 2052 | 36.64 |
| Westminster | 75 | 4268 | 56.91 |
| | | | |
| Outer London Borough | | | |
| | | | |
| Bexley | 116 | 5030 | 43.36 |
| Bromley | 48 | 1991 | 41.48 |
| Enfield | 31 | 1422 | 45.87 |
| Haringey | 6 | | |
| Harrow | 22 | | |
| Havering | 96 | 794 | 8.27 |
| Hillingdon | 13 | 1514.7 | 116.52 |
| Hounslow | 9 | 1692 | 188.00 |
| Merton | 25 | 1294.5 | 51.78 |
| Newham | 39 | 1170 | 30.00 |
| Redbridge | 16 | | |
| Richmond upon Thames | 69 | 3327 | 48.22 |
| Total for Average Hrs. Calc. | 619 | 28674.7 | |
| Overall Total | 663 | | |
| Average Hours /Volunteer/Yr. | | | 46.32 |
AT Aug 08
| | |
| --- | --- |
| | Inner London Growing Faster Than Anywhere Else in UK |
HBOS plc compiled a very useful digest of population statistics just before it fell victim to the Credit Crunch. The statistics were taken from the Office for National Statistics (ONS) estimates and show that the four local authorities with the biggest percentage population growth between 1997 and 2007 are all in Inner London. These are the City of London (40%), followed by Westminster (29%), Kensington and Chelsea (26%) and Camden (25%). Population growth in the rest of Greater London is not far behind these leaders. For comparison, the country, as a whole, only increased its population by 5% in the same period.

The organisation representing London Local Authorities, London Councils, has expressed deep concern about the ONS figures. It believes that they significantly understate the populations of Londons boroughs. Londons library users should also be concerned. Any underestimate of a boroughs population automatically reduces the money received from central government and most of the income of the boroughs comes from this source. History tells us that library services are the first to suffer, when money is short. So it is extremely important to get the estimates right. It is actually doubly important, as London is already financially penalised by central government in its robbing Peter to pay Paul exercise of local government funding London is always cast as Peter - see below.

London Councils Comment
AT Oct 08
Brave New World
No, not the Aldous Huxley book but a study of the possible affects of digitisation on the publishing industry. This Brave New World is a 120 page report containing an in-depth analysis of the changes that are beginning to be forced upon the book trade. The sober assessments of the study are in marked contrast to the hysterical reactions of the music industry when faced with the same problems and they deserve wide consideration. The report can be freely downloaded (see below).
AT April 08
Fact not Fiction 2008 - Facts and Figures about Londons public libraries
The MLA, London has collected a wide range of statistics about Londons public libraries in a new document. It is well worth reading and is available for download from:
AT July 08
Return of the Public Library Philanthropist?
The beginning of the public library movement was marked by the support of public-spirited individuals. Visionaries, such as Andrew Carnegie & John Passmore Edwards, were willing to use their energy and wealth for the betterment of less fortunate citizens. Now, in the UK, these nineteenth century philanthropists are only dimly remembered and are considered to have little relevance to present day circumstances.
However, under the influence of tightening local government finances, those circumstances have been changing for some time. For over twenty years there has been a slow drift away from a firm official belief in the importance of providing the poor with free access to a wide range of literature. That belief is now quite conditional - hemmed-in by many provisos. The nature of the link between education and the public libraries has been almost forgotten. The library safety net has been allowed to decay and many more people are now falling through it.
In contrast to the UK, the USA has never lost a strong voluntary aspect to the delivery of public library services. Thus, it is probably not very surprising to Americans that a financier, Stephen A. Schwarzman, should donate $100m to the New York Library Service. Indeed, one member of the NY Public Librarys board thought that he should have given more an astounding reaction when viewed from this side of the Atlantic.
Are there no UK billionaires interested in improving the literacy of their fellow citizens? There is little doubt that they will soon be sorely needed.
Reference:
https://www.forbes.com/business/2008/03/11/billionaires-library-donation-biz-cx_af_0311schwarzman.html

AT Mar 08
HarperCollins, the publisher, has begun to make available selected books on its website. The free electronic editions are complete books, not extracts. Since November, HarperCollins has provided electronic extracts from about 15 of its current books and has obviously found that the initiative has paid-off in higher sales.
The HarperCollins move is a shrewd one. Although the entire contents of a book may be freely available via the internet, the rather clumsy nature of current computers, PDAs and e-book readers makes reading the complete electronic book an uncomfortable experience. Browsing the books, as in a bookshop, is another matter. The release of the Apple MacBook Air does not really alter the basic premise. Meanwhile:
Random House has digitised all its new books and is now proceeding to do the same to its back catalogue.
Tor, the science fiction publisher, is making one of its books available for free downloading each week.
Borders, the US bookshop chain, has unveiled a new concept - a store where shoppers can mix and burn CDs, explore their genealogies and even publish their own novels.
The digitalisation of out-of-copyright book collections by Google and Microsoft continues apace.
The first production rollup display e-book/cell phone has been announced by Polymervision
What was predicted in the LLL technology webpage a long time ago is beginning to happen. The digitisation process is building momentum and will result in fundamental changes to the way public libraries operate.
More Information:

AT Feb.08
2007 Comprehensive Performance Assessments
The 2007 Comprehensive Performance Assessments (CPA) were published on 7th February. These provide a measure of the quality of services provided by English councils to their local communities and their commitment to improving these services in the future.

Six of the 33 London boroughs are among the 13 authorities receiving the highest possible rating under CPA. The figures also show that 97 per cent of Londons boroughs are rated as improving well or strongly with 94 per cent gaining three or four stars (Harrow was the only borough to have less than 3 stars). Seven of the 13 inner London authorities were awarded 4 stars but only three of the 20 outer London boroughs were judged to have reached this standard.

The star rating gives a headline CPA result for a borough and thus provides an average picture for the performance of each Council. However, within this average, there are areas of high achievement and areas of low achievement. In almost every London borough, the cultural area was found to have performed below the average for the borough. The only exceptions to this rule are The City of London, Westminster and Richmond upon Thames. The culture area is where a boroughs public library service is usually grouped.
Click for a comparison of cultural performance with overall performance for all London authorities.
More information:
https://www.londoncouncils.gov.uk/ , https://www.audit-commission.gov.uk/cpa/

AT. Feb.08
First Consultation on the Amendments to Copyright Exceptions Recommended by Gowers
On 8 January 2023 Lord Triesman, Minister for Intellectual Property, launched the first of a two part consultation on the recommendations made by the Dec. 2006 Gowers report on Intellectual Property.
Lord Triesman pointed out that it was necessary to ensure the IP protection systems are robust enough - and sensible enough - not only to protect the rights holder from illegal activity, but to ensure that the consumer and user can make sensible use of protected works and also respect the rights attached to them.
The consultation will cover recommendations for changes to copyright law that will:
· enable schools and universities to make the most of digital technologies and facilitate distance learning;
· allow libraries and archives to use technology to preserve valuable material before it deteriorates or the format it is stored on becomes obsolete;
· introduce a format shifting exception to allow consumers to copy legitimately purchased content to another format, for example CD to MP3, in a manner that does not damage the interests of copyright owners; and provide a new exception for parody.

The responses to the consultation will be analysed and then a further consultation on the resulting draft law will follow.


AT Jan 08
Busy Libraries

The Chartered Institute of Public Finance and Accountancy (CIPFA) has published its 2007 ranking of the UKs 20 most busy public libraries. The Norfolk & Norwich Millenium Library was the clear winner with 1,506,344 visits in the year and 1,158,080 issues.
The leading London library was Croydon Central Library with a 4th place based on visits (868,088) and 15th place based on issues (491,888). London public libraries performed better on the visits measure than on the issues measure.
CIFAs data could possible suggest an issues problem in Londons public libraries and, more worrying, a general problem in inner London libraries (no representative in either table). With the high levels of deprivation in inner London and a great need to raise literacy levels, this would not be good news. However, judging the effectiveness of a boroughs Public Library Service on the performance of one flagship library does not take into account the other libraries which are usually better integrated into their local communities.
The inclusion of a borough library in the top 20 list could actually be a good reason to look more carefully at the overall library provision in the borough. One way to achieve a high ranking would be to reduce the service elsewhere in the borough i.e. restrict opening hours or simply close libraries. Such a policy would force people to travel to the flagship library and would, of course, result in the poor being penalised.


Busiest London Libraries Based on Visits/Year <>
NATIONAL RANKING
BOROUGH
LIBRARY
VISITS
4
Croydon
Croydon Central Library
1,033,410
9
Haringey
Wood Green Central
783,687
11
Hounslow
Hounslow
753,038
15
Barnet
Hendon
724,334
>

Busiest London Libraries Based on Issues/Year

NATIONAL RANKING
BOROUGH
LIBRARY
ISSUES
15
Croydon
Croydon Central Library
491,888
19
Bromley
Bromley Central
471,145
More information:
AT Jan.08
Provisional Local Government Finance Settlements for 2008/09 to 2010/11.

On 6 December 2007, the government announced details of the provisional local government finance settlements for the three years 2008/09 to 2010/11. London Local Authorities are extremely disappointed with the settlements which they believe completely fail to recognise the extent of service and financial pressures on local authorities in the capital. The London Councils will receive an increase in grant well below the average for England in each of the three years.

As London has been repeatedly penalised in this way over the past decade, services to residents have been under pressure for some time and this has resulted in library closure programs being proposed in Brent, Southwalk and Waltham Forest. The public library service is one of the few services in which central government allows local discretion to exist. Thus, it is easier to cut library services than almost any other locally provided service to the public.

It is the Local Authority, of course, which receives the criticism of library users, whilst central government is able to claim that it is in favour of public libraries. Perhaps it is in favour of public libraries outside London, it is certainly not within London, as its policies make it inevitable that they be cut back for the 7 million Londoners.

Oxford Universitys Department of Social Policy & Social Work recently published The English Indices of Deprivation 2007. In this, London was ranked as the second most deprived region in England in absolute terms (after the North West) and the third most deprived region in % terms. London was also ranked bottom in a measure of the least deprived areas i.e. prosperity was spread more widely in all other regions. If these facts are combined with the knowledge that local taxation is not based on the ability to pay, the conclusion can be drawn that the poor of London are being forced to subsidize the rich in other regions.


www.communities.gov.uk/documents/communities/pdf/576659

AT Jan 08
Public Library Materials Fund and Budget Survey for 2006-08
Loughborough Universitys LISU research unit has published its Public Library Materials Fund and Budget Survey for
2006-08
LISU found that total library expenditure for the UK fell by 0.3% in 2006/07, with a further fall predicted for 2007/08. Although the reported fall was small, LISU suggested that it was particularly disappointing as, at this time last year, libraries were predicting an increase of 3% in spending for 2006/07.
Expenditure on materials fell by 1.5% in 2006/07 and a further fall of 2.3% is expected for 2007/08. Within this overall fall, spending on books continues to decline slowly and, although spending on audio-visual materials (including electronic resources) rose slightly in 2006/07, it is predicted to fall again in 2007/08, by 1.4%.
Staff expenditure represents approximately 60% of overall public library expenditure, so small percentage changes in this figure has a far larger affect than other elements in a public library services budget. LISU reported that staff numbers have fallen for the first time for many years, and are predicted to fall further in 2007/08. The most expensive staff members are the professionally qualified ones and much of the decrease has been in this area.
The Literacy Disaster

The Progress in International Reading Literacy Study (Pirls) is undertaken every five years (2001 & 2006) in over 40 countries around the world and measures the "reading literacy" & associated factors for children aged approximately 10 years old. Thus, in most countries, the Pirls investigation is aimed at children with four years of formal schooling. However, in some countries, including England and Scotland, it takes place after five years of schooling.
The score for England in 2006 was 539 and was 527 for Scotland. The highest 2006 score was 565 for the Russian Federation. The average score was 500 and the lowest score was 302 (South Africa).
The 2006 study found that childrens performance in England and Scotland had fallen in the previous five years. The reading performance of children in England had fallen from third to 19th in the world and Scotland also fell, from 14th to 26th. Top scoring Russia only managed to equal the Scottish score in 2001.
In England, the Department for Children, Schools and Families commissioned a separate report on the findings, from the independent National Foundation for Educational Research (NFER). This concluded that lower achievement among the better readers had contributed most to England's overall fall, rather than the small increase in the proportion of weaker readers. Perhaps the most worrying comment from the NFER is that there had been significant increases in the proportion of English 10-year-olds with the "least positive" attitudes to reading and who said they very seldom read stories or novels outside school.
The fact that both England and Scotland had a 2006 score somewhat above the average value of 500 has been suggested as a mitigating circumstance. However, if allowance is made for the extra year of schooling provided in these countries, this appears very much like grasping at straws. It is obvious that the rate of children's progress in most other countries is greater than England or Scotland.
Ed Balls, Children, Schools and Families Secretary, suggested that the same story was emerging from the government's consultation on its Children's Plan as from the Pirls study. He said "I'm calling today for everyone's help to get our children reading more and to kick-start a new national debate about the value of reading." As the public libraries have traditionally provided the UKs educational safety net, Mr Balls would do well to ensure that Library Services are provided with sufficient funds to take up his challenge.
Contact LLL at
email us : mail
@librarylondon.org
Saving Your Library
This is the subject of many emails and telephone calls to LLL.
Lewisham Council tried to close 3 of its public libraries a little while ago. You can read about the methods used to successfully fight against this at
localgroups/SaveYourLibrary.htm You can still email and telephone us, if you wish.
31 Milton Park

London
N6 5QB


020 7607 2665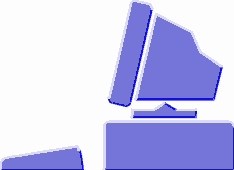 Chair:
Tim Coates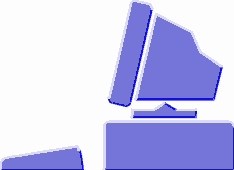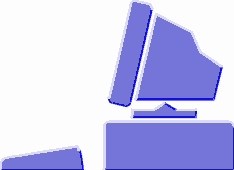 See our Key Facts for each Borough's Library Service, with links to each Borough website
Disclaimer: disclaim.htm
The Book Stock in a public library is usually considered by the users to be its most important asset. However, many users groups find it impossible to establish the size of this asset. A very simple method has now been proposed for estimating the number of books on a library's shelves.
More information: countthosebooks(2).htm
UNIVERSITY TO VILLAGE HALL
On 18th July 05, Libri published a report entitled From University to Village Hall This hard-hitting document can be found at:
The LLL comments on the report can be found in webpage:
Uni_to_V_Hall.htm

The MLA review of the report can be found at:


The Library Campaign